Seven is supposed to be a lucky number, and 13 is supposed to be the unluckiest one of all. But Connecticut is the first ever No. 7 seed in the NCAA tournament's 64-or-more era headed to the Final Four, and it's going there on the back of the guard who wears No. 13, Shabazz Napier.
If someone mistakenly refers to Napier as "Shazam" today, they can be forgiven the slip, because he was absolutely magical while scoring 17 of his 25 points in the second half as UConn stormed back from a nine-point deficit to outlast heavily favored Michigan State, 60-54.
Napier hit all nine of his free throw attempts, including three clinching ones with 37.6 seconds left. But he has distinguished himself as UConn's difference-maker on defense.
Many college kids play hard-nosed D. With Napier, who played with a bloody nose in the second half, it's more like stone-nosed. And it has been infectious for a team that looks like it's invoking its DNA as a member of the original Big East. If the refs were to tell UConn that the playground rule of no-blood, no-foul will be installed at the Final Four not one Husky would blink.
The crowd at Madison Square Garden savored seeing the old school, throwback style of UConn, which might as well have had home-team status.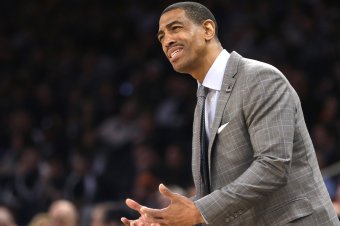 Frank Franklin II
A quick look at the stat sheet from Sunday's East Regional final would make most traditionalist basketball accountants think Michigan State was the winner. The Spartans had numerical wins all over the place, except on the scoreboard.
They won the field-goal percentage battle, 39.1 percent to 34.7. They absolutely crushed UConn from three-point territory, nailing 11 while making 37.9 percent to UConn's 22.7. And they had a slight edge on the boards, 32-30.
But Connecticut doubled up MSU on turnovers, committing only eight while forcing a game-deciding 16.
As Michigan State coach Tom Izzo told CBS afterward, Connecticut didn't just get turnovers; it got turnovers "for touchdowns."
Napier had only two turnovers in 37 minutes. His partner in what might be college basketball's best backcourt, Ryan Boatright, committed just one during his 38 minutes.
When a team has guards whose legs don't wither and whose hands don't falter despite sitting for only a combined five minutes, yeah, that's the stuff Final Four scripts are made of.
Who will win the UConn-Florida battle of point guards at the Final Four?
This was the the third consecutive NCAA tournament game where the Huskies had no problem shouldering the load of being the underdog.
In their second game, they made Villanova's second-seeded cast of three-point shooters look downright fragile at times while winning by 12.
That was where Napier really started to enter the national consciousness. His 25 points were impressive, especially when he nailed three consecutive three-pointers to give UConn the lead. But what captured the imagination of basketball junkies was seeing him limp off, looking like he was done for the night with an ankle injury, only to return and take charge a minute or so later.
Against third-seeded Iowa State the Huskies served notice that Napier isn't their only scorer, as DeAndre Daniels came alive for 27 points.
And against the fourth-seeded Spartans it was simply a matter of beating defense-oriented Michigan State at its own game.
UConn's victory sets up a Final Four semifinal against another defense-first team, No. 1-ranked Florida. The key matchup that's certain to be discussed and dissected is Napier going up against fellow point guard Scottie Wilbekin.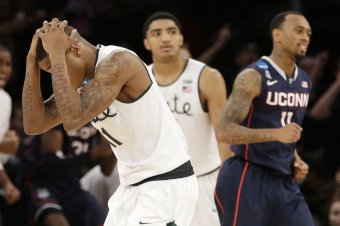 Seth Wenig
Both of them were named their conference's player of the year and have been their team's go-to guy when the walls start closing in at crunch time.
The semifinal with Florida will be a rematch, and will pit the Gators against the last team to beat them. That Dec. 2 contest is perhaps irrelevant now, but UConn fans can take some measure of comfort in knowing that Napier had no problem unleashing his offensive firepower on Florida, as he finished with 26 points on 9-of-15 shooting.
He also hit the game-winner at the buzzer, despite limping on a left ankle that he injured late in the game. Napier initially missed on a long-distance effort, but Daniels tipped it back to him and his second try went as time expired.
Florida was ranked 15th at the time, and UConn was 12th.
The Gators leveraged their size for a 34-26 advantage on the boards, and Casey Prather got loose for 19 points. Patric Young controlled the paint for Florida, with 17 points and seven rebounds, and figures to be a problem again in their second meeting. Wilbekin had 15 points but missed the final three minutes with an injury.
Besides being the stars and floor leaders of their teams, Wilbekin and Napier also share one other interesting piece of personal history.
Wilbekin could have fled from the Gators after coach Billy Donovan suspended him and said he'd probably be better off transferring. But Wilbekin stayed.
Similarly, Napier could have ditched UConn after the Huskies were banned from last year's NCAA tournament because of vast academic shortcomings. But he stayed.
At UConn's Saturday press conference, Napier told reporters that leaving was never really on the table.
Said Napier: "Like I always said, I felt like I owed this university a lot. I felt like after my first year we won (the 2011 NCAA championship), and the sophomore year I didn't play up to my capabilities. I felt like I owed the university, as well as the coaches and my teammates, a good year. And I just also felt like I felt something special with this team. Everybody came back last year, who is on the team today, and I just felt that we had something that we were playing for, for that year, and we just got to keep pushing each other and hopefully we get to the top."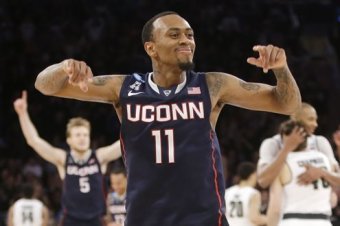 Frank Franklin II
His continued presence has given second-year coach Kevin Ollie a vital cornerstone as he seeks to restore the shamed image of a school that won three national championships under Jim Calhoun in 1999, 2004 and 2011.
"We were banned from a lot of things," Ollie said at his press conference after the Iowa State game. "We couldn't come here for the tournament, but they weren't banned from loving and pushing and encouraging each other, and that's what it's all about. Those dark times, if you don't give up in the dark times, it will reverse, the wind will start going in your favor, your direction. And I think that's what's happened now."
During UConn's 2011 title run, Napier played like the freshman he was in the championship game, shooting 1-for-6 and scoring just four points in 27 minutes.
One senses he'll be heard from a lot more this time around.
Tom Weir covered 15 Final Fours as a columnist and reporter for USA Today.