The Florida Gators had one gigantic question hovering over them Saturday as they sought the Final Four berth that has been so elusive for their four starting seniors. Would they play like a team that was on a 29-game winning binge, or would they show signs of being haunted by three consecutive losses in the Elite Eight?
Florida answered emphatically with a 62-52 victory over the sizzling-hot Dayton Flyers, and with the Elite Eight jinx lifted, you have to wonder whether the nation's No. 1 team will continue to dominate at the Final Four.
One thing that's virtually certain as Billy Donovan looks to wrap up a third national championship? No one is going to score big on Florida at the Final Four.
The Gators have the size and perseverance to hang with anyone, and they also have the stats to strike a little fear in the hearts of opponents.
Florida held Dayton to 20 points under its season average in the South Regional final. In the Sweet 16, Florida limited UCLA, one of the nation's top offenses, to 14 points fewer than its normal total. And in 38 games this season, the 36-2 Gators have allowed 70 or more points only three times.
Only three teams have scored 70 points on Florida (and all lost)

| | | |
| --- | --- | --- |
| Memphis | Dec. 17 | 77-75 |
| Arkansas | Jan. 11 | 84-82 |
| Ole Miss | Feb. 22 | 75-71 |
CBS Sports
No opponent has cracked the 70-point barrier on them since Ole Miss barely managed it in a 75-71 loss back on Feb. 22. And while Kentucky has stormed into the Elite Eight, it never managed a 70-point game while losing to Florida three times this year by the counts of 61-60, 84-65 and 69-59.
In seven postseason games—three in the SEC tournament and four in March Madness—the Gators are yielding only 54 points a game.
The latest opponent to discover how good Florida is at ending a shooter's hot streak is Dayton's Jordan Sibert. After going off for 18 points against Stanford in the Sweet 16, he never put a ball in the basket against the Gators. Not from the free throw line, not from anywhere.
Florida's victory in Memphis on Saturday broke the school record for single-season victories, which means plenty at a university that had repeat national championships in 2006 and 2007. But aside from winning consistently, this Florida team doesn't have much in common with that mini-dynasty.
The 2006-07 Gators had three players swooped up in the first round of the 2007 NBA draft, as Al Horford went third, Corey Brewer seventh and Joakim Noah ninth. Two more Florida players went off the board in the second round, with Chris Richard going 41st and Taureen Green 52nd.
Conventional wisdom suggests that this Gators crew won't be represented in the 2014 draft. You better enjoy them now, because you may not see a lot of them at the next level.
CBS analyst and NBA Hall of Famer Reggie Miller hit on that theme as Florida was wrapping up the Dayton win, saying: "There's no first-rounder, and maybe not even a second-rounder on this team."
Which really isn't a bad thing.
Any college team that can rattle off 30 consecutive triumphs while not depending on a superstar can likely withstand any shooting slump a starter suffers. Florida demonstrated that late against Dayton, winning by a double-digit margin despite a dismal 1-for-15 shooting spell late in the game.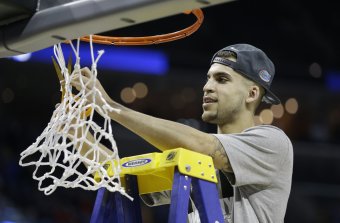 Mark Humphrey
The Gators have good size and are track-team fast, and speed never falters. They can get physical in the paint behind 6'9" center Patric Young and they can own the perimeter with Michael Frazier's long-distance accuracy. Casey Prather has a gift for summoning the athleticism needed to glide through small windows on his way to the rim and SEC Player of the Year Scottie Wilbekin has been unflappable in every clutch situation so far this postseason.
And it won't come as a surprise if Florida keeps rolling now that it has tossed its 2011-13 run of Elite Eight losses to Butler, Louisville and Michigan into the lost baggage bin.
"This team, this class of seniors, we've been on the other end of this for three years in a row," said a plainly relieved Young in his post-game interview on CBS. "We're just so thankful that we did it the right way this year."
Asked what the difference was this time around, Young told CBS that: "I think it really reflects back on Coach Donovan. Coach Donovan has been able to push us every single day, from the beginning of the season all the way through, helping us stay in the moment."
That push from Donovan included a "strongman" training regimen, designed by strength coach Preston Greene. Donovan made every player buy into the intense 12-week program that includes flipping 500-pound tires, pulling cars and pushing trucks.
"It's not easy," Wilbekin told Sports Illustrated's Greg Bishop. "It's not fun. I don't really like that stuff. But it's a necessary part of the process."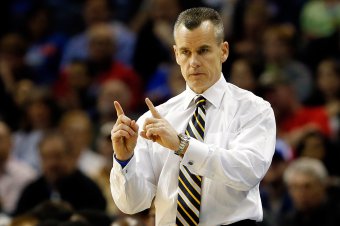 Kevin C. Cox/Getty Images
And that process has led them to the Final Four.
In the semifinal, they will face Sunday's winner in the East Regional, either Michigan State or Connecticut. Both of those teams are physical, defense-oriented teams, which should suit the Gators' style.
If they get to the final, they'll be able to rely on the wisdom and experience of a coach who has already left two Final Fours with the championship trophy in hand.
That pedigree should count for plenty. And what was largely overlooked while pessimists counted up Florida's three straight Elite Eight losses was that the Gators were the only team that made it to the last four Sweet 16 rounds.
So yes, they're the most experienced team left in the tournament. Their winning experience may be just beginning.