It was fitting that the defensive showdown between Michigan State and Virginia took place at Madison Square Garden. That's where the original Big East earned its black-and-blue reputation and where the Pat Riley-coached Knicks teams of the 1990s treated "showtime" like a dirty word.
It's also where Muhammad Ali and Joe Frazier fought each other for the first time. And while Michigan State's 61-59 survival against Virginia didn't involve any roundhouse punches, it did at times feel like a heavyweight brawl.
This was a game of deflections, rejections and outright denial for anyone looking to enter the paint.
The Spartans prevailed thanks to a combined 40 points from Branden Dawson and Adreian Payne, but there's no way they'll be asking for a rematch with the nation's No. 1 defensive team any time soon.
But Michigan State fans may find themselves being thankful for this game when the Spartans face UConn on Sunday, with the East Region's Final Four berth at stake. Connecticut will present another very physical foe, and Friday's bump-and-run encounter with Virginia was the perfect preliminary bout.
If more Big East old-school play is needed, Michigan State has the mindset to deliver it.
Against Virginia, Michigan State demonstrated it can go toe-to-toe from start to finish and still have fresh legs in the waning minutes. The Spartans met their defensive equal in this game, but they looked quicker throughout.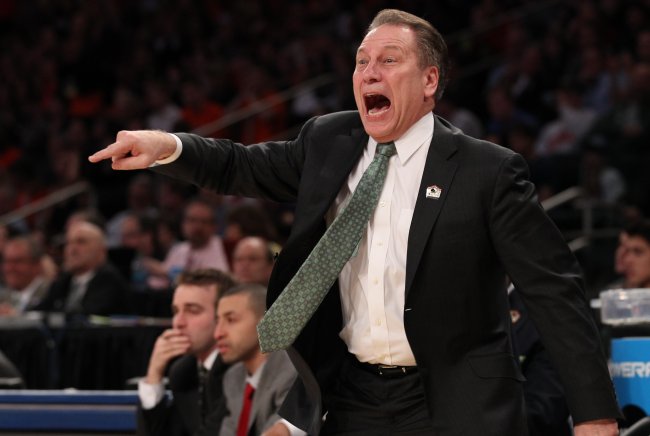 Adam Hunger-USA TODAY Sports
Tom Izzo's coaching trademark has been dominant play in the month of March, and this year's team showed it doesn't get rattled by suffering some setbacks under the bright lights of the tournament. There were two times when Michigan State's offense vaporized under Virginia's pressure—situations that might have made other teams buckle.
The Cavaliers held MSU without a field goal for nearly six minutes late in the first half, which allowed them to climb out of a 23-11 ditch and leave no doubt that it was game on as the teams gasped for oxygen at halftime.
Then the Cavaliers maintained that stranglehold as the second half started, not allowing Michigan State's first field goal until 6:38 had ticked off and Virginia held a 36-34 lead.
Those two stretches add up to more than 12 minutes of scoreless play, which for most teams would bring their March to an immediate and depressing end. But Izzo's team withstood those slumps.
The Spartans didn't wilt under pressure when Virginia tried to turn it into a free-throw-shooting contest at the end, hitting eight of their final 10 shots from the line. And one of those misses was intentional, in the game's final seconds.
Izzo also served notice that his roster is not a place for the weak of heart.
In the early going, Michigan State's coach went ballistic on the bench at sophomore Matt Costello because of a turnover. And it also wasn't long before he was angrily punching his right fist into his left palm after freshman Alvin Ellis III tried to get fancy with a no-look pass and blew what should have been an easy layup.
Both of those players got an earful from the coach, and yes, there are good reasons that his voice is even raspier than normal at this time of year. His six trips to the Final Four didn't happen because of wasted possessions, and he isn't hesitant to apply the pressure on his players chin-to-chin and see who blinks and who doesn't.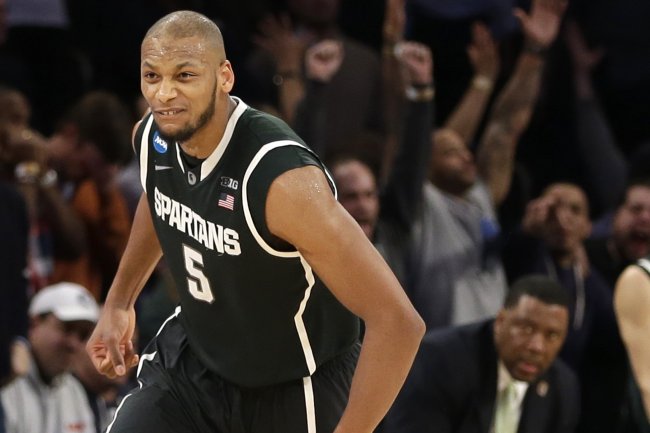 Seth Wenig
Another indelible Izzo moment came when Payne passed up a long-distance jumper in the final two minutes. That ignited another white-hot blast from the Izzo furnace. Payne, after all, was the guy who torched Delaware for 41 points last week, setting a school scoring record for the NCAA tournament. And March is no time for scorers to get gun-shy.
With Izzo's voice perhaps ringing in his ears, Payne seized his next chance to shoot, and he nailed what turned out to be a crucial three-pointer.
Those are the kind of gut checks that get teams and individuals ready for the Final Four, and Izzo's crew appears to be solidifying right on schedule. The final piece may prove to be Dawson, who's playing like a man intent on making amends.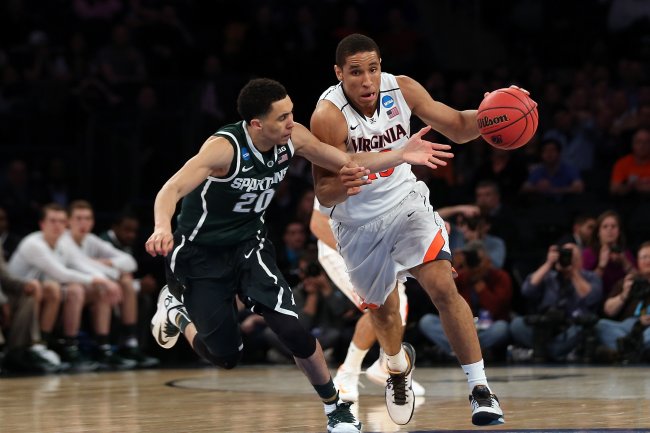 Bruce Bennett/Getty Images
Dawson does indeed need to atone to his teammates after missing nine games because of his foolish reaction while watching game film. By slamming his hand on a desk in anger, he nearly cost his team the shooter who was good for 24 points against Virginia.
Now, as Michigan State cements a last-man-standing mentality, Dawson has transitioned from careless lummox to unofficial MVP. When he's in the lineup, the Spartans are 24-3, and when he starts—as he surely will the rest of the way—they are 20-2.
Dawson reflected on those missed games during Michigan State's postgame press conference:
It was tough. Being out for those nine games. I think it was tough on me because just watching those guys play each and every night. For me, just making the bad decision that I made, I learned from it a lot. That didn't stop me from coming in and working hard, and I think that being out for those nine games, I just told myself that my team needs me, and I just need to step up and be a man. And that's what I did.
Sophomore guard Malcolm Brogdon offered only positives for Dawson during Virginia's postgame press conference:
I think Dawson presented a challenge because he's very versatile. He can move, he has great body control when he gets in the air. He plays through contact. He was able to finish in a lot of different types of ways. So he was just a hard matchup for us at the beginning.
Michigan State moves forward with its two top scorers on a roll, full of confidence and knowing that not even the nation's No. 1 defensive team could blunt its offense.
That has to be a good feeling as they get ready to go the basketball equivalent of another 10 rounds at the Garden and face the prospect of another game that will evoke memories of the old-school version of the Big East.
Tom Weir covered 15 Final Fours as a columnist and reporter for USA Today.