Mike Trout, the Angels' 22-year-old phenom, and arguably (OK, not so arguably, just fact) the best player in all of baseball, will be staying in Southern California for quite some time.
#Angels and @Trouty20 have agreed to terms on a 6-year contract extension! Official announcement to come tomorrow.

— Los Angeles Angels (@Angels) March 29, 2014
On the heels of an agreement to make $1 million for 2014, Trout will now receive $144.5 million over six additional years—according to Alden Gonzalez of MLB.com.
After inking that earlier one-year deal, Angels general manager Jerry Dipoto mentioned how he knew he had a unique situation on his hands, per Jerry Crasnick of ESPN.com:
There are players that force you to break rules. What he did for two consecutive years forced us to break our own rule. His performance certainly merited us to do differently than any of the others.
Well, Jerry, you certainly went on to break that very rule again in a big way.
This isn't a question of whether Trout deserves the money. After back-to-back runner-up finishes in the AL MVP voting and a 19.7 WAR over that span, per Baseball-Reference.com, the Angels could have handed him a blank check, and no one would have batted an eye.
After all, the guy can really do it all—such as hitting for the cycle with ease if that's something that you happen to enjoy:
The true question is why now? Fans and writers alike will point and say the Angels are paying too much for years they already had full control over. The problem is, these same folks are failing to look at the bigger picture.
Clayton Kershaw recently received $215 million over seven years in Los Angeles. Miguel Cabrera has a total contract value of $292 million over 10 years, according to Jon Heyman of CBSSports.com. The concept of $30 million per year has gone from a fantasy to simply the next step, and Trout was a certainty to blow past that very number in free agency.
Another number he was set to blow by was Ryan Howard's $10 million first-year salary-arbitration record from 2008.
In fact, the Los Angeles Times' Bill Shaikin quotes sources familiar with the process that Trout would likely snag a total of $60 million over his three arbitration years.
The next step is to perform some very, very simple math. If we add that $60 million in expected arbitration salaries to the $90 million his first three free-agent years would inevitably have been worth, we arrive at a shiny new six-year, $150 million hypothetical contract.
At $144.5 million and their star guaranteed not to test free agency until three years later than usual, it suddenly looks like the "why now" question has been answered, hasn't it?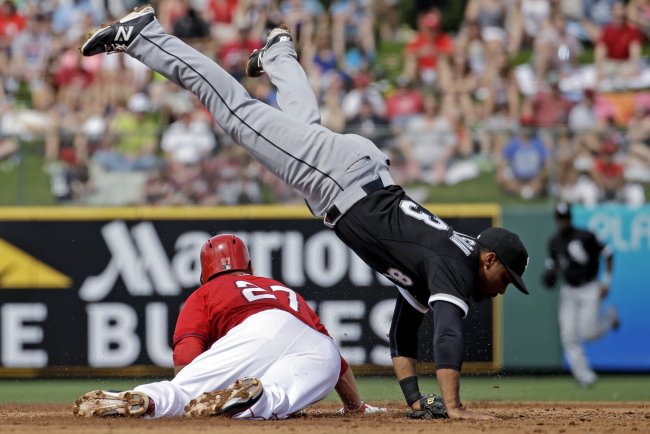 Morry Gash
What the Angels essentially just did is three-fold:
They locked up MLB's best player through the absolute creme de la creme of his prime years.
They did so while not risking overpaying on the back-end of his prime through his decline (a la Miguel Cabrera or Albert Pujols).
Let's be perfectly honest here, this is what you need to do in today's MLB to lock up your young homegrown stars long-term.
What Do You Think of the Mike Trout Extension?
The Rays did it with Matt Moore and Evan Longoria. The Cardinals did it with Matt Carpenter and Allen Craig. The Braves did it with, well, virtually their entire roster.
The contract values aren't the same, but the principle is. You avoid arbitration headaches, you keep your best players in-house and you pay a premium in the process.
It's always a risk to make a deal of this magnitude when you aren't forced to, but Trout is a bet most would place any day of the week. He's one of the game's very few legitimate five-tool players, and his defense, speed and damage-causing contact will make him worth every penny.
Essentially what I'm trying to say is, even if his offensive output took a tiny dip, he would still keep doing ungodly things like this on a weekly basis:
Is he a lock for a 10.0 WAR every year? Will his higher-than-ideal strikeout rate eventually catch up to him a little bit? Regardless of the answers to these questions, what we do know is that Trout will be a perennial All-Star and the best player at a premier position for many years to come.
If the Angels wanted to give themselves the best possible shot of keeping what could be the best player to ever suit up for their franchise in town for his entire career, they just completed a massive step in that direction.
Kudos to you, Angels, you will not regret it.