To be anointed the Cinderella team of the NCAA tournament, it's not enough to simply be a victorious band of hoopsters who have a double-digit seed next to their name in the bracket.
There needs to be a backstory as well—a charming narrative that makes a good bedtime story for all of us grown-up kids who stay up until the final horn sounds on every night of the tournament.
The University of Dayton unquestionably is that team this year, and the best chapter may be yet to come, when it meets Stanford on Thursday with a ticket to the Elite Eight at stake.
The Flyers, hailing from the Atlantic 10, are the only non-FBS team left in the tournament. Among Sweet 16 teams, only fellow No. 11 seed Tennessee generated such low expectations from the selection committee.
And they are giant killers. First the Flyers dispatched the in-state monolith who's accused of ducking them in the regular season, Ohio State. Then they took down No. 3-seeded Syracuse in suffocating style, not allowing the Orange to sink a single one of their 10 three-point tries.
That those two opening-week wins were wedged into place by a mere three combined points just enriches the narrative. When the little guys extend their NCAA journey this long, there needs to be some Hobbit-like peril involved.
So what are the other reasons it's easy to love Dayton?
Coaching intrigue
Nowhere in sports are the personalities of coaches more intertwined with the fortunes of their players than in college basketball, and Dayton's Archie Miller creates instant intrigue because he's the younger brother of Arizona coach Sean Miller.
Given Dayton's shock value and the way Arizona steamrolled Gonzaga to get to the Sweet 16, there's reason to believe these two could become the equivalent of the NFL's Harbaugh brothers, John and Jim.
The only way they can face each other this year is in the championship game, and it's way too early to fantasize about that kind of Peyton-Eli showdown. But you know the selection committee will hope to mine that ratings gold in future years. And Dayton has moved quickly to keep Archie on campus, already giving him a contract extension.
Coach's wife intrigue
Archie's wife, Morgan, received plenty of screen time from CBS during the Syracuse game, and she figures to get plenty more when Dayton takes aim at Stanford.
Here's hoping she continues to wear the "Dayton High Life" T-shirt that's a marvelous play on the beer company's "It's Miller Time" slogan.
Dayton has paid its dues
Starting in 2001, the UD Arena in Dayton was home to the tournament's play-in games, which have since morphed into the First Four. The city has stepped up and delivered crowds and atmosphere for games that some doubted would be well received and helped make them part of tourney lore.
It's fitting that the Flyers' trip to the Sweet 16 is bringing added attention to those efforts now, because UD's First Four contract runs only through March of 2015. The NCAA is scheduled to take bids on future years, and Dayton deserves to be the early favorite to remain the host.
Dayton has really paid its dues
Interest and attendance have remained steady for the Flyers even though they've had some lean years on the court. This is their first trip to the Sweet 16 since 1984, the year before the tournament expanded to 64 teams.
And it's worth noting that the 1984 team advanced to the Elite Eight before falling to eventual champion Georgetown.
They're getting noticed
Really noticed. President Obama didn't pick Dayton to win any games in his bracket, but he still was quick to congratulate the Flyers when they sent Syracuse packing, posting this tweet:
Congrats to the @DaytonFlyers on a huge upset win! Devin Oliver, I may need to take you up on that pick-up game one of these days. -bo

— The White House (@WhiteHouse) March 23, 2014
That's a reference to when Obama delivered a commencement speech at Kalamazoo Central High in Michigan, which Dayton forward Devin Oliver attended as a prep. Good Morning America broadcast the moment when Oliver gave Obama a commemorative jersey, and he also later extended an invitation to the commander in chief to play a one-on-one game sometime.
Who knows? It could still happen.
The university's president totally gets it
Wild celebrating naturally broke out on the Dayton campus when the Flyers defeated Syracuse.
And who was among the happiest revelers? The university's president, Dr. Dan Curran.
He went crowd-surfing as students chanted, "Dan! Dan! Dan!"
The Cinderella connection isn't a total stretch
A key part of that fairy tale involves how Cinderella was transported to the ball where she met the prince: Her fairy godmother transformed a pumpkin into a golden carriage and mice into horses.
The Dayton spin is that the Flyers have arranged to have the same bus and bus driver from their tournament games in Buffalo also do the honors when they play in the South Regional at Memphis.
The Dayton Daily News reports that Marty Flickner, of Genesee, N.Y., drove the same purple bus that was used last week to Memphis and picked them up at the airport there on Tuesday.
Flickner told the Daily News his initial reaction was, "They're crazy," but added, "They're a great group. They really are. They're down to earth."
Dayton is cool
If you don't believe that, read this BuzzFeed.com list of 10 little-known things about the city.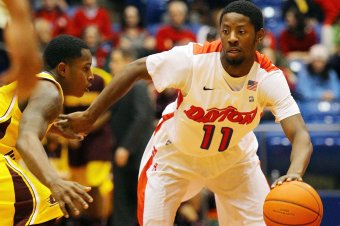 Rob Leifheit-USA TODAY Sports
Among them: Elvis Presley played five concerts there from 1956-76. Martin Sheen, a Dayton native, paid homage to the Flyers during an episode of The West Wing. And the school has one of the best spring break traditions in Florida, when about 2,500 students take over a similarly named town for their "Dayton 2 Daytona" partying.
Dayton also has the players
Jordan Sibert is a transfer from Ohio State who helped beat his former school and then hit a huge three-pointer late to hold off Syracuse. Sophomore Dyshawn Pierre, a Canadian, coolly sank crucial free throws late to quash Syracuse's last hopes. And freshman Dayshon "Scoochie" Smith is a freshman guard from the Bronx in New York who makes razzle-dazzle plays in the lane and has an all-world nickname.
What more can you ask for from this year's Cinderella team?
Tom Weir covered 15 Final Fours as a columnist and reporter for USA Today.