Stephen F. Austin had a great run this season, but it was no match Sunday night for the UCLA team coached by Stephen T. Alford.
The 77-60 victory means that in his first season coaching at UCLA, Alford has the Bruins back in the Sweet 16 for the first time since 2008. That's pretty much the minimum expected at the program made legendary by John Wooden, as Ben Howland discovered last year when he was canned despite making three trips to the Final Four.
Alford will need at least a half-dozen national championships before he earns direct comparisons to Wooden, but there's no doubting he has put together a team that thrives on pinpoint passing and that's peaking at the perfect time.
All of UCLA's starters had at least one assist, and eight players got into the assist column while ending Stephen F. Austin's 29-game winning streak.
What are UCLA's chances against Florida?
Everyone who's ever tossed the rock to a teammate, from Magic Johnson to Peyton Manning, would have to admire the way UCLA distributed the ball, ending the night with 22 assists on 29 field goals.
"That's the way we've been all year long offensively," Alford told TBS afterward, and he wasn't exaggerating. The Bruins rank fifth nationally this season with 17.2 assists a game.
Perhaps more importantly, fourth-seeded UCLA committed only three turnovers. The last one came very late during garbage time, costing the Bruins the distinction of being the first team since North Carolina in 1997 (against Fairfield) to commit only two turnovers in an NCAA tournament game. Alford's son Bryce should be prepared for some good-natured ribbing next week, given that he committed UCLA's first two turnovers.
But that efficient ball-handling bodes extremely well for UCLA in a tournament where teams often progress only as far as their guards can take them.
UCLA's three starting guards were nothing short of fabulous against 12th-seeded SAF.
Jordan Adams led the Bruins with 19 points on 8-for-12 shooting and added five rebounds and three assists. He also became UCLA's first player to have a 600-point season since Kevin Love in 2007-08.
Jeff Gross/Getty Images
Kyle Anderson had 15 points on 5-for-9 shooting along with eight rebounds and five assists, which led to another mention of Love by the TBS crew. By reaching 500 points and 300 rebounds, Anderson became the first Bruin to hit those milestones since Love did it in 2007-08.
Norman Powell was the third hot hand in the UCLA backcourt, with 16 points on 6-for-9 shooting plus two steals and an assist.
That leaves the 28-8 Bruins on a five-game win streak as they head to the South Regional in Memphis to face No. 1-seeded Florida, in what will be a rematch of the 2006 NCAA championship game.
Aside from the NCAA wins, two of those five straight victories indicate UCLA is as hot as virtually any team in the nation. One was against No. 1 seed Arizona in the Pac-12 tournament's title game. The other was an 84-59 blowout of Stanford, which is in the Sweet 16 round after upsetting Kansas.
"We've got an edge to us now, it's a lot of fun,'' Alford told reporters after the Arizona victory. "This gives us the confidence that we not only play with anybody, but beat anybody."
But when it comes to Alford's job security, the best stat is probably this: Winning two games in three days gives him as many NCAA tournament coaching victories as UCLA had in the last five seasons combined.
The Bruins were ousted in the round of 32 in 2009 and 2011, lost their opener in 2013 and failed to make the tourney in 2010 and 2012. As ESPN.com's Myron Medcalf notes, UCLA's roster featured freshman Kevin Love and sophomore Russell Westbrook the last time the team made it to the Sweet 16.
A Sweet 16 trip won't leave any Bruins alums agog, but it should help erase the dissension Alford and UCLA athletic director Dan Guerrero met after his hiring.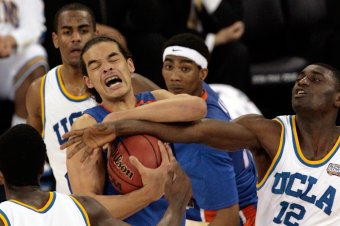 Win McNamee/Getty Images
There was some faculty criticism regarding the way the coach had supported a player accused of sexual assault during his 1999-2007 run at Iowa.
Alford's hire also wasn't overwhelmingly popular with Bruins fans who judged him purely on his coaching accomplishments. In seven trips to the NCAA tournament, he had reached the Sweet 16 only once, in 1999 at Southwest Missouri. And he was coming off a terribly disappointing finish at the 2013 NCAA tournament, where his third-seeded New Mexico team was stunned by 14th-seeded Harvard.
"I've said from day one it's a humbling experience to be in Westwood," Alford told TBS after the Bruins dealt Stephen F. Austin its first defeat in 120 days.
Alford elaborated on that pressure at Saturday's press conference, telling reporters: "There is not another place in the country that hangs 11 national championship banners. There is not another place in the country that has an icon legend like John Wooden that's done that much for basketball on and off the court, and a bar that's raised like that."
Added Alford: "You can't be good one out of every four years. You've got to be relevant every year."
And UCLA definitely is relevant this year.
Tom Weir covered 15 Final Fours as a columnist and reporter at USA Today.