When Rick Pitino went off this week about what a rotten deal Louisville was dealt with its opening matchup in the NCAA tournament, as reported by The Associated Press (via ESPN.com), his chatter initially just seemed like a shrewd coach attempting to fire up his team.
But after seeing the defending national champions barely escape against 13th-seeded Manhattan on Thursday, it was obvious Pitino truly foresaw the potential wrecking ball that was taking dead aim at Louisville's hopes of building a dynasty.
For conspiracy theorists, maybe the NCAA selection committee also sensed that this would be much more of a white-knuckle affair than we normally expect from a No. 4 vs. No. 13 matchup. Louisville's slim winning margin of 71-64 certainly should silence all of the critics who howled that Louisville's seeding was an outright insult.
Instead, it turned out to be a very humbling night for a team that many envision making a repeat trip to the Final Four.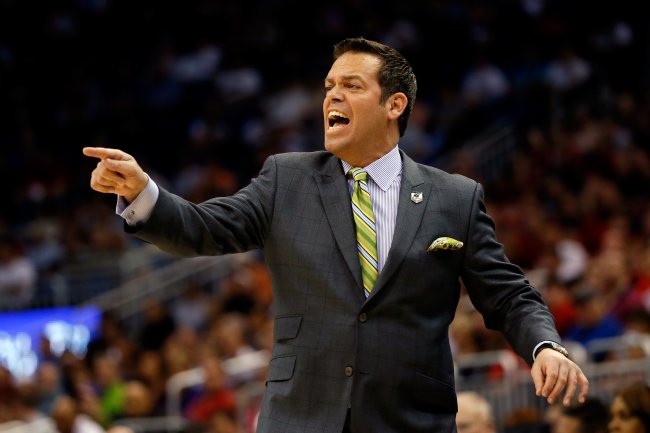 Kevin C. Cox/Getty Images
Going up against his protege and one-time ball boy in coach Steve Masiello, Pitino very nearly suffered the embarrassment of having a limb of his coaching tree snap off and whack him silly.
Playing against an opponent that does virtually everything exactly as Louisville does, the Cardinals at times looked like they had become thoroughly lost after wandering into a house of mirrors.
Interviewed by TNT immediately after the game, Pitino rated Masiello as the former assistant who comes the closest to cloning his strategies.
"We are almost tied to the hip," Pitino said of Masiello, who was coaching his first NCAA tournament game. "Out-of-bounds plays, the way we switch, the way we press. It's almost a carbon copy."
That shouldn't come as a surprise given that Masiello played for Pitino at Kentucky and then spent six years on his staff at Louisville.
But their relationship goes back even further than that, to when Masiello was the New York Knicks' ball boy for Pitino way back in the '80s. Who knows? Maybe Masiello's duties at Madison Square Garden included wiping the locker room's whiteboard clean when Pitino was done scrawling X's and O's all over it.
"You know, that's one of the best coaching jobs that I've seen in my 39 years," Pitino told TNT. "It was awesome. They just did everything fantastic."
Does Louisville look like a Final Four team?
Pitino also said his hope to use a matchup zone was stymied by Manhattan's ability to make error-free passes, and that he had to put four guards on the floor at times to defend the perimeter.
Being pitted against a coach who had come by so much inside information honestly seemed to perturb Pitino far more than the number of his team's seed.
''We press like him, we trap like him, his offensive sets are just like ours,'' Pitino said at his Wednesday press conference. ''That's why I don't like the game. I don't think it's fair. I don't like it. I don't know why they (the NCAA selection committee) would do it. I just don't like the game at all for either one of us."
And Pitino wasn't entirely joking when he added that, according to Jeff Greer of The Courier-Journal, "He knows everything I've done since I was 28."
Pitino also cautioned the news media not to treat Louisville vs. Manhattan like a matchup of No. 1 and 16 seeds.
"We won the national championship and obviously we're more heralded, but this is anybody's game," Pitino assured at his press conference. "This is not a 1-16.''
That certainly proved true throughout the game.
Manhattan led by 58-55 with four minutes, 16 seconds left and seemed in command with top Louisville scorer Russ Smith burdened by four fouls.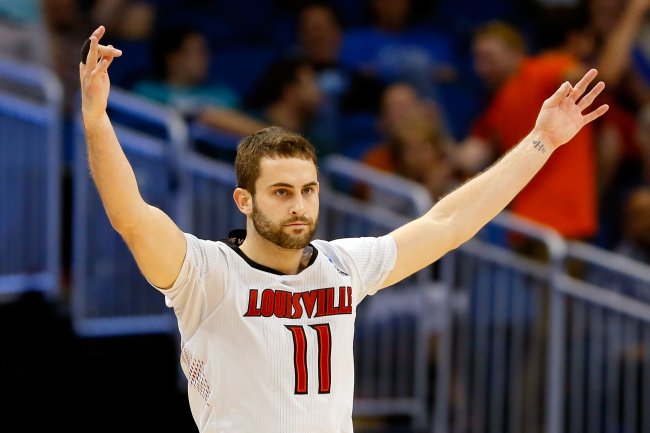 Kevin C. Cox/Getty Images
Louisville's normal three-point attack was held in check, as the Cardinals sank only one shot from beyond the arc in the first 36:30. But their hopes to become a rare repeat champion were kept alive when Luke Hancock buried a pair of threes plus two free throws in the final two minutes to earn the victory.
And this wasn't a case of one or two starters rising up for Manhattan with the greatest performances of their lives. Masiello went 11-deep into his roster and got 87 minutes from his bench.
The Jaspers got their name from a Brother Jasper who served as prefect in the 1800s. He is also credited with creating baseball's seventh-inning stretch. Fittingly, their roster of players mostly from New York's boroughs stretched Louisville to the maximum and earned respect for the Metro Atlantic Athletic Conference tourney champs.
The Jaspers also added more fodder for anyone who thinks the NCAA tournament's seedings have become passe. That debate already was fueled Thursday by two victories from No. 12 seeds, Harvard and North Dakota State. And a third No. 5, St. Louis, would have been ousted if North Carolina State hadn't forgotten how to shoot free throws.
Even No. 2 seed Villanova's 20-point victory against Milwaukee was deceiving, given that the Wildcats almost begged to be upset by missing their first 16 three-point shots.
And none of those teams' coaches could blame their difficulties on facing a former pupil.
Tom Weir covered 15 Final Fours as a columnist and reporter for USA Today.