The most wonderful time of the year has arrived once again: March Madness. There are few things just about everyone in our country participates in annually, but filling out NCAA tournament brackets in an attempt to win bragging rights over friends and thousands of sports experts is one of them.
Assuming you are new to this craze that takes the country by storm and decreases productivity in professional offices everywhere once February comes to an end, you probably need some advice.
Before you go printing off brackets, filling them out frivolously and figuring out which sleeper team you're going to ride to victory, a warning must be issued. It has the potential to become extremely addictive. Once your bracket is complete and the games begin, it is awfully hard not to get caught up in all the excitement of the upsets, unknown players becoming folk heroes and Cinderella stories.
Heck, the online streaming site for all of the games has a "boss button," which will immediately direct you to a fake screen to help the crazed sports fan avoid trouble in the workplace.
It is called March Madness for a reason, folks.
Now, there is no exact science for filling out a bracket. Everyone has a different strategy, but none of them guarantee much of anything.
When the odds of completing a perfect bracket are one in 9.2 quintillion, it is safe to say no one has narrowed it down to an exact science.
Some use advanced statistics. Others will stick to the chalk and pick the top seeds to advance more times than not. School names could be a rationale. However, Bleacher Report's very own Adam Kramer chooses to implore a completely unique and humorous strategy:
Remember: the only way to fill out a bracket is to pick teams based off mascot death matches.

— Adam Kramer (@KegsnEggs) March 16, 2014
Your goal should not be to complete a mistake-free bracket. Instead, focus on developing a strategy that will set you apart from everyone else in your competition. Here are the best ways for beginner's to do this.
Rule One: Never Pick a No. 16 Seed to Beat a No. 1 Seed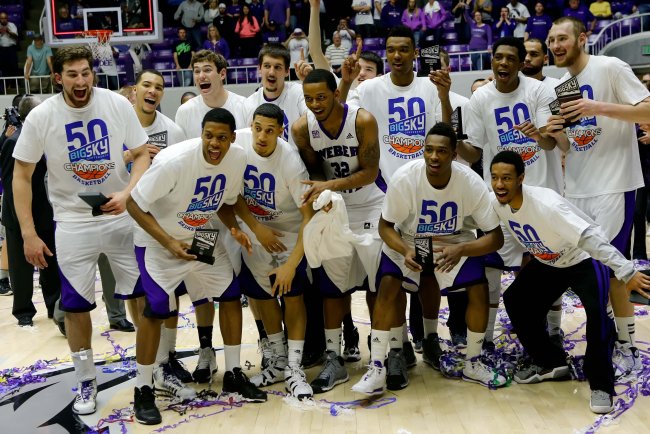 Chris Nicoll-USA TODAY Sports
While there are plenty of upsets every year in the opening weekend of the NCAA tournament, a No. 16 seed has never won a game against a No. 1 seed.
If you are looking to gain an edge in your pool, eliminating one of the four teams on the top line of the regional brackets is not the way to go.
There is no reason to believe this trend will be bucked this season either. None of the No. 16 seeds are ranked higher than No. 149 in the RPI. Against sub-top 150 RPI teams this season, the No. 1 seeds are a combined 39-0.
Whatever you do, advance Arizona, Florida, Wichita State and Virginia to the round of 32.
Rule Two: Find an "Upset Pod"
Five of the past six years, a No. 12 seed has faced off with a No. 13 seed in the third round of the tournament. This may seem like an odd trend, but nevertheless, it is impossible to deny its validity.
Peter G. Aiken-USA TODAY Sports
Finding this "upset pod" is quite challenging, though.
Last season, No. 13-seeded LaSalle topped fourth-seeded Kansas State, while 12th-seeded Ole Miss upset fifth-seeded Wisconsin in the round of 64. The year prior, Ohio beat Michigan as a No. 13 seed and beat 12th-seeded South Florida, which stunned Temple in its first game, during its run to the Sweet 16.
The best bet this year appears to be in the South Region.
Stephen F. Austin is riding a 28-game winning streak heading into its clash with fifth-seeded VCU on Friday. Right below it, fourth-seeded UCLA faces Tulsa, which boasts the No. 28 adjusted defensive efficiency rating, per Ken Pomeroy. Bruins head coach Steve Alford also has a history of losing early in the NCAA tournament. In seven career appearances, Alford has made it to just one Sweet 16 and has been bounced in his first game three times.
If you think others might be gambling on that one, take a chance on No. 12-seeded North Dakota State and No. 13-seeded New Mexico State in the West Region.
Regardless of what you decide, make sure you pick a No. 13 seed to win a game in the round of 64. Since 2003, only twice has a No. 13 seed failed to win a game.
As for the No. 12 seeds, they have beaten 18 No. 5 seeds in the past 11 NCAA tournaments. Four of those years, a pair of No. 12 seeds won in the round of 64. In 2009 and 2013, a trio of No. 12 seeds advanced to the round of 32.
Rule Three: Don't Pick Too Many Upsets
Do not confuse perception and reality when it comes to picking upsets. Sure, March is all about the Cinderella stories and underdogs, but the chalk manages to hold up on plenty of occasions.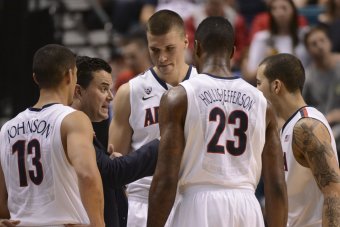 Kyle Terada-USA TODAY Sports
Bleacher Report's Kerry Miller found that in four of the past five NCAA tournaments, there have been 10 upsets in the round of 64.
So outside of those couple of No. 12s, No. 13 and the No. 14 seed you already selected, where else should you look?
According to Bloomberg Sports, the matchups on the 7-10 and 8-9 lines are the most likely spots to build up your number of upsets. No. 10 seeds beat No. 7 seeds 40 percent of the time, while No. 9s beat No. 8s in 53 percent of those matchups. Picking one or two No. 11 seeds to beat No. 6s would not be bad either, seeing as they have a 33 percent chance of advancing.
Make sure you have plenty of upsets in the round of 64. Just do not go overboard and wind up with too many double-digit seeds stunning the favorites.
Rule Four: Eliminate Two No. 1 Seeds by the Elite Eight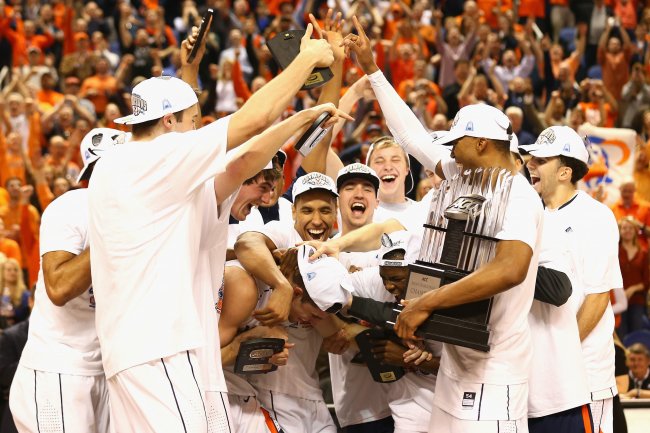 Streeter Lecka/Getty Images
Three of the past four years, and four times since 2004, two No. 1 seeds have been eliminated after the Sweet 16 games were played.
Feeling gutsy, or really do not like one of the No. 1s? Knock one out in the round of 32. Since 2010, a No. 1 seed has been bounced by a No. 8 or No. 9 seed three times.
Two No. 1 seeds lost in the Sweet 16 last season, while 2011 brought the same result.
Be sure to take a long look at a potential matchup between Oklahoma State and Arizona in the round of 32 if you feel like getting rid of a No. 1 seed early. A much larger and athletic Kentucky group could give Wichita State some problems in the third round, if those two happen to meet up.
As for the ones you will have left, those are safe bets to make it all the way to the Final Four.
In nine of the last 11 seasons, at least one No. 1 seed has advanced to the national semifinals. Four of those 11 years, multiple top seeds were in the Final Four. This has not happened since 2009, though, so picking one No. 1 seed to win its region is probably the best way to go.
Rule Five: Remember the Conference Tournaments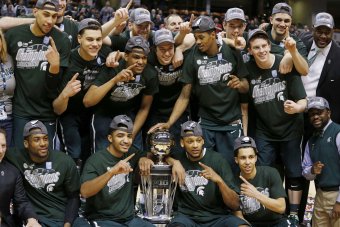 Brian Spurlock-USA TODAY Sports
Some will advise you not to put too much stock into the results of conference tournaments. To a certain extent, this is true.
Seeing as 12 of the last 16 Final Four teams made it to the championship games of their respective league tournaments, taking a look at those brackets is a really good idea.
Obviously there have been exceptions to the rule, but having a couple of teams who either won or just missed out on a conference tournament championship should be a priority.
Rule Six: Keep and Eye on the Numbers
Being the beginner you are, advanced statistics may not be your thing. However, Ken Pomeroy has simplified things a bit.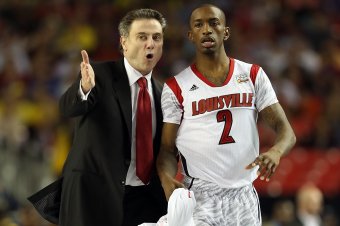 Andy Lyons/Getty Images
Eight of the last 11 national champions have ranked fourth or higher in adjusted offensive efficiency rating. Six of the previous 11 champs have also been No. 8 or better in adjusted defensive efficiency.
Not even the outliers are too far down the line, though. No champion since 2003 has finished worse than No. 21 in adjusted defensive efficiency and all of the last 11 champs have ranked better than No. 18 in adjusted offensive efficiency.
There are only four teams that fit the profile this season: Florida, Louisville, Villanova and Wichita State.
Seeing as the point values will increase the deeper you get into the tournament, picking the correct national champion is probably the best way to win your pool. Stick to the numbers and make sure you have one of those teams winning it all.
Rule Seven: Pick a No. 1, 2 or 3 Seed to Win it All
Kemba Walker led the third-seeded Connecticut Huskies, the last non-No. 1 seed to win a title, back in 2011.
Only four times since tournament seeding went into effect in 1979 has a team seeded No. 4 or lower won the national championship.
Seeing as Louisville and Michigan State seem to be popular picks to win it all this season, you should keep this statistic in mind:
We'll repeat this one for Louisville fans-- The last time a team seeded worse than third won the title was 4th-seeded Arizona in 1997

— ESPN Stats & Info (@ESPNStatsInfo) March 16, 2014
Rule Eight: Have Fun!
Again, there is no exact science to filling out brackets, and unless there is a future billionaire in our midst, no one will be perfect this year.
Simply try to survive the opening rounds and choose your champion wisely. Do that, and you could be the one everyone asks for bracket advice next year.
Don't let fandom completely get in the way of making your picks, but don't be afraid to have a little extra confidence in your team. After all, this is one of your first times. Go ahead and root for your team a bit.
Regardless of what happens, though, have fun. Enjoy the craziness the tournament is sure to provide. It will all be over in three weeks' time, which leaves you counting down the days until March Madness 2015!
Best of luck to all of you.