"Well you've gotta throw Tiger in there," 25-year-old Rickie Fowler said without hesitation in response to which golfers belong on golf's Mount Rushmore.
"Then you've gotta have Arnie, Jack Nicklaus, and I'm going to round it out with Ben Hogan."
Spot on, Rickie.
After weeks and weeks of media coverage of pro basketball player's thoughts on their sport's Mount Rushmore, Fowler took a stab at his for golf.
Fowler's also going to take a stab at capturing his first major championship at the Masters, which begins April 10th. He's finished inside the top 40 in his last three attempts in Augusta, with his best finish in 2012 (T27).
When asked about what he was looking forward to at the Masters, the normally eloquent Fowler noticeably struggled to find his words.
Whether you're a pro or a fan of the game, it's a week unlike any other. I'm actually going up there a week before to get a few rounds in. I'm just looking forward to everything; from the practice rounds to the Par-3 Contest to the rounds themselves. I'm excited with where my game is and am hoping to peak at the right time.
He's got every right to be excited, coming off a T3 at the World Golf Championships-Accenture Match Player Championship just a weeks ago, by far one of the most competitive fields of the season. But Fowler has never been one to settle and has his sights set on larger goals this year.
Wins and finishes are key. This year is about winning golf tournaments, being in contention at majors, making it through the Fed-Ex Cup to the Tour Championship and then, it being Ryder Cup year, I definitely want to make the Ryder Cup.
No wonder the Ryder Cup is a priority considering Fowler calls the 2010 Ryder Cup the best sporting event he's ever attended; even if he was participating.
At age 21 years and 9 months when the matches began, Fowler made history as the youngest U.S. Ryder Cup player of all time; only European Sergio García was younger when he made his Ryder Cup debut in 1999. Despite a slow start on the final day of competition, Fowler birdied the last four holes to halve his singles match against Edoardo Molinari after having been four down after 12 holes.
The reality of Fowler's professional career is that he's playing in one of the most competitive periods of golf the sport has known. Not only do Hall of Famers like Tiger Woods, Phil Mickelson and Ernie Els remain competitive, but Fowler (25) is among a flurry of impressive 20-somethings on Tour. He's trailing behind the likes of two-time major champion Rory McIlroy (24), the top-10 machine at the majors Jason Day (26), Patrick Reed (23), Russell Henley (24) and last season's Rookie of the Year, Jordan Spieth (20).
Not to mention players like Justin Rose, Adam Scott and Dustin Johnson, all of whom are among golf's most gifted players and hitting their prime.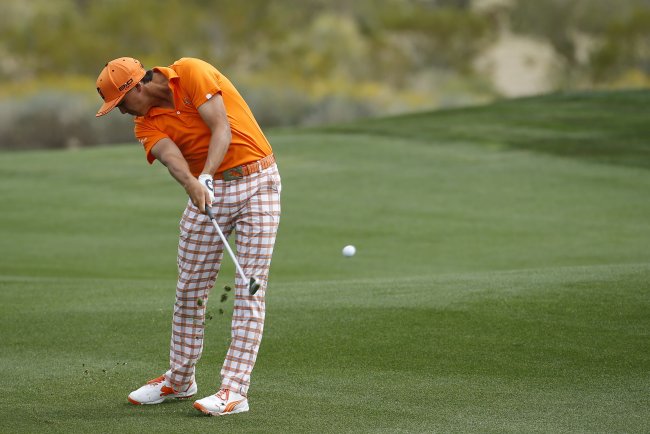 Matt York/Associated Press
Although Fowler won the Wells Fargo two years ago, Fowler has gone winless since then on the PGA Tour.
Fowler's reputation has gone from the next big thing in golf about four years ago—when he earned seven top 10 finishes and two runner-up finishes in 20 events—to needing to prove he can consistently contend with golf's elite.
But nothing about the way Fowler speaks, competes or carries himself makes him seem flustered. Maybe that's because he knows how to have a good time off of the golf course.
For the most part, I'm a big college sports guy. Never got into football a whole lot. I played baseball as a kid, but never really had a team. I actually got to spend some time in Florida near where I live with the Cardinals, so I'm good buddies with some of them. But I grew up around action sports, so I love motocross and all the stuff from X-Games and Winter X-Games. Also, being involved with Red Bull I have a lot of buddies in that atmosphere. So not your normal basketball or football following, but I enjoy my sports.
And as you'll have seen in the video above, he's having his fair share of fun in his second-year sponsorship with Crowne Plaza Hotels and Resorts. As Fowler said,
I've definitely grown in the partnership. I've gotten to know the people, so it's becoming more of a partnership than just a sponsor. It's been fun and with the amount of time I spend on the road, Crowne Plaza is a perfect fit.
The video above offers a sneak peek at his recent shoot with Crowne Plaza at Riviera Country Club in Los Angeles, Calif. Fowler's a spokesman for "a new campaign featuring personalized offers for rewards clubs members, as well as opportunities to earn bonus points and potentially free travel as well."
Fowler's achieved a great deal at the ripe age of 25, between his accolades on the course and his seemingly endless group of partnerships (Red Bull, Bushnell, Farmers Insurance, Titleist and Crowne Plaza). But he's still hungry for more. When asked about his performance since turning pro in 2009, Fowler said,
I'd say it's been above average; not stellar by any means. The one win is great, but I would've liked to have had more by now. Adding wins to the resume is my main focus.
A strong finish at the Masters, or perhaps a maiden victory, would grant him the momentum he needs to re-emerge as one golf's young stars.
All quotes were attained firsthand unless otherwise noted.
For more golf news and analysis: Follow @Will_Leivenberg