What's your favorite NCAA tournament in recent memory?
Florida's repeat championship seasons of 2006-07? Kansas needing overtime to claim the 2008 Final Four? How about the 2009 title run that saw North Carolina win all of its games by double-digit margins, and was also the first time President Obama introduced us to his "Barack-etology"?
Butler made 2010 a year of strong contention, losing by only a basket to mighty Duke in the championship game.
2011 introduced the "First Four" round of play and had a Final Four that was void of No. 1 seeds but included No. 8 Butler and No. 11 Virginia Commonwealth. 2012 marked the first time that two 15th-seeded teams—Lehigh and Norfolk State—staged opening-game victories. And 2013 gave us a tournament where upsets came from at least one seed in every position from No. 9 through No. 15.
Let's face it, the NCAA tournament is one of the most dependable providers of thrills in sports, and March Madness never gets condemned as dull. But there are plenty of reasons to believe the 2014 edition could be the absolute best we've seen in a long time.
Let's count 'em up.
1. This tournament is as wide-open as Dick Vitale's mouth.
Florida is No. 1 in the polls and hasn't lost since Dec. 2 at Connecticut, but it was taken to the wire Saturday after trailing by seven at halftime to 21-12 Tennessee in a Southeastern Conference tournament semifinal. The Gators are very good, and the roster is thick with seniors, but they'll still have to grind their way to the Final Four.
No. 3 Villanova shockingly failed to survive its Big East opener against Seton Hall. Once upon a time the Big East schedule prepared its regular-season champions for Octagon brawls, but 'Nova looked a little soft while losing to a team that entered with a .500 record.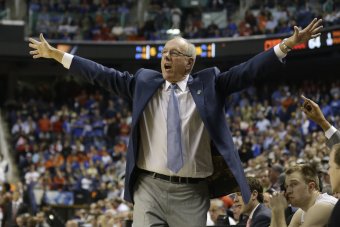 Gerry Broome/Associated Press
Syracuse had the No. 1 ranking in a full-nelson hold for much of the season but now is falling faster than a paratrooper who can't find the rip cord.
After five losses in seven games, the Orange's 25-0 start seems like a mirage, and the prospect of getting The 'Cuse in an early-round game might make some low seeds salivate. Meantime, speculation grows about whether a first-game exit will make Jim Boeheim's head explode.
Kansas couldn't get past a fast-rising Iowa State team in the Big 12 festivities. And a bad back will keep Joel Embiid, the potential No. 1 pick of the NBA draft, out the first week of the tournament. That seriously endangers the chances of Bill Self's club getting to the second week.
Kentucky was the preseason No. 1 but couldn't be found in the top 25 when the curtain came down on the regular season. The Wildcats are "Team Schizoid." They perhaps played their best game of the season while trashing LSU in the SEC tournament, but they have an amazing gift for making people forget they're all supposed to be lottery picks.
"There is an awful lot of parity and balance in the game, which will make it more challenging for the committee, but should produce a really exciting tournament," selection committee member Ron Wellman said, via The Associate Press' Michael Marot and the Minneapolis Star Tribune.
So no, no one will get a free ride to the Final Four.
2. There's an undefeated team.
How far will Wichita State go?
Not many of this year's players were even alive in 1991 when UNLV was the last team to enter the tournament with an unbeaten record. The Runnin' Rebels came up short of a perfect season, losing to Duke in the Final Four semifinals, meaning no team has finished with a zero in the loss column since Indiana in 1976.
But Wichita State has a chance to match the feat that only seven teams have accomplished, including the four that were coached by John Wooden at UCLA.
The appropriately named Shockers have more doubters than any of the other teams that finished undefeated, and consequently they also head into the tournament with the biggest chip on their collective shoulder. It makes for a great storyline, because there's no arguing with the meaning of perfection.
Gregg Marshall has steadfastly defended his team during the debate about whether its schedule merits a No. 1 seed. Now it's time for Wichita State to defend its proud coach on the court.
3. The freshmen
Watch closely, because the future of the NBA may be unfolding before your eyes during the NCAA tournament.
Assuming the top freshmen enter the draft, this year's crop of one-and-done players could have the biggest impact on the pro game since LeBron James, Carmelo Anthony, Chris Bosh and Dwyane Wade accounted for four of the first five selections in 2003. (Think Detroit would like to get back that No. 2 pick it used on Darko Milicic?)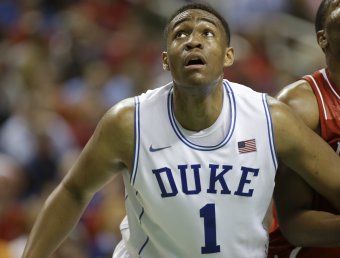 Bob Leverone/Associated Press/Associated Press
Embiid, Duke's Jabari Parker and Kansas' Andrew Wiggins are the consensus top three. All three could rapidly change the direction of their future franchises, and there's plenty more freshman talent that will be drafted right behind that troika.
Other freshmen who could go in the top 10 include Julius Randle (Kentucky), Tyler Ennis (Syracuse), Aaron Gordon (Arizona), Noah Vonleh (Indiana) and James Young (Kentucky). And UCLA's Zach LaVine should go in the top 15.
With new NBA commissioner Adam Silver huffing and puffing about changing the league's age limit this very well could be the last time there's so much discussion about how many college freshmen will quickly find a place in starting lineups in the pros.
But there's a flip side to all the young talent. A lot of the top teams are depending on those young stars to escort them deep into the tourney, but they're still untested in the glare of March Madness. Seeing how they handle that pressure could shuffle where the freshman go in the draft.
4. Doug McDermott
No player is ever truly a one-man show, but Creighton's senior forward is on the bubble of that distinction. He's amassing a den's worth of player-of-the-year awards and so far has kicked the Sports Illustrated cover jinx in the teeth.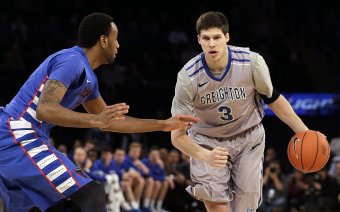 Frank Franklin II/Associated Press/Associated Press
The McDermott hype is in full swing and will only escalate if Creighton moves on to the Sweet 16. The Bluejays figure to feed college basketball's No. 5 all-time scorer more than ever, and it's not unthinkable that he'll rise to No. 2 on that list before the tournament ends.
So far, the superstar McDermott has been likened to most often is Larry Bird. But if his scoring hits maximum capacity during the tournament, there may yet be comparisons to the one-man show Bill Bradley had for Princeton in the 1965 tournament, when he scored 58 points.
McDermott has that kind of talent, and as long as he isn't playing your favorite team, you know you'll be dying to see him go off.
5. The same old cast of characters
Love them or hate them, Duke's Blue Devils appear to be hitting stride. North Carolina, not quite so much, but it seldom pays to doubt the Tar Heels. And Rick Pitino appears to have Louisville in exactly the same spot it occupied before beginning last season's march to the championship.
The tournament needs those mainstays, even if the CBS cameras do pay a little too much attention to Mike Krzyzewski's facial expressions.
They'll be there, along with a likely agonizing Boeheim and a collection of Cinderellas that are sadly missing from my bracket.
So hold on tight, because this NCAA tournament could be even more unforgettable than all the ones that have brought you so many great memories.
Tom Weir covered 15 Final Fours as a columnist and reporter for USA Today. Follow him on Twitter at @TomWeirSports.