If you're a college hoops junkie, don't you have to be rooting for the Big East this year?
Yes, by Madison Square Garden standards, the Big East tournament is woefully short on marquee teams.
Third-ranked Villanova vs. No. 14 Creighton for the championship on Saturday would make for a compelling finale, even though it's not Ali vs. Frazier. But after those two powerhouses the pickings get very slim in a conference that once defined physical play and left even the spectators feeling a little bruised as they exited the arena.
But the Big East might hear the names of only two of its teams called out on Selection Sunday. That's a mighty fall for the conference that sent three teams to the Final Four back in its prime, when Villanova, Georgetown and St. John's all reached that pinnacle in 1985.
This year, the Big East is more of a bubble machine.
At 20-11, Xavier might need a semifinal victory against Creighton to slide into the NCAA tourney. St. John's is on an 11-3 run but probably needs a semifinals victory against Villanova to get in. And 20-11 Providence faces the same dilemma, with no terribly notable nonconference victories. As for Georgetown, its bubble popped Wednesday night with a defeat at the hands of 10th-seeded DePaul.
But gym rats everywhere still should maintain a soft spot for the Big East. This is, after all, the conference that has thumbed its nose at big-time football and gone its own way, dedicated totally to hoops and the sound of sneakers squeaking on hardwood.
There's a purity there. The remaining Big East schools understand they don't have enrollments that can match up with members of the Big Ten, the Big 12 or the SEC. They know their place is in sweltering arenas in December, January and February, grinding toward March Madness.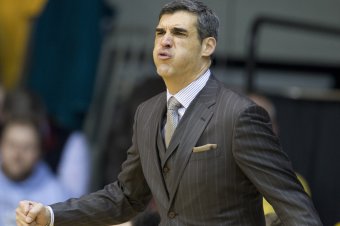 Mitchell Leff/Getty Images
The Big East's unofficial nickname, the "Catholic 7," says it all about the conference's roots and current-day reality.
Surviving the departures of Louisville, UConn and a host of other schools has meant putting some rubber into the meaning of Big East. Creighton, after all, is west of Iowa.
But what a great choice. In draft terms, Creighton's addition this year has been like finding a Hall of Famer with a late-round pick.
The Blue Jays' Doug McDermott is proving worthy of his comparisons to Larry Bird, making shots from angles that defy Euclidean geometry and disdaining the dunk while excelling with the left hand that so many players allow to be dormant.
In the tradition of such Big East gym rodents as Chris Mullin and Billy Donovan, McDermott also looks like his flesh hasn't been exposed to the sun since August. Maybe that's what it takes to crack the 3,000-point barrier. And after seeing McDermott do that by hitting for 45 against Providence on Saturday, it's not unthinkable that he could join Austin Carr, Bill Bradley, Oscar Robertson and David Robinson on the list of those who have had 50-point games in the NCAA tournament.
Meantime, Villanova deserves a No. 1 seed in the minds of most bracket prognosticators, which could put Jay Wright's team on the path to becoming the eighth Big East team to prevail at the Final Four.
So while the Big East lacks depth, it is positioned to have this NCAA tournament's best team and best player.
But what it lacks is the heavyweight fight atmosphere that used to engulf so many games. Patrick Ewing and his Georgetown teammates set that tone in the '80s, but we'll probably never see it again. The NCAA has essentially legislated against it, ordering referees to favor offense more than ever this season.
Without that signature physical play the remodeled Big East needs some intense modern-day rivalries. Seton Hall's one-point victory against Butler in Wednesday night's first round was a marvelously intense game, but there's barely a shred of history between those two teams.
The first Big East coach to win a Final Four, Georgetown's John Thompson, thinks the problem for his old black-and-blue conference is that the coaches have gone soft.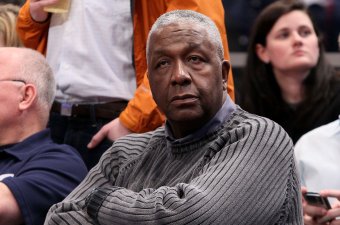 Jim McIsaac/Getty Images
In an interview with Fox Sports that was aired during Wednesday's first-round games, Thompson looked back on the days when he went nose-to-nose with Syracuse's Jim Boeheim and others and said fiery coaches are what's keeping today's reshaped Big East from having great rivalries.
Said Thompson in his Fox interview:
"I think controversy creates rivalries. You got too many saintly coaches in this new league. You got to stir up something. Jimmy and I used to yell at each other. We were ready to fight one another. (But) we all loved one another. You got these altar boys coaching now. They better stir up a little something if they want this thing to go."
The irony is that those "altar boys" include his son, John Thompson III, whose Hoyas were upset on the Big East tournament's first night. Maybe he can use the rest of the weekend getting tips from his dad on how not to be saintly.
Tom Weir was a founding member of the USA Today sports staff and has covered 15 Final Fours. Follow him on Twitter at @TomWeirSports.