The golfing world is long accustomed to seeing a man dressed in red and black take charge on the final day of a PGA Tour event and stride off the 18th green with a record-setting victory.
It happened again on Sunday at Trump National Doral, but the guy celebrating in a blood-red shirt and pitch-black pants wasn't Tiger Woods.
Instead, 23-year-old Patrick Reed claimed the Cadillac Championship, adding some other Tiger-like accomplishments along the way.
At five months shy of his 24th birthday, Reed is the youngest winner of a World Golf Championships event. The victory also escorts him into the small circle of golfers who have won three PGA tournaments before turning 24—Phil Mickelson, Sergio Garcia, Rory McIlroy and, of course, Tiger.
The irony is that Reed's college biography from when he played at Augusta State says the person he most wanted to switch places with for a day is Woods. But if he had been offered the chance to have that dream come true on Sunday, he would have rejected it in a heartbeat.
Woods, playing in the pair in front of Reed, was a shell of himself while battling back pain as he shot a final-round 78. The implosion came one day after he shot a tournament-best round of 66, and it marked the first time he failed to score at least one birdie on his final lap in a PGA tourney.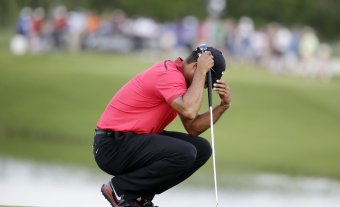 Lynne Sladky/Associated Press/Associated Press
Woods had to back off momentarily from one putt on the the 17th green because back spasms left him unable to bend into the correct posture. On the 10th, he struggled to remove his ball from the cup, and on the 11th, John Wood, the caddie for Hunter Mahan, kindly retrieved Woods' ball. His winces were too numerous to enumerate.
Maybe Woods will bounce back in time to have an impact at the Masters, but at the moment, it looks as if Tiger is in no condition to prevent the young lions like Reed from passing him by.
Maybe the most amazing part of Reed's ascension is that next month's Masters will be his first major.
And no matter what happens between now and then, he's certain to command a share of the limelight when he arrives back in his college town.
Augusta National is only about two miles from the campus of Augusta State, the university Reed led to back-to-back NCAA championships in 2010-11. No school had managed that feat since the University of Houston in 1984-85, and perhaps the rapid rise of his little-known college is what conditioned Reed to show so much bravado after Sunday's victory.
Leading after the third round, Reed already had told NBC in a Saturday interview that he firmly believes he's one of the world's five best golfers. Sunday, he didn't back off that contention one iota as he went in front of an NBC camera again immediately after clinching his victory.
Referencing his third PGA win at the age of 23, Reed said:
"I just don't see a lot of guys that have done that, except for Tiger Woods of course, and all the legends of the game...I believe in myself, and especially with how hard I've worked."
Then he repeated to NBC that, "I'm one of the top five players in the world," and added that, "To come out in a field like this and to win wire-to-wire like that, I just feel like I've proven myself."
Those words didn't have a bragging tone, but rather, he said them as matter-of-fact as a caddie reciting hole yardage.
Patrick Reed will be roundly ridiculed for saying he's one of top 5 in world. Shame, because 3 wins in 8 months is top 5 in the world form

— James Corrigan (@jcorrigangolf) March 10, 2014
Speaking of caddies, Reed's favorite one figures to win him a lot of followers among the PGA's female audience.
Reed's wife Justine carried his bag when he became a PGA winner for the first time, last August at the Wyndham Championship. Reed went with the red-and-black wardrobe attack in his final round there, and said he was trying to "channel" Tiger.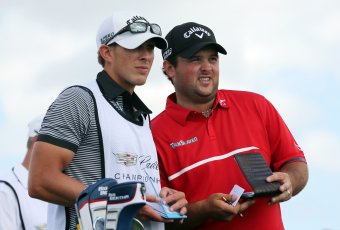 Wilfredo Lee/Associated Press/Associated Press
But because she's pregnant, Justine had to accept just being a spectator when Reed won again in January, at the Humana Challenge. But Justine's brother, Kessler Karain, took over as Reed's caddie, keeping the family theme alive.
Their baby daughter is due around Memorial Day, and Reed says his wife will resume hauling his 45-pound bag before the year is over.
"She's thinking of coming back right before the PGA (Championship)," Reed told Doug Ferguson of The Associated Press (via PGA.com). "She wants to get back at it, and I want her out here."
That perhaps begs the question of who will be back in top form first—Justine or Tiger?