John Calipari got his wish on Saturday, the one about hoping "the light goes on" for his Kentucky team.
But unfortunately for the Wildcats, that glow was the beacon of an oncoming locomotive known as the Florida Gators.
Florida became the first team in Southeastern Conference history to finish the regular season 18-0, by the inarguable count of 84-65.
To find the last team from a BCS conference to do that, you have to wander all the way back to 1976 at Indiana, to when the Hoosiers were still wearing short shorts and putting very big and very rare smiles on Bobby Knight's face.
That fact and the blowout score should quiet at least a few of the disbelievers who keep harping that Florida's 29-2 record includes too many close calls.
Kentucky is another matter.
For most schools, there's no automatic and mandatory amount of shame that accompanies getting trashed by the nation's No. 1-ranked team. But that's not the case in the Bluegrass State, where basketball wins often have been taken for granted during the Calipari era, and where the point spread is expected to be conquered with unerring regularity.
Instead, this game showed that the SEC's top two teams are every bit as far apart on the court as their Gainesville and Lexington campuses are on the map.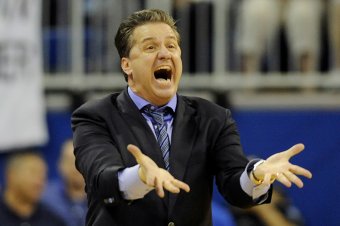 Phil Sandlin/Associated Press
Perhaps what said it all was a sign one fan carried into the O'Dome. It read: "Hey Kentucky, this is what Senior Day looks like."
That's an obvious reference to the four seniors—all of whom once rode Billy Donovan's bench—who have won 23 consecutive games while making an air-tight case for a No. 1 seed in the NCAA tournament.
Patric Young, Will Yeguete, Scottie Wilbekin and Casey Prather led the way once again on Saturday. And with 32 consecutive home victories, they're entitled to contend that the O'Dome has replaced the football team's Swamp as their school's toughest place for opponents to play.
They got the celebration started early with exemplary teamwork, as Florida's first six baskets all included an assist. Kentucky had never trailed by more than 16 points this season, but by halftime the Wildcats discovered what it was like to head for the locker room down 21.
Youth is the obvious excuse for why Kentucky hasn't even remotely lived up to its preseason expectations and now-laughable No. 1 ranking in the AP and coaches polls. But that's an alibi that works in November and December and not on the second weekend of March.
The 22-9 Wildcats have a full season behind them, and their freshmen should be showing sophomore smarts by now. But during thousands of trips up and down the court, they still haven't been able to find an identity.
For this group, Calipari's dribble-drive offense still fits worse than clown shoes, and they rarely demonstrate the pedigree of a program that traditionally is known for showtime explosiveness. And their bench scored zero first-half points, leaving them looking as hopeless as a jockey trying to win the Kentucky Derby with a three-legged horse.
Calipari has told them all season long to start having fun, but that once-upbeat message has been issued so many times it's probably starting to feel like badgering.
The starting unit is five freshmen, so there's no voice of experience. And Kentucky's only two seniors—Jarrod Polson and Jon Hood—barely average 10 minutes a game combined.
Even before Saturday's game, ESPN's Jay Bilas was already pounding nails in Kentucky's coffin.
"This class was hyped—and maybe over-hyped—based on numbers, and not based on pieces," Bilas said during a teleconference last week, referencing that rating of recruiting classes.
To be fair, Kentucky did muster a second-half flurry that sliced Florida's lead to six, and freshman forward Julius Randle sizzled for 16 points on 7-for-11 shooting. But that didn't begin to compensate for the first 20 minutes during which Kentucky looked devoid of confidence and poise.
At his postgame press conference (video above) Calipari said his team played "timid" against an opponent that thoroughly deserves its No. 1 ranking.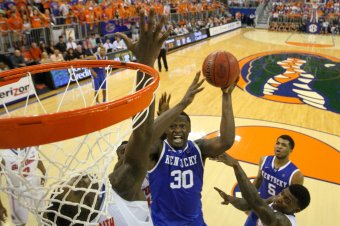 Rob Foldy/Getty Images
"They are that good," Calipari said of the Gators, "and if you don't come and play you're going to get smashed."
Calipari was particularly aggravated by seeing his team cut the deficit to six points, only to throw it away.
"Then all of a sudden (we take) two of the worst shots we've taken all season long," Calipari said. "Like, you got to be kidding me. But that's what freshmen do."
The swagger that has always made Kentucky must-see TV is missing, and on the sideline Calipari at times looks like a coach who can't decide whether the best remedy for his young team is a hug or a kick in the tail.
He better decide fast, because a quick exit at this week's SEC tournament will only intensify the funk. But it's not just a matter of reaching into his hat and pulling out a rabbit. What he needs is a rhinoceros to get this group going. Calipari believes such a feat is possible.
Said Calipari:
We're not there yet. But let me say this. My whole vision of this team is that we're going to get it, and it will start this week when we're in our tournament. Let's start down there.
Still, on a day when the Wildcats should have been stoked to snuff out Florida's farewell party for its seniors, they instead looked every bit as blue as their uniforms during the first half.
The loss figures to knock them from their tenuous 25th position in the Associated Press poll. With a 3-3 finish against what's considered a mediocre cast of SEC opponents, it's also very difficult to foresee Kentucky playing past the first weekend of the NCAA tourney.
Those final six SEC regular-season games included a fortunate escape in overtime against LSU, and they even struggled at home against an Alabama team that hasn't won a single game on the road all season.
The Wildcats are generally projected as a No. 7 seed. Getting that spot would mean opening against a No. 10 seed, but then they would be virtually certain to face the roadblock of a No. 2 seed as they seek a spot in the Sweet Sixteen.
Anyone taking that gamble with their bracket?
Didn't think so.