A solution to the Los Angeles Clippers' salient lack of frontcourt depth, Glen Davis could be the answer for the Clips off the bench.
With career averages of 8.9 points per game and 4.8 rebounds per game, the 6'9" Davis can be relied upon to score in short bursts and play sound team defense. Having won a championship in 2008 with the Boston Celtics under the tutelage of Doc Rivers and Kevin Garnett, Davis appeared to be a perfect fit in Lob City when he was bought out of his contract with the Orlando Magic.
Big Baby is an immediate upgrade over the human foul machine Ryan Hollins, as well as the ineffective Byron Mullens, now jacking up threes on the Philadelphia 76ers.
Despite a small sample size, we can still assess Big Baby's production in Los Angeles. We will grade him based on expectations and career numbers, with an eye towards his potential impact in the postseason.
Immediate Impact
Still figuring out his rotations, Rivers has played Davis sparingly over his first three games.
Davis has not appeared in a game for more than 14 minutes. In his first game against the Houston Rockets, Davis saw just five uneventful minutes of action.
His only points came off of free throws, but he did have two big blocks. Davis also forced a tie-up to create a jump ball, earning him some applause from the Staples Center crowd.
Despite his average performance, Rivers praised the big man after the game (h/t Arash Markazi of ESPN.com):
"His lungs weren't good, but everything else was. He's a terrific post defender. And when you try to back him down, you're not going to back him down. If you're backing him down, then you're a powerful human being," Rivers said. "He knows our defense, and you could see that right away. He was in the right spot every time."
Although he is not a rim protector by any means, Davis' knowledge of Rivers' defensive schemes should pay dividends for Lob City in the future. Rivers' defense is designed so that the whole may exceed the sum of its parts, and Davis' mild learning curve will yield benefits.
Davis saw his heaviest minutes in a 108-76 rout of the New Orleans Pelicans. In his 14 minutes of action, Big Baby was decent, scoring five points, grabbing three boards and using four fouls.
He will be of much more value as he gets into better game shape.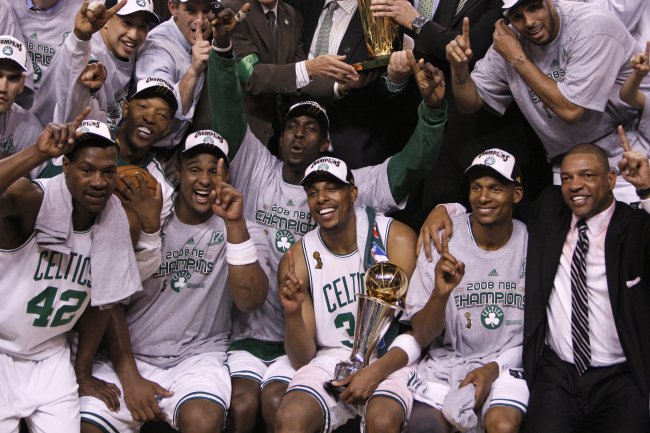 Winslow Townson/Associated Press
Expectations for the Future
Given the incredibly small sample size, it is tough to predict which lineups Davis will fit best with.
At only 6'9", with a limited vertical leap, Davis should not see too much time in which he is the lone center. However, given his outside shooting and his versatility, Davis can complement either DeAndre Jordan or Blake Griffin on the floor.
Playing alongside Griffin, Davis adds a spacing quality that Hollins was unable to. Griffin can resume his spot in the low post, while Davis hangs around the perimeter, knocking down open shots.
Alongside Jordan, Davis' value is similar.
Davis opens up much more space, allowing Jordan to gobble up rebounds and hang around the rim for lobs.
Big Baby is an adept mid-range scorer, having converted 51.8 percent of his attempts from eight to 16 feet on the right side.
Will Big Baby have an impact for the Clippers in the postseason?
From just inside the three-point line he is also effective. Davis is knocking down 45.5 percent and 45.8 percent of his attempts from 16-24 feet on the right and left sides, respectively.
Playing on one of the elite offensive units in the league, Davis will be relied much more for his defensive prowess than for his offensive skills.
As Fred Katz of Clipperblog points out (via Clipperblog.com):
Big Baby can play both center and power forward on the defensive end, and though he isn't fleet of foot, he's an intelligent and physical defender who can help his team in more aspects of the game than any other backup power forward or center currently on the roster. He's going to get time. It won't be the 30 minutes a game he got in Orlando. 15 to 22 minutes on any given night seems like a more realistic scenario. But those are an important 15 to 22 minutes.
Given Davis' championship experience, the hope is that he will seamlessly transition into the rotation in Los Angeles. He fits in nicely with Danny Granger, the Clippers' other midseason addition.
Alongside Granger and Darren Collison, the Clippers have significantly more depth off the bench. When J.J. Redick returns from injury, and Jamal Crawford resumes his traditional role off the pine, Lob City should be one of the deepest teams in the playoff hunt.
Still, Davis' first couple performances have been anything but enviable. Assessing his production towards the end of the season will give Clipper Nation a better understanding of his value.
Perhaps Granger and Davis can serve something of a similar role as midseason additions Sam Cassell and P.J. Brown did for the 2008 champion Celtics. Two defensive-minded veterans with scoring abilities should buoy up this championship-hopeful squad.
Moving forward, it will be the integration of Davis into regular rotation minutes that dictates how much of an impact Big Baby will have.
Grade: B-
Statistics accurate as of March 6, 2014. Statistics used from ESPN.com and NBA.com/Stats.