The Honda Classic is where most golfers begin their road to Augusta and the Masters in earnest, and it looked as if Rory McIlroy was in cruise control as Sunday's fourth round began.
But 19 holes later he was upside down in a ditch, leaking oil and wondering how he had taken so many wrong turns on the PGA National course he had owned for three days.
This wasn't a case of guys named Phil and Tiger breathing down the 24-year-old's neck as he blew the two-stroke lead he held after 54 holes. The other three players in the four-man playoff were eventual winner Russell Henley, Ryan Palmer and Russell Knox.
Henley has only one previous PGA Tour victory, Palmer has three but none since 2010 and Knox is stuck on zero.
Jack Nicklaus, joining the NBC broadcast crew for a few minutes, took note of that lack of big names just after McIlroy started to look very human with his fourth bogey in the first 12 holes. Jack's message? Relax, the cream would rise.
"Those other guys aren't proven," Nicklaus said of McIlroy's lackluster competition. "Rory is proven. Rory should have the advantage down the stretch."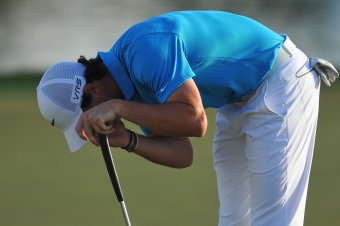 Stuart Franklin/Getty Images
But the winner of two majors and six career PGA Tour events didn't.
His nerves didn't fray quite so painfully as during the 2011 Masters, when he imploded with a final-round 80 that saw him cough up a four-stroke lead and left him losing by 10 swings. But it did revive that memory and make one wonder whether McIlroy sleeps well when he ends a third round as the front-runner.
This clearly wasn't the McIlroy who since the 2011 disaster at Augusta had no trouble protecting 54-hole leads through the final day of the 2011 U.S. Open, the 2012 Honda and the 2012 PGA Championship.
No, it was much more reminiscent of a player who hasn't won a PGA Tour event since the September 2012 BMW Championship, nearly 18 months ago.
To be fair to McIlroy, he did right himself briefly down the closing stretch of his four-over final round of 74. His second shot on the 18th hole was nothing short of brilliant, a 245-yard drive that landed with amazing softness on a green bordered by water. It positioned McIlroy for what could have been a walk-off eagle, but he couldn't cash the 12-foot putt.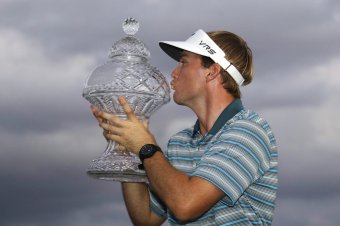 Wilfredo Lee/Associated Press
So instead we're left to look back at all the ones that got away.
For McIlroy, the crusher was his second shot on 16 from out of the flat stretch of a large bunker. It went kerplop into the water on the middle hole of PGA National's infamous "Bear Trap," designed by Nicklaus, and led to a fatal double-bogey.
"Obviously, the second shot on 16 was what sort of killed me," McIlroy told NBC afterward.
But he went on to confess that even if he had won his second Honda Classic, it wouldn't have been totally satisfying.
"Yeah, 74 today wasn't good enough to win," McIlroy said. "And even if I had won it would have felt undeserved."
That's because there were so many other times he could have locked down victory instead of giving away the two-stroke lead he held after six holes with four bogeys and the double on the next 10 holes.
He left a putt six inches short on the second hole.
On the par-four fourth he was in the fairway and 104 yards from the pin, but he went awry with his approach and bogeyed.
On the seventh he gave back another stroke on a putt that stopped an inch away from going in.
And from the 12th through the 17th, every tee shot sailed left. Four landed in bunkers, and McIlroy was lucky that another that appeared headed out of bounds came to a halt at the edge of a cart path.
The 12th also was where McIlroy three-putted for the first time in 176 holes, according to NBC.
All of that was happening while Henley and Cox also hit shots into the water, and Palmer missed some short birdie putts that could have put him in charge.
As NBC's Johnny Miller said of what appeared to be a tournament no one wanted to win, "Man, I've never seen such a group of players just flailing away."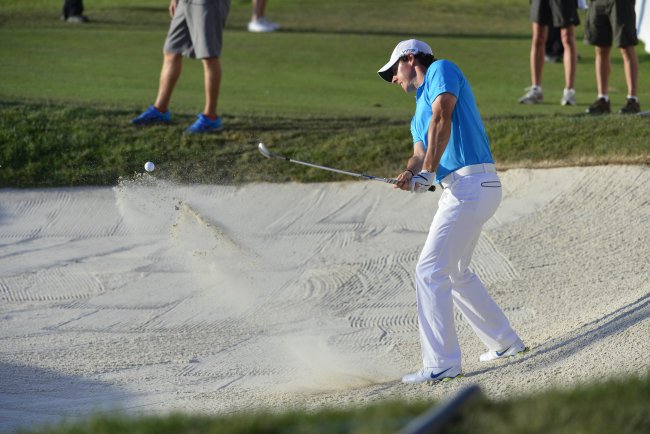 Bob Donnan-USA TODAY Sports
By not propping himself up as the man to beat next month at Augusta, notice also has been served that it's still too soon to anoint McIlroy as the next great superstar who will dominate. The Honda Classic is where he claimed his first No. 1 world ranking in 2012, but it's also where Sunday's collapse cost him the chance to get back to No. 4.
Still, McIlroy was far more impressive this year than he was at the 2013 Honda Classic, when he walked off after 27 holes with tooth pain.
And among the household names, he fared far better this year than Phil Mickelson, who didn't make it past the cut, and Tiger Woods, who exited with back pain Sunday after 13 holes.
Those are the legends McIlroy is chasing. Theirs is the standard McIlroy hopes to duplicate.
He turns 25 in May, and that's the age when Woods took total control of golf, winning three majors.
After Sunday, there's little reason to think McIlroy has what it takes to repeat that history.