This is why real NASCAR fans don't bail out on the Daytona 500 just because there are tornado warnings and there's a record rain delay.
This is why they hang in there for six hours, 22 minutes while the only engines rumbling are those of the Air Titan jet dryers.
They do it because there's always a chance, no matter how small, that the man they've voted Most Popular Driver 11 years in a row might emerge from the pack and snatch racing's biggest gem.
Dale Earnhardt Jr. did exactly that late Sunday night, winning the elusive second Daytona 500 title that some thought might never come his way. He also ended a 57-race winless streak in the Sprint Cup Series.
Appropriately, Earnhardt took a victory ride down the homestretch headed the wrong way so that the driver's side of his No. 88 car was closest to his adoring legion of fans. That way, they could look in at Earnhardt and see him beaming with perhaps the biggest smile of his career.
"Winning this race is the greatest feeling you can feel in this sport aside from winning the championship," Earnhardt said during his post-race interview with Fox. "I didn't know if I'd ever feel it again."
But he did feel it because he was able to hold off runner-up Denny Hamlin and third-place finisher Brad Keselowski at the end as the fifth crash of the night piled up behind the leaders. That made for a bizarre ending that technically happened under the caution flag, even though it was waving for only seconds.
But anyone watching knows that Earnhardt won because he was brilliant on two late restarts that kept him in the lead for the final 18 laps. That included one restart where he swung down with a slick move that put him ahead of defending champion Jimmie Johnson.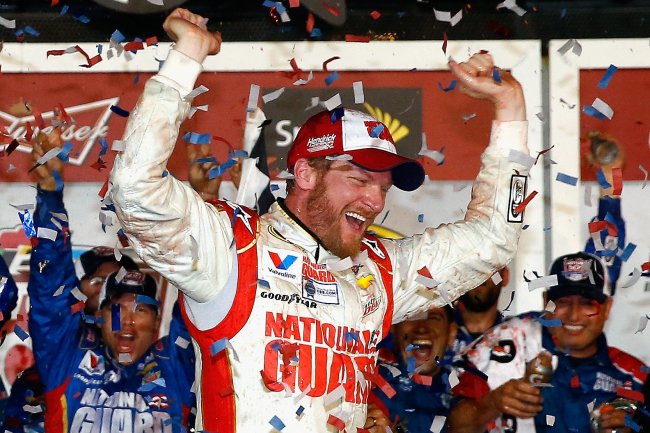 Tom Pennington/Getty Images
Michael Waltrip, out of the race after the first crash of the night, told Fox's broadcast team it probably would take that type of racing to win the 56th Daytona 500.
"I can't believe the way these guys are driving," said Waltrip as several of NASCAR's biggest names jockeyed for the lead late. "They're cutting each other off, but they're not crashing, at least not up front."
The other Waltrip brother, Fox commentator Darrell, had correctly predicted that drivers would have more courage than usual, because the race was ending on a cooler surface at night.
"You pick up so much grip, and with grip comes confidence," Darrell Waltrip said. "It'll give you a better-handling car. It's going to be faster, a lot faster. But it also gives you that confidence that you can go anywhere you want to. We're going to see some really, really great and exciting moves once this race gets ready to go."
And the best of them belonged to Earnhardt, who also had to survive having debris blow onto his Chevrolet's grille with two laps to go.
For Earnhardt's fans, the final laps had to be particularly tense. The last thing they wanted to see was another second-place finish for Earnhardt, who had three runner-up placements in the previous four Daytona 500s. Another one would have been too heartbreaking.
The timing for Earnhardt's breakthrough race was impeccable. Nearing 40 and in his final season with crew chief Steve Letarte, the 2014 season started with a heightened sense of urgency for the Hendrick Motorsports star.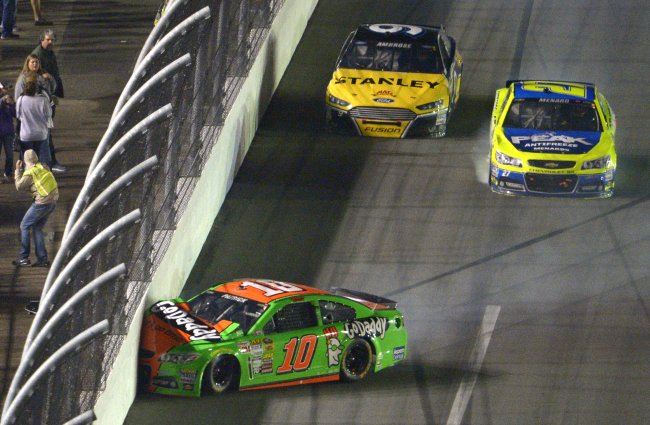 Phelan M. Ebenhack/Associated Press/Associated Press
Not only does he get an express ticket to the Chase for the Cup championship under new playoff rules, but he also leaves Daytona a winner on what was a poignant night for his father's legacy.
Pole winner Austin Dillon was driving a No. 3 car, the first time NASCAR has had that number back on the track since Earnhardt Sr. was killed in a final-lap crash at Daytona in 2001.
It proved lucky for rookie Dillon, who placed ninth, and luckier still for the driver whose last name has been a blessing and a source of criticism.
It's no secret that Junior's popularity came to him almost as a birthright, and at times his critics have complained that his racing record doesn't match his hype. But having also won in 2004, his second Daytona victory gives him one more than his father had.
It also rescued what could have been one of the dreariest starts to a NASCAR season.
Terry Renna/Associated Press/Associated Press
Instead of the Daytona 500, it felt more like the Daytona 5,000, as the Great American Race threatened to last longer than the 24 Hours of Le Mans. As it was, it still lasted nearly 11 hours.
Who'd have thought a one-day motorsports race in Florida would have greater conflict with Mother Nature than Russia's Winter Olympics experienced in two weeks?
The fluky weather also added tension to the final laps, when ongoing reports became every bit as important as the readings on fuel gauges. If the skies had opened up again, the race could have been halted, a sudden-death situation that would have arrived without warning.
The fans who stayed experienced all of that and, thanks to Earnhardt, a whole lot more.
Unless otherwise noted, all quotes via Fox's broadcast of the 2014 Daytona 500.