Mikaela Shiffrin won Alpine skiing gold in grand style Friday, averting near-disaster in the slalom with a clutch recovery one would never expect from an 18-year-old.
Shiffrin's victory makes her the youngest Olympic slalom champion all-time, male or female. She's also America's first gold medalist in the event since Barbara Cochran survived by .02 of a second at Sapporo, a figurative ice age ago, in 1972.
She's now firmly entrenched as her sport's next Lindsey Vonn, a skier whose results match her dynamic personality. But I think Shiffrin also richly deserves a second, unofficial title: U.S. Darling of the 2014 Winter Olympics.
The "Darling" title is usually handed to America's most successful figure skater, or its youngest.
In that sport another 18-year-old, fourth-place finisher Gracie Gold, certainly had the name and the look to claim it. And by finishing a graceful ninth, 15-year-old Polina Edmunds guaranteed we'll be bombarded with updates on her progress during the four-year buildup to the 2018 Games in South Korea.
But I'll take Shiffrin as the young American woman who most seized the moment in Sochi, and also the imagination.
Figure skaters have praise heaped upon them for landing triple jumps amid suffocating pressure, but Shiffrin thrived at a venue that's equally unforgiving.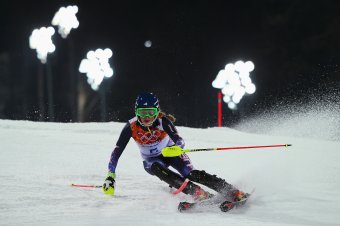 Clive Rose/Getty Images
Halfway through her second run in the slalom, it appeared disaster had struck and would detonate the big lead Shiffrin put up during her seamless first trip down the zig-zag course. Making a right turn, Shiffrin careened and her left ski lifted frighteningly high off the snow.
It seemed like yet another of those heart-thumping moments that precedes every heart-breaking crash at the Winter Olympics. But the teen sensation from Vail, Colo., somehow pulled it back together in the next millisecond and completed her golden journey without further incident.
"It was a pretty crazy moment there," Shiffrin said (via USA Today). "I went out of the start, and I was like, 'I'm going fast.' Then I went out of that flush and was like, 'I'm not gonna make it. I'm not gonna make it.' I threw on a hockey stop right there. That was a little bit tough."
Her ultimate reaction was the same one all her fans had: "It scared me half to death."
Even so, the sleek Shiffrin's winning margin ended up being a fat .53 of a second on silver medalist Marlies Schild, the 32-year-old Austrian who has stockpiled a record 35 World Cup titles in the slalom.
It was a conclusive victory by a youngster who at no time hedged on her gold-medal expectations. She never put alibis in place that weather or her age and inexperience could block her path to the podium.
"I've been here before in my head for sure," Shiffrin said at her Sochi press conference last Saturday. "To everybody, this is my first Olympics. But to me it's my thousandth."
One guesses those 1,000 imaginary trips didn't include Friday's near-calamity, but that's what made the result just that much more daring for the American Darling of these Games.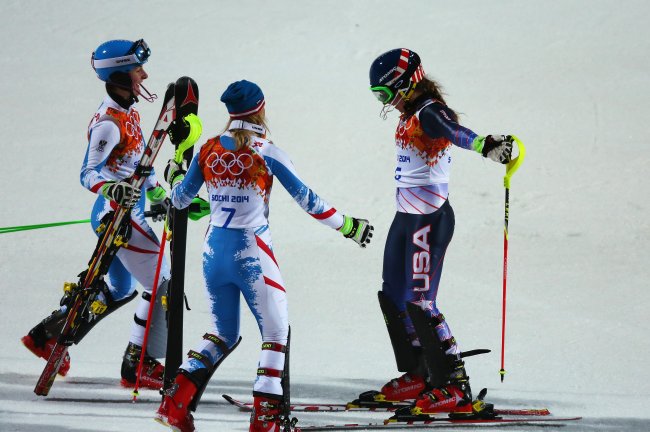 Alexander Hassenstein/Getty Images
Shiffrin won her gold on a course that started and ended with steep pitches and that had gates strung together as tightly as dreadlocks. It was judged to be one of the toughest in Olympic history, and the 25 women who either failed to finish their first run or were disqualified would certainly agree with that assessment.
So would the three elite skiers who were in the top 20 the first time through but wiped out on their second try.
That's where Shiffrin won the first of what could be many Olympic medals, outdoors in the elements, negotiating a comfort zone with Mother Nature. When she reached the finish line there was no arguing with the outcome, because computerized stopwatches don't lie.
Unlike figure skating, there was no panel of judges with nationalistic concerns guiding their opinions. No biased scoring cloaked in anonymity. No hen-pecking about whether Shiffrin wore too many or too few sequins, or whether her fluid flow through unforgiving gates matched her choice of music.
Her race was pure sport, up on the hill, and not a single crack showed in her demeanor as she looked catastrophe in the eye and refused to blink.
Shiffrin seemed like a certain and easy winner after her first run of 52.62 seconds gave her a lead of .49 of a second.
"I was pretty relaxed, actually," Shiffrin told reporters (via the Los Angeles Times) in between runs. "Thank goodness, because there were a couple points throughout the day where I was like, 'Oh my God, here you are.' But no, I was relaxed in the start and that was awesome."
Shiffrin's mother, Eileen, told USA Today (via The Journal News) after the first run that her daughter was battling a slight cold but seemed to have her nerves settled.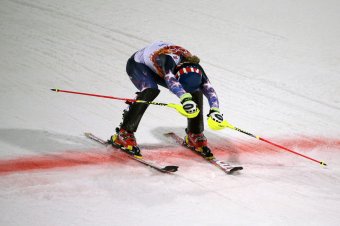 Gero Breloer/Associated Press
"It's nerve-racking. It just is," said Eileen, who also once was a ski racer. "She seemed in a good place when she went up there. But nerves are funny. You can be fine the next second and awful the next second. You never know when it's going to creep in there. You can't let it creep in there."
Shiffrin obviously didn't.
As the final skier of the second run, she had to wait out failed assaults by Slovenia's Tina Maze, a two-time gold medalist in Sochi, and defending champion Maria Hoefl-Riesch of Germany.
Maze, after winning the giant slalom Tuesday in difficult conditions, had stopped just short of predicting Shiffrin's slalom victory.
"Now she's done GS, so will probably be more relaxed for slalom," the Slovenian said of Shiffrin's fifth-place finish in the giant slalom. "She's a great athlete. She has a great team around her. They are working really good. For that age, she's great, amazing."
While some women joked they could have used windshield wipers to get through the giant slalom, Shiffrin didn't gripe about the rain, fog or wet snow that added difficulty to her Olympic debut.
Instead, she looked ahead to the slalom, her signature event, where she has won three of six World Cup races this season.
"I've been preparing for this for my entire life, really. Whether I knew it or not at the time, every single instance, every event that's happened to me—it's been preparation for this and preparation for whatever happens in my future," Shiffrin said (via The Associated Press). "I've always been really aware of that."
Aware of it, and ready for it.
Tom Weir has covered eight Winter Olympics as a columnist and reporter for USA Today. You can follow him on Twitter at @TomWeirSports.