Lauryn Williams wrapped herself in an American flag within moments of exiting her bobsled Wednesday, and flashed a gold-medal smile even though she knew the medal of that color had just slipped away.
Williams no doubt will wear her silver from the women's bobsled with great pride, and why shouldn't she? She and teammate Elana Meyers came within .10 of a second of outracing the defending-champion Canadians, in a sport Williams never tried until last July.
That's an amazing accomplishment, and yet...
Gold was so close. So was a lofty place in the history books, where Williams was within a frosty whisker of joining boxer/bobsledder Eddie Eagan as the only U.S. athletes to strike gold in both the summer and winter versions of the Olympics.
This is hardly Williams' first taste of Olympic disappointment. But the blame for blowing the .11 lead they held going into the fourth and final heat won't be laid at her fleet feet. The former track sprinter did her job on all four runs, and turned in the best collection of pushes by any brakeman in a sport where strong starts are vital.
Williams had steadily improved in that area, and also with her jump into the moving sled.
After taking the early lead in Tuesday's heats Williams told NBC in a televised interview: "That's the thing I've been working on most this year, is my 'load.' It's gone from good to bad to ugly, but now it's getting better, right on time."
So no, it wasn't Williams' inexperience that doomed the USA-1 team, but rather that driver Meyers let their sled get sideways after a big bump into the wall coming out of the 14th of 17 curves.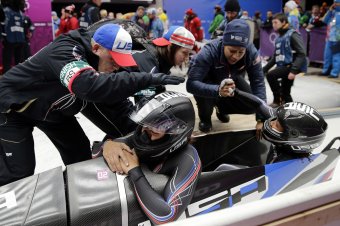 Jae C. Hong/Associated Press
That mistake saddled them with being the only men's or women's bobsledding team that has failed to win after taking a lead into the final heat of an Olympic or World Championship race since 2005, per Ben Blatt of Slate.
For Williams, this kind of disappointment is hardly new territory. In Olympic track, she twice has been part of botched baton handoffs that cost the U.S. what were considered certain medals in the 4x100-meter relay.
The first was at the 2004 Athens Olympics when Williams appeared to take off too early for a fading Marion Jones to reach Williams' flailing hand with the baton. The U.S. was disqualified as Williams ran out of the passing zone.
The second came at the 2008 Beijing Olympics, in a qualifying heat. This time the baton hit the ground as Williams failed to receive it properly from Torri Edwards. Desperately, Williams picked up the baton and completed her anchor leg, but was dead last. It didn't really matter, since the Americans again were disqualified for a passing zone violation.
Is there more? You bet.
The greatest individual accomplishment the 5' 3" Williams had in sprints that are traditionally dominated by longer-legged women was her silver in the 100 meters at the 2004 Olympics. There's no tarnish on that medal, but the case can be made that it should have been gold, which would have given Williams the unofficial title of World's Fastest Woman.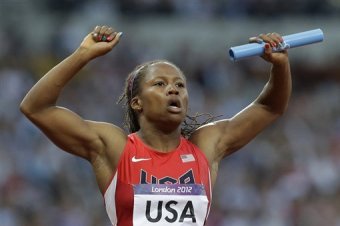 Lee Jin-man/Associated Press
Williams was edged by .03 of a second by Yuliya Nesterenko for the gold. As David Wallechinsky notes in his The Complete Book of the Olympics, Nesterenko had tested positive for a banned drug two years before, but the Belarusian was spared what likely would have been a two-year suspension because the laboratory involved wasn't fully accredited.
And even Williams' lone Olympic gold has an asterisk. She earned it as part of the 4x100 relay team at the 2012 Olympics, but ran only in a qualifying heat, and not as part of the quartet that set a world record in the final.
But in Sochi, Williams still did become only the fifth athlete from any nation to win medals of any color in both the Winter and Summer Olympics, so she still leaves having made history.
With any luck, this accomplishment will end American bobsledding's long-simmering complaints about newcomers to the sport being given Olympic berths over those who've spent years careening down icy chutes.
The selection process for bobsledding and last-minute changes have always been a cruel part of the sport, all over the world. The standard for that cutthroat treatment was set by 1980 gold medalist Erich Scharer of Switzerland, who dumped his brother Peter as his brakeman just two days before competition began at Lake Placid.
By winning silver in Sochi, Williams' performance should deliver a knockout punch to anyone who argues that we should send anything less than our best athletes to the Games. The Olympics aren't about who's been chasing the dream the longest, but rather who can deliver when it counts, like Williams did.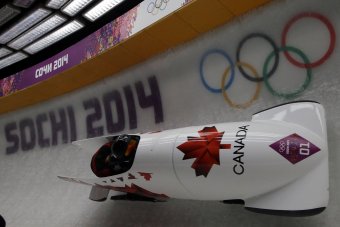 Dita Alangkara/Associated Press
Her sudden success provides an undeniable reminder that there's an amazing amount of untapped athletic talent spread across America. And if our Olympic federations were a tad better at plucking up more of it the medals race at Sochi might already be decided.
Both members of America's bronze medal-winning team of Aja Evans and Jamie Greubel also are former track athletes. And the brakeman on Canada's winning team, Heather Moyse, played rugby and ran track before she became a bobsledder.
So no, Williams won't be pictured alongside Eagan in the history books. But she still accomplished plenty in Sochi.
Tom Weir has covered eight Winter Olympics as a columnist and reporter for USA Today. You can follow him on Twitter at @TomWeirSports.