Mikaela Shiffrin survived an Olympic debut plagued by fog, rain and heavy snow on Tuesday, but America's teen skiing sensation left Sochi's slopes with her future looking bright as ever.
The 18-year-old didn't medal in the women's giant slalom, but her fifth-place finish against the world's best in difficult conditions set the stage for Friday's slalom, Shiffrin's marquee event.
Shiffrin won the World Cup slalom title last year and has dominated again this season, with three victories in six races. Getting through Tuesday's race without letting her nerves get rattled by a 14-minute weather delay and sketchy visibility strengthens the belief that she'll become the Olympics' youngest female slalom champion.
For the moment, that distinction belongs to Paoletta Magoni, who was 19 at Sarajevo in 1984. But the Italian's hold on that record appears more tenuous than ever.
Shiffrin stayed out of trouble and was the only U.S. woman in the top 25 on a day when Mother Nature wasn't in a mood to help the women. Sweden's Maria Pietilae-Holmner, who finished right behind Shiffrin in sixth, said the snow was "like skiing on sugar," per The Associated Press, via The Guardian.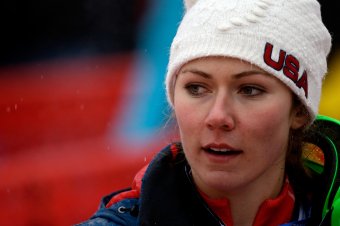 Ezra Shaw/Getty Images
Those conditions helped make the story quite different for America's most experienced woman skier at these Games, as four-time Olympic medalist Julia Mancuso was out of the competition after failing to finish the first of the two giant slalom runs.
"Definitely with the snow surface not being consistent and you can't really see it, it's hard with timing, and I was just losing my timing a little bit," Mancuso told USA Today's David Leon Moore. "I just caught a really soft spot, and it twisted me."
Added Mancuso, whose medal total is a record for U.S. women skiers: "That's the only bummer when the snow is like this. You really have to be precise."
Shiffrin was. And for her to rise to the occasion in her second-best event on a day when her nation's most decorated female skier faltered just emphasizes that Shiffrin is the face of America's immediate future in Alpine events.
Shiffrin's combined time of 2 minutes, 37.37 seconds was half of a second behind gold medalist Tina Maze, the Slovenian who also won the downhill.
Austria's Anna Fenninger, the super-G gold medalist, was second, and defending Olympic champion Viktoria Rebensburg of Germany took the bronze with a time that was 0.23 faster than Shiffrin's.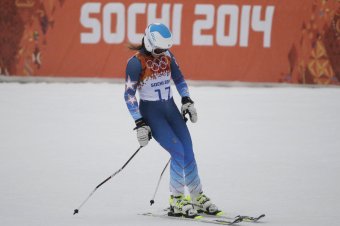 Gero Breloer/Associated Press
So of the women who beat Shiffrin, only fourth-place finisher Nadia Fanchini of Italy hasn't won Olympic gold.
Shiffrin didn't arrive in Sochi until Saturday, as she elected to tune up for her first Olympics by training in Italy, Germany and Austria for a couple of weeks. At a press conference in Sochi (via the AP, h/t The Washington Post) she said she expected to be a little uneasy when it came time to make her first official run at the Rosa Khutor Alpine Center.
"There will definitely be more nerves, because this means something to the rest of the world, so that also makes it mean something more to me," Shiffrin said.
"When I'm in the starting gate, I'm expecting to feel jitters, because I'm about to leap out of the start and go as fast as I can, trying to hit ... plastic gates. And who wouldn't get nervous doing that?"
But Shiffrin updated that outlook with a couple of quick comments to reporters after her first run, saying: "I was nervous at the start but I wasn't when I was in the gates. I just wanted to ski."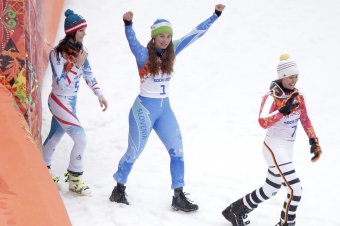 Charlie Riedel/Associated Press
At her press conference, Shiffrin left no doubt that she's in an attacking mood for the slalom when asked about the U.S. women so far being limited to Mancuso's bronze in the super combined.
"It's just been interesting for me to see, because it's a learning lesson that no matter how good you are, you cannot take your foot off the gas," Shiffrin said.
That also was the high-octane philosophy of Lindsey Vonn, who would have been the headliner among the nine women on the U.S. ski team if a knee injury hadn't robbed her of the chance to defend the downhill gold and super-G bronze she won at the 2010 Winter Olympics.
Shiffrin has already had many comparisons to Vonn, and there will be more if she stands atop the podium after the slalom.
U.S. women's coach Alex Hoedlmoser, who worked with Vonn, told USA Today that the two have the same approach to work and to facing pressure.
"She has shown several times she is capable of being able to handle these situations," Hoedlmoser said of Shiffrin. "Great talent can only become a champion with all those hours of hard work. Mikaela lives the sport. There's nothing else. Lindsey was the same way at her age."
Now all that remains is for Shiffrin to solidify those comparisons with a gold in the slalom.
Tom Weir has covered eight Winter Olympics as a columnist and reporter for USA Today. You can follow him on Twitter at @TomWeirSports.