The U.S. broke its 62-year Olympic medal drought in the two-man bobsled Monday by the blink of an eye.
That description no doubt will sit well with driver Steve Holcomb, whose bobsledding career was rescued six years ago by a rarely performed procedure that restored his vision.

The bronze-medal-winning margin for Holcomb and brakeman Steve Langton was a near-microscopic .03 of a second over a fourth-place Russian team.
But if not for for the "Holcomb C3-R" procedure that has been named in honor of the two-time Olympic medalist, Holcomb would have been at home listening to results of the final bobsled runs instead of steering in them.
He was diagnosed during the 2008-09 season with keratoconus, a degenerative thinning of the cornea that left his vision blurred and which can lead to total blindness.
Monday, he dealt with a simpler physical issue, but one that also threatened to derail his chance for a medal.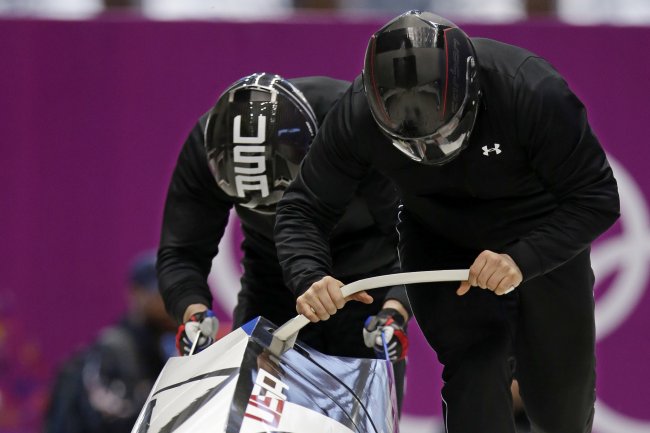 Michael Sohn/Associated Press
Holcomb had strained a calf muscle during Sunday's heats, leaving the 33-year-old in danger of giving a weak push during the critical first yards of his final two runs.
"We had our medical staff working with him around the clock to get him through today not knowing if he was going to actually be able to push," U.S. men's bobsled coach Brian Shimer told USA Today. "I'm more excited for this bronze then I was for mine (in 2002), just knowing what he went through today."
Added Shimer: "I told him, 'I know you thrive under pressure, but you're going to have to drive perfect—two perfect runs—to stay in the medals.'"
Pressure while driving a bobsled is hardly new to Holcomb.
Afraid of losing his ride when his vision worsened, Holcomb kept the condition secret, even though he was putting himself and his teammates in the two-man and four-man events in peril.
"I would never have gotten into a sled with me, looking back," Holcomb told the Milwaukee Journal Sentinel. "It's like, 'You're crazy.' I couldn't see."

And then things got worse. Much worse.
Depression ensued when Holcomb was finally forced to retire, and he attempted suicide with a mix of sleeping pills and a bottle of Jack Daniels. Fortunately, he survived and soon met Brian Boxer Wachler, the Beverly Hills ophthalmologist who boosted Holcomb's vision from 20/1,000 to a crystal-clear 20/20.
Holcomb arrived in Sochi hoping to repeat his gold-medal drive in the four-man bobsled at the 2010 Vancouver Olympics. That victory also ended a long slump, giving the U.S. its first four-man gold since 1948.
A gold in the two-man bobsled would have been America's first since 1936, but Holcomb instead had to settle for guiding his sled to his nation's first medal since 1952.
As was the case with his gold in 2010, Holcomb again delivered a medal that American bobsledders had been scrapping for, for 62 long years.
"Overwhelming," Holcomb said (via NBCOlympics.com) after the placings became final. "I guess 62's our number."
And with U.S. bobsled fans anxiously anticipating Holmgren being the man who could restore some international prestige, he added: "Man, thank God. There was a lot of pressure on me there."
(He'll take a shot at gold in the four-man beginning Saturday after taking Tuesday to rest his injured calf, before resuming training, according to USA Today's Jeff Zillgitt.)
For those who like to track the effect of technology on the Winter Olympics, it's worth noting that America won the inaugural two-man bobsled at Lake Placid in 1932 because J. Hubert Stevens and his brother Curtis employed the now-illegal tactic of heating their runners with a blowtorch.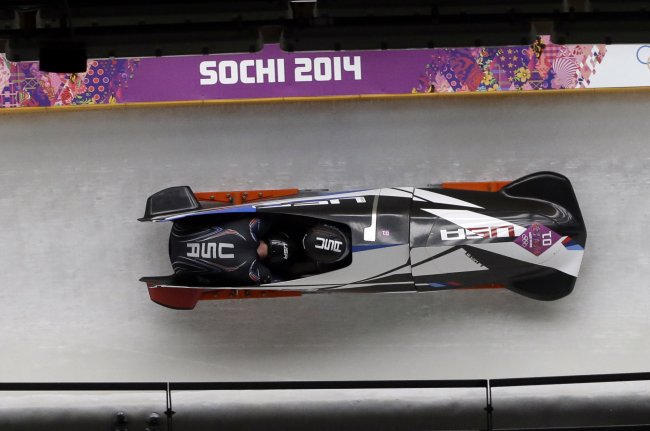 Dita Alangkara/Associated Press
Holcomb and Langton had more modern and respectable technology helping them to reach the podium. The North American division of BMW created their sled, with former race-car driver Michael Scully heading the project as lead designer.
Holcomb can take pride in knowing that home ice was probably vital to Alexander Zubkov piloting the top Russian sled to victory, and that the silver went to a team from perennially strong Switzerland.
The fourth and final run began with the gold medals all but hanging from the necks of Zubkov and brakeman Alexey Voevoda, whose aggregate time led by .5 of a second. Teams simply don't blow a half-second lead in bobsled. Since 2005, every third-round leader has gone on to win at the Olympics and at World Championships in two-man, four-man and women's events.
But Holcomb's pursuit of the bronze was a dicier matter. Canada, Latvia and Russia's second team all were within .14 of Holcomb in an event where one bump of the wall can undo four years of hard work.
The Russians gave Holcomb the best chase on the winding course that slithers not quite a mile at Sochi's Sanki Sliding Center. They navigated the 17 turns and three uphill stretches in 56.57 seconds, a time that was bettered only by the gold medalists in the final run.
Holcomb had a very slight touch at the start of his 430-foot descent down the chute, but otherwise his 56.68-second run was sparkling clean.
Attributing Zubkov's gold to the home ice isn't sour grapes or overstatement.
The former taxi driver hasn't piloted a World Cup victory since 2010-11, and in seven races this season he's reached the podium only three times.
But he made constant runs at Sochi, even skipping the final World Cup race in favor of more training at the Olympic venue, and he clearly had a firm grip on every nuance.
Holcomb had acknowledged after Sunday's first two heats that the gold might be out of reach, as the U.S. quickly trailed the Russians by .36.
"The hometown guy is going to be tough to beat," Holcomb told reporters (via USA Today). "He's the most experienced driver on this hill. You can't sit there and expect him to make a mistake."
Zubkov didn't. But, truly, neither did Holcomb.
Tom Weir has covered eight Winter Olympics as a columnist and reporter for USA Today. You can follow him on Twitter at @TomWeirSports.