So much for blaming the suits.
The U.S. long-track speedskating team is out of alibis now that a change in uniforms for Saturday's men's 1,500-meter race failed to prevent another miserable American finish at the Olympics.
There was a glimmer of hope going into this competition that the U.S. would enjoy a sudden U-turn of success, because it was given permission to ditch the new Mach 39 Under Armour racing suits. Some suspected those full-body outfits were to blame for no American finishing higher than seventh through the first six speedskating races in Sochi.
But guess what? Seventh is still the best the U.S. has done at the long-track oval.
Brian Hansen wound up in that slot for the U.S. on Saturday, but far more notable was that America's best hope for speedskating medals in Sochi, Shani Davis, was a distant 11th.
Davis took silvers in the previous two Olympic 1,500s, but this time he was nearly a full second off the winning time. In speedskating, that means you aren't even in the same zip code as the guys who stand on the medal podium.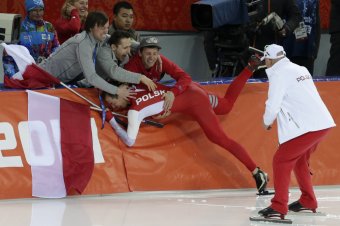 Matt Dunham/Associated Press
Poland's Zbigniew Brodka took the top spot there, but only after a computer review separated him from Dutch silver medalist Koen Verweij by .003 of a second, 1:45.006 to 1:45.009. Canada's Denny Morrison claimed the bronze with a time of 1:45.22.
Davis came in at 1:45.98, three places worse than he was in Wednesday's 1,000, where his pursuit of a three-peat of golds had been one of the biggest Olympic storylines.
Davis said he was "disappointed" by his finish in the 1,500, but wouldn't let the suit issue die. He said the U.S. Speedskating federation made a grave mistake by not allowing the new suits to be tested in competition for the Olympics.
"The best thing would have been to make sure that these suits were what the people said they were, so that we can actually know going into the races instead of finding out on one of the biggest races of our lives," said Davis (via The Associated Press).
He told reporters that his poor eighth-place finish in Wednesday's 1,000 undermined his confidence for the 1,500 and left him distracted.
That changed my whole mentality of what I thought about skating, how I felt about myself, my confidence. Everything went down and I tried to build it up for the 1,500. But it's different when you can go into the 1,500 with a medal around your neck instead of going in there with an eighth-place finish.
Going into the 1,500, he said, "the damage of the suit was already done."
"It took its toll," Davis said. "I spent energy in ways that I wouldn't have done normally. I did as much as I could to get myself ready, but I felt defeated."
The failure of the U.S. to leave footprints on the podium yet again means the Americans are now looking down the barrel of a medals shutout in speedskating.
Heather Richardson and Brittany Bowe are contenders in Sunday's 1,500 for the women, but their respective finishes of seventh and eighth in the 1,000 don't generate much enthusiasm.
If the U.S. doesn't score there, it will have only four more chances to medal at Sochi: the men's 10,000, the women's 5,000 and the team pursuit races for both genders.
The Dutch men are universally expected to dominate the 10,000 after sweeping the 5,000 at Sochi. No U.S. woman has ever finished better than seventh in an Olympic 5,000. And with the Americans in relative shambles, the team pursuit is also looking dismal.
A shutout for U.S. speedskaters isn't unprecedented, but it is extraordinarily rare for the team that ranks second all-time for total medals and also for gold medals, behind only the Dutch.
The U.S. was blanked in 1956, when only men raced, and only at four distances. They also failed to bring home any hardware from Sarajevo in 1984, after the retirement of Eric Heiden left them without a star.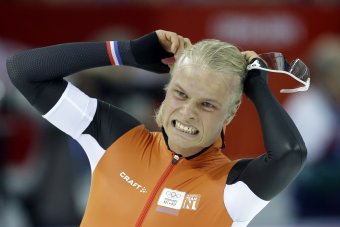 Patrick Semansky/Associated Press
Why the U.S. has tumbled so far so fast is difficult to fathom. There was no reason to anticipate this sudden slump, as Davis and Richardson came to Sochi amid strong World Cup seasons.
But Davis looked like he hit a wall halfway through the 1,500, where he has held the world record since 2009.
While winning four career Olympic medals, Davis always dialed up powerful finishes effortlessly, but the 31-year-old couldn't muster one Saturday. He fell further and further off the winning pace as the race shifted into the decisive third and fourth laps.
And if the folks at Under Armour are breathing a private sigh of relief, they can't be blamed.
As Bloomberg.com reported, the company's stock declined by 2.4 percent Friday, one day after a Wall Street Journal article reported that some U.S. speedskaters believed the Mach 39 suit hampered them. The main allegation from the unnamed athletes was that vents that were meant to release body heat instead were allowing air in, causing aerodynamic issues.
That theory was plausible, given that Sochi is where the suits were tested in competition for the first time. They weren't unveiled until after the U.S. completed its Olympic trials in January. The reason for keeping them in storage until the Olympics was that the U.S. didn't want any other nations to get a look at their secret weapon for Sochi and steal design innovations.
All of which seems a little comical now.
Give Under Armour credit for going along with the change back to the uniforms the U.S. athletes have worn during this World Cup season, which Under Armour also manufactured. If nothing else, it gave the Americans the chance for a psychological boost.
"Everyone should take a deep breath, and see how everything turns out," Kevin Plank, Under Armour chief executive officer and founder, said Friday in an interview with Bloomberg Television. "Let us let the athletes get out there and see what happens."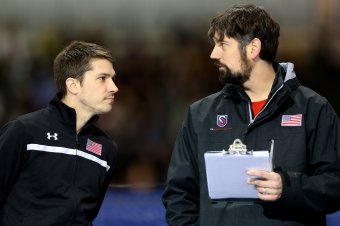 Matthew Stockman/Getty Images
Kip Carpenter, a U.S. speedskating coach and bronze medalist at the 2002 Olympics, also tried to take Under Armour off the hook.
Carpenter told reporters it was borderline ridiculous to think that the U.S. was failing in Sochi while the Dutch are thriving because of a difference in racing suits.
"Anyone who thinks that does not know speedskating," Carpenter said Friday. "In my opinion, the Dutch are just sitting deeper and pushing harder. They are just skating better than us."
And so are the other six nations that have sent athletes to the podium while the U.S. has watched helplessly.
Tom Weir has covered eight Winter Olympics as a columnist and reporter for USA Today. You can follow him on Twitter at @TomWeirSports.