The Winter Olympics are the height of athletic achievement in the snow and on the ice. But sometimes the athletes' wardrobes eclipse the buzz over who won the gold. So much work goes into the apparel the athletes wear that there really ought to be gold medals awarded to the top tailors and seamstresses.
The demand for aerodynamics can lead to skin-tight competition suits that get imaginations working overtime.
Sequined skating costumes can draw oohs and ahhs, and also outright laughter. And sometimes the garish color schemes make you wonder whether someone actually was paid to design an outfit that shocks the senses.
Other times, the design is too futuristic or too "fashionable," leading to uniforms that might actually be slowing athletes down or otherwise harming their performances.
The Opening Ceremonies launched the 16-day fashion party last week, and if anyone was sleepy-eyed when the Parade of Nations began, it didn't take the German delegation long to wake them up.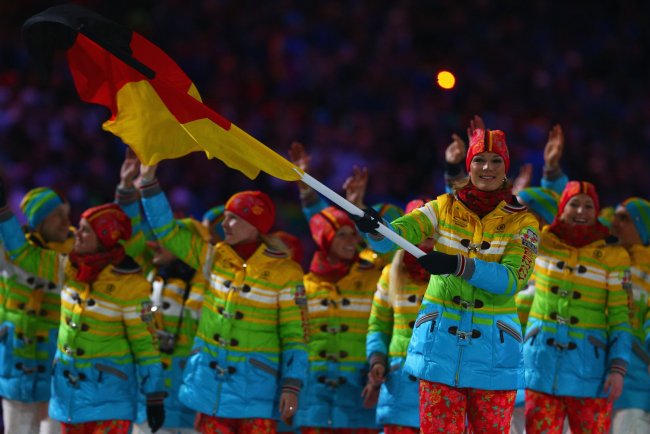 Paul Gilham/Getty Images
The U.S. took some flak for wearing "Christmas sweaters," even though they were designed by Ralph Lauren.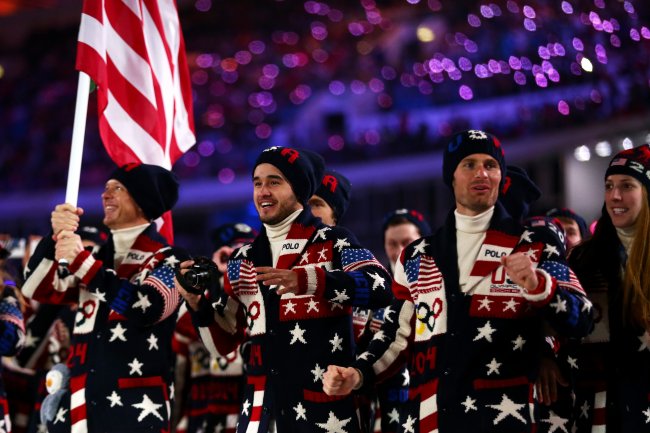 Ryan Pierse/Getty Images
But the figure skating venue is where Olympic fashion always has its breakout performance, especially in the pairs competition.
Let's begin with the Italian team of Stefania Berton and Ondrej Hotarek. Can someone please call Ondrej a cab, because that's pretty much what he looked like with his yellow pants and checkerboard suspenders.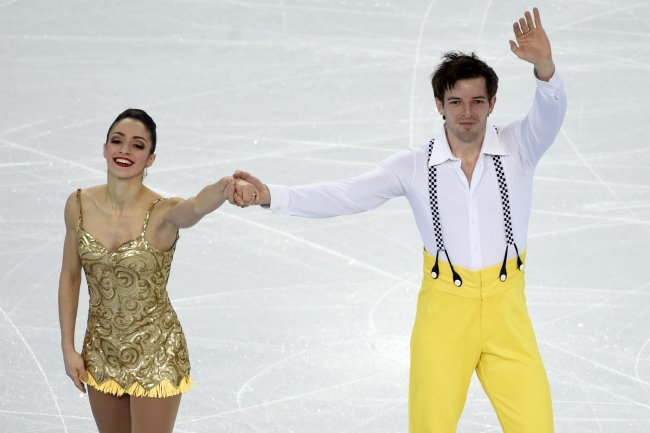 Richard Mackson-USA TODAY Sports
Germany's Aliona Savchenko played the role of the Pink Panther when she earned a bronze in pairs with partner Robin Szolkowy.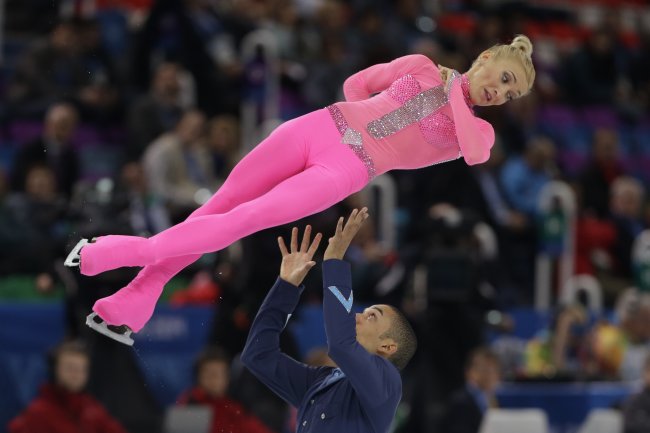 Darron Cummings/Associated Press
But does Savchenko earn the award for pinkest performance, or should it go to NBC commentator and two-time Olympian Johnny Weir?
At the age of 55, Mexican Alpine skier Hubertus von Hohenlohe didn't have much hope of doing anything memorable on the slopes. Then he came up with the idea of racing in a Mariachi-themed suit. (What, no sombrero?)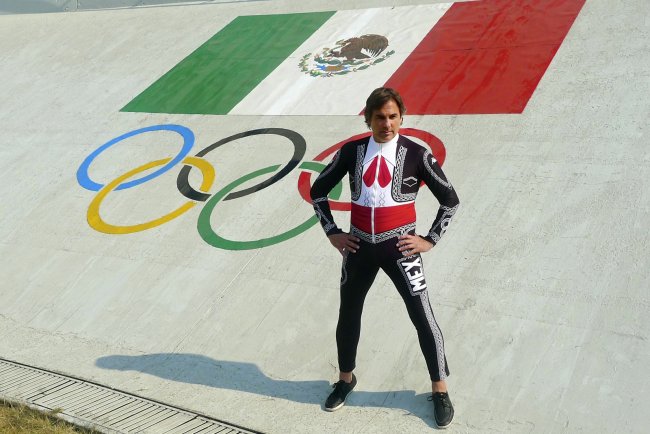 Uncredited/Associated Press
CNN's Piers Morgan notes that multiple media outlets are calling von Hohenlohe the "Most Interesting Athlete" in the Olympics, and we wouldn't argue that.
Goalie masks at hockey usually get a lot of Olympic attention, but in Sochi it has been the skeleton racers' headgear that have stolen the show.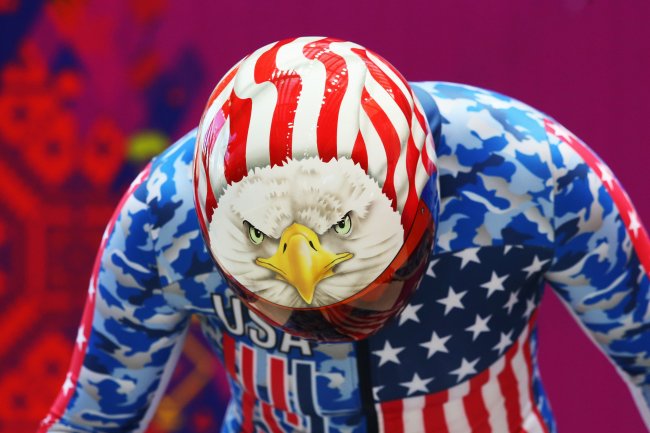 Alex Livesey/Getty Images
Above, America's Katie Uhlaender gets the nod for most patriotic helmet.
If it's possible to make a fashion statement with contact lenses, biathlon competitor Grete Gaim of Estonia definitely did so, and a close-up can be seen via Kevin Kaduk of Yahoo Sports.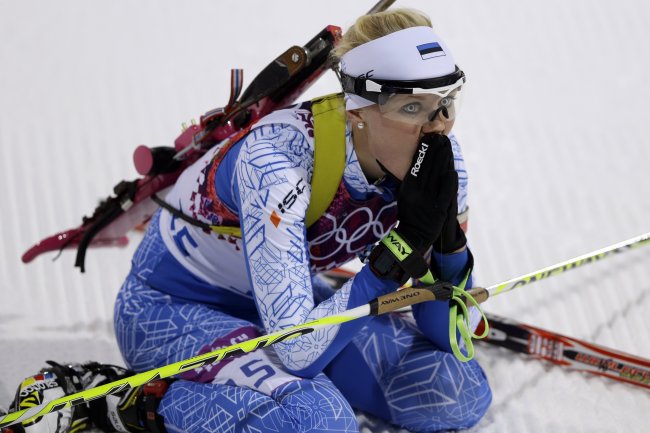 Kirsty Wigglesworth/Associated Press
Curling competitors often get overlooked at the Olympics, but the entrants from Norway made sure their pants got them noticed.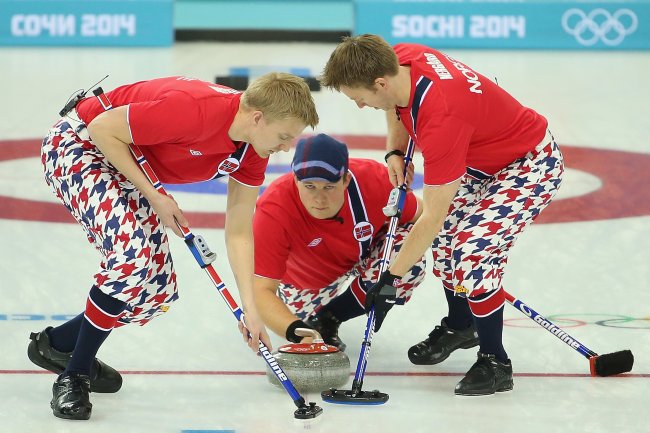 Quinn Rooney/Getty Images
Russian speedskater Olga Graf's bronze medal in the 3,000 meters was a surprise, but not as big as the one she gave spectators when she unzipped her race uniform after crossing the finish line and—oops!—forgot she wasn't wearing anything underneath.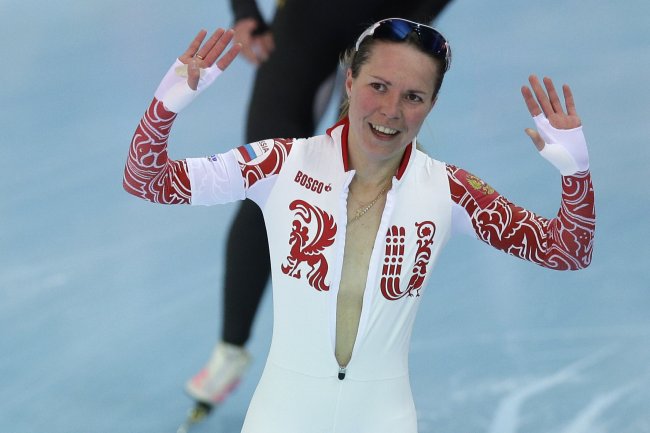 Pavel Golovkin/Associated Press
That's one way to break up the boredom that sometimes accompanies her distance race. (Japan also had a speedskater who probably didn't realize her racing suit was stretched so tight that it put her thong on display.)
But sometimes pushing the edge on fashion can cause setbacks for athletes.
That might be the case for the U.S. long-track speedskating team, which traditionally sends plenty of athletes to the awards podium but has yet to medal in the first six races at Sochi. In fact, no US speedskater has finished better than seventh yet.
The Wall Street Journal's Joshua Robinson and Sara Germano cite three sources saying the team's Under Armour body suits have a flaw that may be responsible.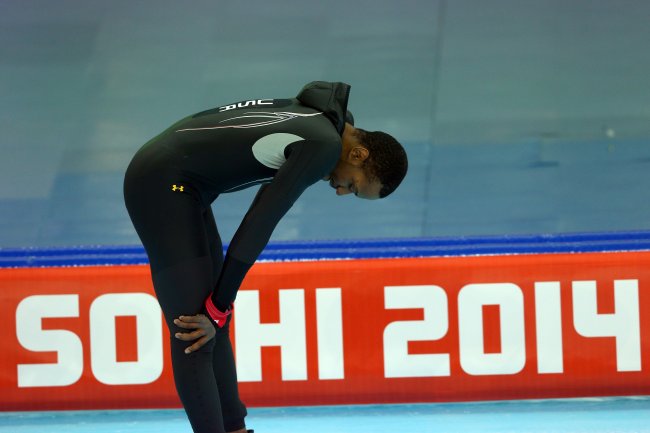 Paul Gilham/Getty Images
Those sources explained that vents on back of the suit, meant to allow body heat to escape, instead slows the Americans by letting air in that creates drag and prevents the skaters from getting in a low aerodynamic position.
One skater said athletes were fighting the suit while trying to maintain correct form, and two-time Olympic gold medalist Shani Davis added, "I would like to think that it's not the suit. I would never blame the suit. I'd much rather blame myself. I just wasn't able to do it today, but other people were."
But it appears enough skaters are fed up with the gear, as WSJ's Sara Germano reported Friday that US speedskating has requested to switch suits to those used during the World Cup. ESPN's Darren Rovell reports the IOC has approved the switch.
The Under Armour suits certainly put the U.S. skaters in a tight spot. No one wants to look like a sore loser and alibi that a poor performance is due to bad equipment. Nor do speedskaters, who sometimes have funding difficulties, want to insult a sponsor.
Meantime, some slopestyle skiers have had a very different problem with their pants.
Joss Christensen led an American sweep of the medals on Thursday despite nearly losing his pants during a qualifying run.
But it was Sweden's Henrik Harlaut who had the biggest problem.
Harlaut's pants fell down on multiple occasions during the finals Thursday, which bared the sixth-place finisher's colorful stretch pants underneath.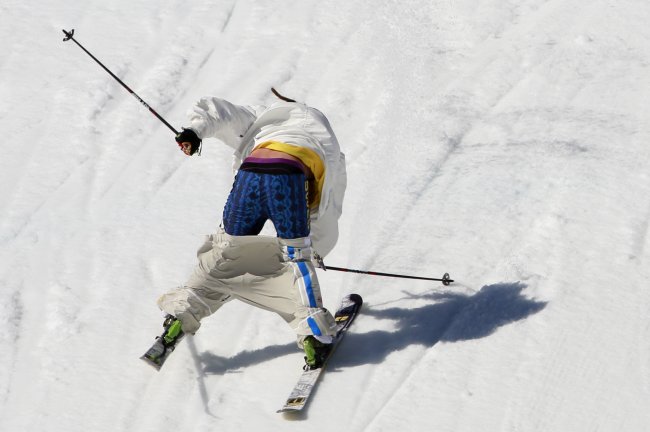 Gero Breloer/Associated Press
Slopestyle skiing also witnessed another oddity, as American Bobby Brown finished ninth while making his final run in a short-sleeve T-shirt. Temperatures on the slopes at Extreme Park were reported at 16 degrees Celsius.
And if the Sochi heatwave continues in this Black Sea resort area, do you suppose we'll see some Olympians indulge in European ways and go topless at the beach?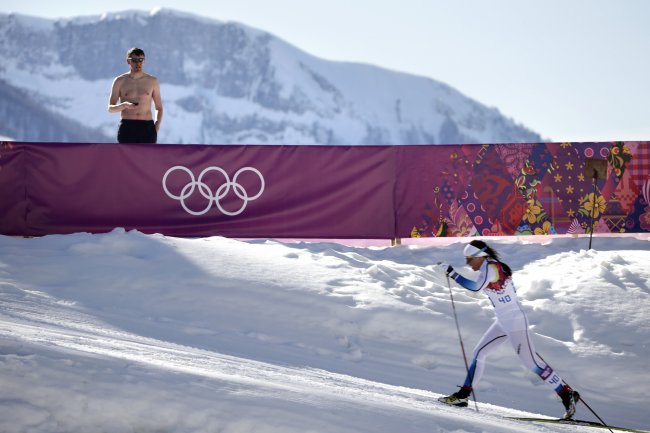 Jae C. Hong/Associated Press
Tom Weir has covered eight Winter Olympics as a columnist and reporter for USA Today. You can follow him on Twitter at @TomWeirSports.