As the U.S. hockey team prepares to face Russia on Saturday it's impossible not to reflect back on the greatest game ever played between the two superpowers.
That of course is the 1980 "Miracle on Ice," when a band of little-known American college players somehow unified under totalitarian coach Herb Brooks and dethroned a Soviet team the world believed was unbeatable.
When the U.S. came back in the third period to take a 4-3 lead that held up it was as if the Soviets had taken a taser shot between the eyes. They were so stupefied they forgot to pull their goalie in the final desperate minutes.
Americans watching at home were equally shocked as the four-time defending Olympic champions fell to a cast of relative nobodies, and Al Michaels—in a tape-delayed call of the game—uttered the most famous line in sports broadcasting history: "Do you believe in Miracle? Yes!"
So what does that have to do with Saturday's game between two teams that won their Sochi openers Thursday? Maybe nothing. Maybe a whole lot.
In 1980, the Americans had one significant thing going for them. They were skating on home ice at Lake Placid, where the host nation was desperate for heroes. If the hockey team hadn't followed up on the Russian game with a gold-medal clinching victory against Finland, it would have left America with only one gold medalist at the Games, speedskater Eric Heiden, who won five.
The hockey team faced zero expectations, which also meant no pressure. Every victory was a momentum-building surprise and every youthful glitch along the way was easily overlooked by an adoring public.
Russia—which looked less than awesome while defeating Slovenia 5-2 Thursday—faces a dramatically different proposition in Sochi. This is Russia's first Olympic show in front of its home crowd, and there has been so much hype about winning the hockey gold you'd think the old Soviet propaganda machine has been resurrected.
"The pressure is enormous, and it's growing every day," Russian team captain Pavel Datsyuk told the website of the International Ice Hockey Federation (via the Washington Post). "Everyone is expecting only one thing from us. And we won't have the right to make an error."
That's the paradox the Russians face. The very same home ice circumstance that fueled the Americans in 1980 could work against Russia in 2014 if they falter the slightest bit and begin disappointing the Sochi audience.
They are expected to win, and they may face back-biting criticism if they don't take gold. They aren't expected to have blowouts like the original Dream Team the U.S. sent to the 1992 Barcelona Olympics, but a silver will be treated like a national disgrace.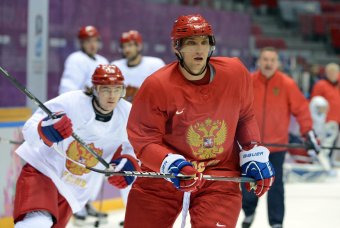 Jayne Kamin-Oncea-USA TODAY Sports
And Alex Ovechkin is Russia's Michael Jordan, expected to put the puck in the net at will, and reaffirm that he's the world's greatest scorer.
Ovechkin is well-aware of his burden and knows that only a victory here will cure the hangover from Russia's embarrassment at the 2010 Vancouver Olympics, where it was ousted by Canada 7-3 and failed to medal.
"When we lost to the Canadians it was a huge blow to us, it was a big failure, it was a big blow to everyone in Russia," Ovechkin said at a Tuesday press conference (via CTV News).
And a U-turn is needed explains Igor Rabiner, a veteran Russian sportswriter for the Championat.com website.
"We've been going backwards," Rabiner told the New York Times. "In Albertville in '92, before NHL players could join the team, we won. Since then, and now that all the best players in the world are at the Games, look at what has happened. We've done worse and worse. In Nagano, second place. In Salt Lake City, third place. In Turin, fourth place. In Vancouver, sixth place. So there is a feeling that, this time, with home ice, this is the only way."
Another journalist, Kirill Belyakov of Sovetski Sport, makes the case that the hockey gold is more important than all of the other Olympic medals combined.
"If we win the gold medal in hockey and win no other, I think the country will be happy," Belyakov told the Vancouver Sun. "Nobody will remember who won the biathlon or the bobsled. They will only remember hockey and, maybe, figure skating."
But Russia perhaps is a little delusional about how big an impact will be made by holding this hockey tournament on Sochi's ice.
Yes, Canada won on home ice in 2010, but had to navigate sudden death in overtime against the U.S. in a gold medal game where the outcome easily could have flipped.
Among other host nations in hockey: Canada finished out of the medals at Calgary in 1988, France was dead last at Albertville in 1992 and the U.S. settled for silver at Salt Lake City in 2002.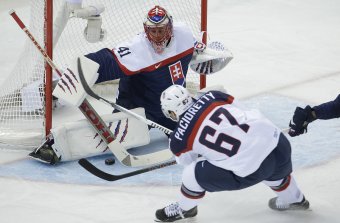 Matt Slocum/Associated Press/Associated Press
And while the Russians are very, very good, it's borderline preposterous to think any hockey team will ever again match the dominance of the Big Red Machine that claimed eight Olympic golds from 1956-92, with misses only in 1960 and 1980, both to the U.S.
In Sochi, those eight championship teams are being honored with eight stars on the shoulders of the Russian team's uniforms. Will those reminders of bygone glory lift up the Russians, or weigh them down? That remains to be seen.
Meantime, the U.S. team that trounced Slovakia 7-1 Thursday bears very little resemblance to the 1980 squad, and that's actually a good thing in an era when seasoned NHL stars fill the Olympic rosters.
Instead of being captained by someone like Mike Eruzione, who didn't go on to the NHL, the U.S. will be led by Zach Parise, the Minnesota Wild vet who scored the goal that forced OT against Canada in 2010.
At Tuesday's media conferences Parise hinted at the pressure Russia will face, saying:
We all saw in Canada what pressure they had on them, and they ended up delivering, but it can be a hard thing with the expectation level with the talented players that they have. But being at home ice definitely has its advantage, there's no question. But at the same time there's a little added pressure that the home team is going to have to deal with.
The U.S. also will have a pair of goalies ready to far outshine the 1980 team's Jim Craig, whose NHL career encompassed only 30 games. Ryan Miller was the MVP of the 2010 Olympic tourney while allowing only eight goals in six games, and Jonathan Quick was the MVP of the 2012 Stanley Cup playoffs when his Los Angeles Kings won.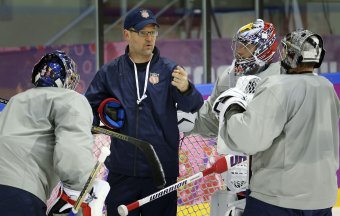 Julio Cortez/Associated Press/Associated Press
And as coach, the U.S. doesn't have someone like Brooks, whose overbearing style was perfect for 1980, but probably wouldn't fly with today's pros. Dan Bylsma has the job, and with an NHL career behind him plus a ring from coaching Pittsburgh to the 2009 Stanley Cup championship, he also has his team's respect.
So no, this U.S. team doesn't need a miracle to beat the Russians on Saturday. And maybe that's what should have the Russians worried.
Tom Weir has covered eight Winter Olympics as a columnist and reporter for USA Today. You can follow him on Twitter at @TomWeirSports.