Shaun White's time has arrived at Sochi, as his pursuit of becoming the first American to conquer the Olympic halfpipe at three consecutive Winter Olympics culminates Tuesday. And after recording the highest score in qualifying and earning a bye into the final, he has the three-peat squarely in his sights.
White, no doubt, is following a routine that's as precise as a German train schedule. With two Olympic golds plus another 13 from the Winter X Games already locked down, he obviously knows how to get pumped up for the big one and probably could give NFL players tips on how to fine-tune their psyches for the Super Bowl.
If White secures his three-peat, there's no telling how long the celebration will last. The Today show might give him his own lounge. A call from the White House wouldn't be a shock. And there could be a key to the city waiting in his hometown of San Diego, where White is the most famous redhead since Bill Walton.
Among U.S. athletes in new-age Winter Olympic sports that date back only to the '90s, perhaps only Apolo Anton Ohno had more staying power than White. Ohno garnered eight total medals in short-track speedskating from 2002-2010, but even he never managed three straight golds.
White enters as the favorite on most medal-prediction lists, including Sports Illustrated's, with 15-year-old Ayumu Hirano of Japan generally considered his greatest threat. But there's no guarantee White's third descent into the Olympic halfpipe will be charmed.
White has been dinged up this season, suffering shoulder and ankle injuries while traversing a rocky road to Sochi. Once he reached Russia, he jammed his wrist on the slopestyle course, which several competitors found severely lacking. (Guess $51 billion just doesn't buy what it used to.)
That setback led White to withdraw from the new Olympic event, where he was expected to provide ratings gold for NBC, and also brought his critics darting out of the woodwork.
White's withdrawal could have been viewed as an overdue show of wisdom by a party animal who in 2012 was arrested in Nashville for being drunk and disorderly. Instead, some members of snowboarding's youthful fraternity treated it as cowardice.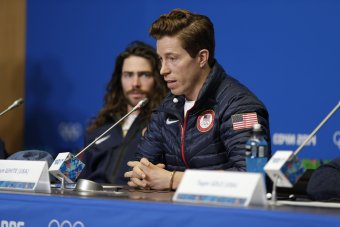 Andrew P. Scott-USA TODAY Sports
When White issued a statement saying "the potential risk of injury is a bit too much for me to gamble my other Olympic goals on," Canadian rival Sebastian Toutant unleashed this slap on Twitter: "Mr. White... It's easy to find excuses to pull out of a contest when you think you can't win."
Another Canadian snowboarder, Max Parrot, took it a step further, tweeting: "Shaun knows he won't be able to win the slopes, that's why he pulled out. He's scared!"
This was a very rare case of athletes from the normally peaceful and passive nation of Canada being at odds with an American somewhere other than a hockey rink. Toutant and Parrot later deleted their tweets, but by then, they had gone viral and the damage was done.
Adding to the criticism was the unfortunate truth that White's withdrawal meant an Olympic slot that could have gone to another U.S. snowboarder instead was wasted.
Now, if White wins anything less than gold on Tuesday, there could be a host of snowboarders ready to thumb noses in his direction and say his time has passed.
At the age of 27, the ginger-haired White certainly isn't as outdated as Carrot Top, but the "Flying Tomato" is in danger of seeing his image go splat.
In a sport that's saturated with teen sensations, he is walking a fine line between reigning as the life of the party and being the old dude who looks seriously out of place at a college bar.
That division perhaps began when White put a target on his back by going mainstream with a line of apparel for Target stores. It's no secret he has always distanced himself from the bulk of snowboarding's hipsters, and that chasm nudged wider when he trimmed his long hair last summer and began assuming a suit-and-tie corporate look for these Games.
"He's kind of separated himself from the sport," is how 2006 Olympic snowboarder Andy Finch assessed it for The Boston Globe. "What he's done is incredible. But for most of these guys, snowboarding is about going out and having fun. Shaun's looking out for No. 1."
It seems reasonable to suspect that White is more popular with athletes from other sports and other nations than he is with his own crew. He's had to deal with all of this backbiting from other snowboarders, but during the broadcast of the opening ceremonies, you could see scads of athletes jockeying to take a picture with him.
Maybe White's detractors are tired of hearing that an athlete who never hangs with the crowd is the face of their sport.
Maybe they feel they can do just fine without him, particularly after seeing the slopestyle gold go to American Sage Kotsenburg, a self-described nonconformist who boasts that he hasn't been in the gym since last September.
We'll have to wait until Tuesday to see whether all of the chatter and sniping hampers White's bid to prove yet again that he's the closest thing there is to a human gyroscope.
And make no mistake, he'll have a lot to gain, but also plenty to lose.
Tom Weir has covered eight Winter Olympics as a columnist and reporter for USA Today. You can follow him on Twitter at @TomWeirSports.