When German speed skater Claudia Pechstein returns to the Olympics Sunday after being banned in 2010 she will carry with her a two-fold legacy, not all of it good.
First, she's already the most decorated speedskater in the history of her sport as she enters Sunday's 3,000-meter race, having won nine Olympic medals, five of them gold.
But second, she also is the Lance Armstrong of the Sochi Olympics.
Pechstein is coming off a two-year ban for doping. Like seven-time Tour de France winner Armstrong, she has never failed a drug test during an illustrious career that took her to five Winter Olympics from 1992-2006. Instead, Pechstein was undone by the circumstantial evidence of a suspicious blood count, the meaning of which has been hotly debated by scientists in her homeland.
The International Skating Union, the global governing body for speed skating, ruled that Pechstein's abnormal level of immature red blood cells, or reticulocytes, were evidence of an illegal blood transfusion. Pechstein, steadfastly maintaining her innocence, contends the finding was due to a genetic condition inherited from her father.
Her ban was the first for any athlete in any sport caused by screenings of what drug testers refer to as a "biological passport." But unlike Armstrong's Tour titles, Pechstein hasn't been stripped of her Olympic medals. Her "Goldstein" nickname remains intact as she competes in Sochi, where she'll have another chance to medal in the 5,000.
Pechstein likely would have pocketed medals in the 3,000 and 5,000 at the 2010 Vancouver Olympics, plus a third as a member of the German team that won the women's team pursuit. That would have positioned her to win a 13th career medal in Sochi, which would be a Winter Olympics record.
Instead, she competed in the courts in 2010, exhausting every appeal. She lost in the Swiss-based Court of Arbitration for Sport, and then was dealt a final rejection in a Swiss federal court. But Pechstein remained defiant and vowed that, via the Associated Press' Graham Dunbar (h/t USA Today), "Everyone who believes in and supports me can be sure that they will definitely see me on the ice again."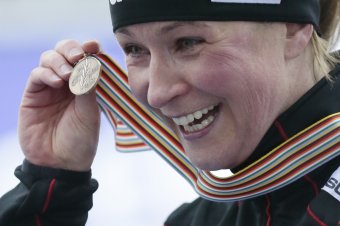 Mikhail Metzel/Associated Press
At the time, it seemed like a hollow promise, born out of frustration. Pechstein, after all, was 37 years old. Yet here she is, back at the Olympics, ready to turn 42 on Feb. 22, the day before closing ceremonies.
So, for those of us who flunked chemistry and who would be lost in any laboratory, how are we supposed to feel if Pechstein gets to the medals podium for an amazing 10th time on Sunday?
Should we marvel at the perseverance of this 41-year-old if she outperforms a field of world-class competitors, most of whom are at least a decade younger?
Or should the emotion be raw suspicion from an Olympic audience that has been hoodwinked a few too many times by the likes of Armstrong, Marion Jones, Ben Johnson and a cast of others?
That's the dilemma for sports fans in the era of PEDs.
The most astonishing performance in Olympic history probably belongs to Bob Beamon, who in 1968 broke the long jump world record by nearly 22 inches at Mexico City. Beamon's mind-boggling leap was universally applauded back then, but if a similar feat occurred today accusations of cheating would instantly cloud the celebration.
Win, lose or tumble, Pechstein's post-race urine sample no doubt will be scrutinized.
When she was banned in 2009, it was considered a victory for drug testers, because it was the first ouster based on circumstantial evidence, predating Armstrong's similar dismissal from cycling by more than two years.
When Pechstein lost her final appeal the director general of the World Anti-Doping Agency said it put PED-users on notice that knowing how to beat a drug test no longer would guarantee maintaining athletic eligibility.
"It is an important case, and it is one that shows that there are more ways of finding how people are using doping to cheat," WADA's David Howman told the Associated Press.
Pechstein has made few public comments since the controversy began, although she did tell the Associated Press this week that she's "itching to go."
In Pechstein's defense, a review of her training log makes the case that she has worked the ice as diligently as anyone who's ever circled long-track's 400-meter oval.
According to the website of the German television network Deutsche Welle, Pechstein skates 2,500 miles a year on ice and puts in another 2,000 miles on pavement during the offseason, with inline skates. She also gets on two wheels during the spring and summer, grinding out another 4,000 miles on a bicycle.
The other distinction about her training, according to Deutsche Welle, is that she only skates with men, because the other German women just don't push her hard enough.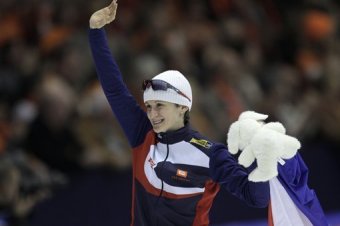 Peter Dejong/Associated Press
Defending champion Martina Sablikova of the Czech Republic is the favorite Sunday, but no one will take Pechstein's presence lightly. Her distance races aren't held at every World Cup, but she still managed a pair of second-place finishes on that circuit in late November and early December, and nailed her 30th career World Cup victory early in the season at Calgary.
Pechstein's fitness can't be questioned after her showing at last month's European Championships in Norway. She placed fifth in the 3,000 and fourth in the 5,000, and has to be considered a medal threat given her long history of being in peak condition when the starter's gun fires at the Olympics.
As an East Germany-born federal police officer in Berlin, Pechstein has been front and center as her once-divided nation has gone through monumental changes during the last quarter century. She also has seen Germany's speed skating undergo puzzling decline during that period.
When a bronze medal in the 5,000 sent Pechstein to the Olympic podium for the first time 22 years ago in Albertville it was just one of 11 medals racked up by Germany. But when she claimed bronze medals in the 3,000 and 5,000 at last year's World Championships they were the only ones won by her nation.
Deutsche Welle says Pechstein has been a critic of that collapse, and has scorched today's German skaters by saying, "Most of them don't have the general attitude that would make them be prepared to torture themselves."
Pechstein no doubt felt tortured when she was kept out of the 2010 Olympics. Sunday, she gets the chance for payback.
Tom Weir has covered eight Winter Olympics from 1984-2010 as a columnist and reporter for USA Today. You can follow him on Twitter at @TomWeirSports.