Shaun White and Shani Davis are in pursuit of the same piece of history in Sochi: becoming the first American to win the same Winter Olympic event three consecutive times.
So, which do you find more compelling, White's acrobatics in snowboarding's halfpipe event, or Davis' unerring precision in speedskating's 1,000-meter race?
Your answer perhaps reveals which of two basic groups you fall into as a Winter Olympics fan—snow devotee or ice enthusiast.
Which surface will produce the most thrills in Sochi?
That's a debate that will take place in family rooms all over America for the next two weeks. Fans of alpine skiing will groan whenever NBC's coverage switches from the slopes to ice dancing, and hockey fans will deplore having their games interrupted by a bumpity-bump update from the moguls course.
In Sochi, snow will be home to skiers of every kind—alpine, cross-country, and freestyle—plus snowboarders, ski jumpers and the biathlon's rifle-packing cross-country skiers.
Ice is where you'll find figure skaters, hockey players and both long-track and short-track speedskaters. It's also where the bobsledders, lugers and skeleton racers will schuss down slick chutes at spine-rattling speeds and where curling competitors will slide 40-pound "stones" in their wintry version of shuffleboard.
Snow advocates will say there's no greater test than the downhill, where American skiers Bode Miller and Julia Mancuso appear poised to add to the combined eight Olympic medals they've already stockpiled.
The 2.2-mile course in Sochi is one of the longest in Olympic history and skiers will hit speeds of 80-90 mph as they descend 3,537 feet. There is a 150-foot jump right before the finish, and another further up the hill that's expected to send competitors airborne for as far as 270 feet.
Yes, there will be spectacular crashes, and the danger factor will have spectators on edge from start to finish.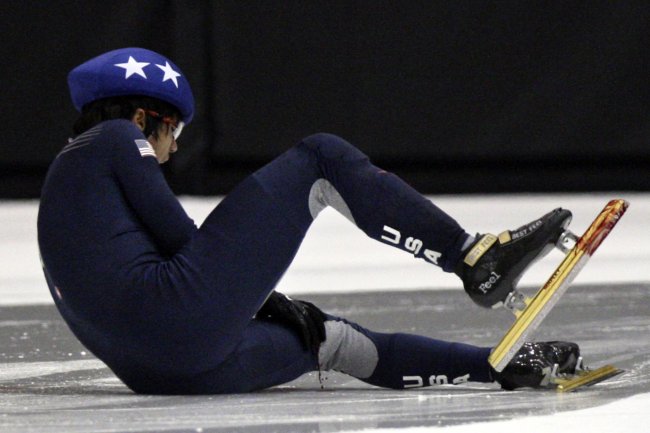 Carlos Osorio/Associated Press
But don't try to tell short-track speedskater J.R. Celski that any other venue is more perilous than his.
Just five months before winning two bronze medals at the last Winter Olympics, a crash left the Californian with a life-threatening gash in his thigh that was six inches long and two inches deep. And yes, all the comparisons short-trackers get to NASCAR drivers are totally justified.
Ski cross has a similar mad-dash as four racers break from the same gate and often send each other tumbling. But hockey fans will tell you there's that much action at the rink every time a loose puck gets chased down.
Russians likely will care more about the hockey gold medal than any other. In the sport where it once took a miracle to beat them, Russia hasn't struck Olympic gold since 1992, a fact that Alex Ovechkin is painfully aware of as he shoulders the burden of being the superstar who's expected to deliver the host nation's biggest thrill.
Certain to fulfill her lifelong quest is ski jumper Lindsey Van, the driving force behind having her sport added to the Games for the first time.
But now it's up to the Utahan and the rest of the women's field to put on a show that proves they belong, as they take flight off a ramp and soar the length of a football field—especially in the wake of Russian ski jumping coach Alexander Arefyev telling the Izvestia newspaper (via NBC) that the purpose of women is "to have children, do housework, to create a family home."
Whether they compete on snow on ice, it's a certainty that many Olympians will leave Sochi on crutches, or worse. At the 2010 Vancouver Olympics Nodar Kumaritashvili of the nation Georgia was killed when his luge sailed off the track during a practice run. It was the fourth fatality in Winter Olympics history.
The daredevil element is a constant at the Games, no matter what the venue. The snow is always slick and the ice never gives, which is why so many of these athletes have stories about ruptured spleens and cracked ribs.
"We know the risks of our sport," 20-year-old free skier Devin Logan told The Washington Post. "We know what we're doing and getting ourselves into at the end of the day."
And this Winter Olympics, like every other one, will be replete with tales of those who take it to the edge on skis and blades.
Want stories about overcoming adversity?
How about Swiss skier Beat Feuz, who has endured 10 separate knee surgeries since 2008, yet will be among the medal candidates on Sochi's snow, where he has won a downhill competition.
Australia's John Farrow can definitely relate, because he'll be sliding head-first down the skeleton track with a left foot that's still partially paralyzed from a harrowing training crash at Lake Placid in 2011.
Want wild and crazy?
There's no telling what kind of show Slovenian alpine skier Tina Maze might put on when she gets to the bottom of the hill.
In 2012, she had her racing underwear confiscated by officials because there were complaints from other competitors that she was somehow gaining an unfair aerodynamic advantage by using plastic in them. At a competition in Italy, Maze responded by unzipping her ski suit in the finish area and showcasing a sports bra with "Not your business" written on it.
But Lolo Jones, the U.S. track Olympian-turned-bobsledder, might call Maze a prude, considering the pose she decided to strike in ESPN the Magazine's "Body Issue."
Want fearless U.S. youth?
Just two months after her 15th birthday, Maggie Voisin will be performing twists and somersaults in the Sochi sky as a slopestyle skier. But figure skating has a precocious 15-year-old of its own in Polina Edmunds, who punched a ticket to Sochi by stunning the judges with perfect triple jumps at her very first trip to senior nationals last month.
Geographical oddities are always a fun at the Winter Olympics, and the best ever might be the Jamaican bobsledders. That crew is competing at the Games for the first time in 12 years, ready to careen down the chute and perhaps hatch a plot for a sequel to Cool Runnings.
But it's just as quirky to have an aerial skier from Australia—a land that's hardly associated with snowfall. Yet Aussie Lydia Lassila is back to defend her gold medal while flying as high as 60 feet in the air.
As noted by Reuters, Lassila recently tweeted a message all Winter Olympians can live by as they seek to provide biggest thrills on Sochi's snow and ice: "The glory is not in never falling, but rising when we fall."