There will be a hold-your-breath moment on Sunday night when Ashley Wagner takes the ice, hoping to bolster U.S. chances for a medal in figure skating's first ever team event at the Winter Olympics.
From the second her short program begins, the watch will be on to see whether this is the old Wagner—the one who glided to national championships in 2012 and 2013.
Or will it be the Wagner who crumbled at this year's nationals, falling twice during her free skate with an Olympic berth on the line?
If Wagner's shoulders are slumped as she makes her first appearance in Sochi, it perhaps will be because she feels the weight of Mirai Nagasu upon them.
Nagasu is the skater who was left out in the cold after nationals, when Wagner was named to the U.S. team by a panel of U.S. Figure Skating Association officials despite finishing fourth.
Nagasu's long program at nationals was mistake-free and earned her a third-place finish behind champion Gracie Gold and runner-up Polina Edmunds. Traditionally, figure skaters punch their tickets to the Games by finishing in the top three at nationals, but the panel ruled that Wagner's "body of work" over the last few years was enough to counter her sloppy performance.
Wagner is very fortunate her sport has that flexibility in its Olympic formula. Many sports have do-or-die U.S. Olympic trials, where there's no margin for error. Swimming is particularly ruthless, with only the top two finishers at the trials moving on to the Games, even if the poor soul in third place is a world-record holder who was beaten by the razor-thin margin of .01 of a second.
Overlooked by the USFSA panel was Nagasu's body of work. She demonstrated her Olympic mettle emphatically four years ago, finishing fourth in Vancouver.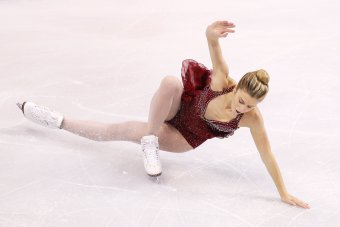 Winslow Townson-USA TODAY Sports
Wagner was absent from those 2010 Olympics because of a long-program fall that doomed her at nationals.
NBC commentator Scott Hamilton, a 1984 gold medalist in figure skating, said he thought Wagner's failure to make the 2010 Olympic team still weighed on her at this year's nationals. Asked on air which female skater had the most pressure on her, Hamilton quickly responded, "Ashley, definitely Ashley... Because this is history now. It's being so good for so long, and not being able to break through."
It's worth noting that even when Wagner won her 2013 U.S. title, she had two falls in her free skate. But even though she has a history of wilting under that pressure, it's wise that the U.S. team is giving her this chance.
Skating the short program in the team competition gives Wagner the opportunity to clean her slate. A personal Zamboni, if you will, that could wipe away any demons haunting her from nationals and get her head straight for the ladies' individual competition that starts Feb. 20.
Wagner's body of work is indeed impressive, and it needs to be remembered that her fifth-place finish at last year's World Championships was a significant factor in the U.S. qualifying for three berths in the ladies' competition at this Olympics, instead of the two it had in 2010.
Nagasu has been amazingly gracious in the wake of having her exquisite performance at last month's nationals ignored by the panel.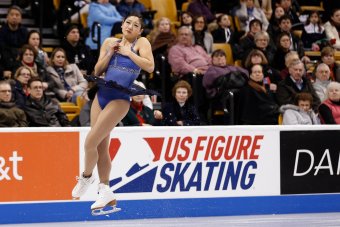 Winslow Townson-USA TODAY Sports
The 20-year-old wrote on Facebook that not being selected "was devastating" and "I remain confused" by the USFSA decision, but added, "My Olympic journey does not end here. I will continue to work hard, to train and grow and improve as a skater and realize my dream of once again representing the United States at an Olympic Games."
She also had this message, which should ease Wagner's burden:
"Most importantly, I want to wish Gracie, Polina, Ashley and the rest of the U.S. Team the best of luck at the 2014 Olympic Games. Representing your country at the Olympics is one of the biggest honors and best experiences in an athlete's life, and I hope they all do well and have a great time. I will be watching and cheering them on."
Wagner readily acknowledges that Nagasu's magnanimous attitude has given her an emotional boost.
"Mirai has been absolutely incredible," Wagner told Matt Lauer on NBC's Today show on Tuesday. "She and I have been friends for quite some time now, and she texted me and we've been in touch after nationals, and she just said, 'You know what, you deserve to be on this team. I'm cheering you on, good luck.' So to have that support has been everything for me."
But that doesn't mean the issue is dead. It will instantly rekindle if Wagner falters on Sunday, and this time, it damages not only her individual Olympic prospects, but also her team's quest for a medal.
Figure skating is perhaps the most judgmental sport there is. Skaters ostensibly are graded solely on their ability to cleanly land jumps and make high-RPM spins, but anyone who has been around the sport knows that good looks also come into play, as do the choices of costumes and music. The sport often has more gossip than an issue of People, and can be as catty as any episode of Housewives.
Wagner knows that as well as anyone, and also knows that any bobble on Sunday could set off a chorus of "Mirai wouldn't have missed that jump."
That's the thought that could creep into Wagner's head this weekend. Whether she can put it aside may well determine whether she leaves the ice joyously or more depressed than ever.
Tom Weir has covered eight Winter Olympics for USA Today. You can follow him on Twitter @TomWeirSports