COLUMBIA, S.C.—Fifth-year senior Dylan Thompson is the heir apparent to outgoing South Carolina quarterback Connor Shaw, and while there is expected to be spirited competition at the position, Thompson's overwhelming edge in experience is likely to leave Brendan Nosovitch and Connor Mitch battling for the backup spot.
There's no reason for Nosovitch or Mitch to find that the least bit discouraging.
When Steve Spurrier is the head coach, No. 2 is going to play, possibly a lot, and No. 3 better be ready if called upon.
Just look at how things have transpired for Thompson, who has been Shaw's understudy for much of the last three seasons.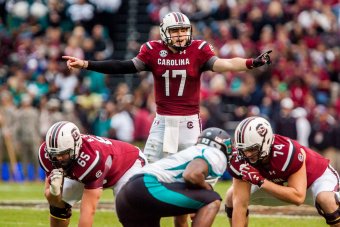 Jeff Blake-USA TODAY Sports
Over the last three years, Thompson has played in 23 games with three starts and has completed 120 of 218 passes (55 percent) for 1,827 yards, 14 touchdowns and five interceptions.
While most of Thompson's opportunities have come as the result of injuries to Shaw, he has also gotten some playing time when Spurrier was dissatisfied with Shaw's performance or he was looking for a change of pace.
It's simply Spurrier's way. He demands perfection, and he isn't afraid to make a change when he isn't getting it.
"I don't think he treats that position any differently than any other," said ESPN analyst Jesse Palmer, who played quarterback under Spurrier at Florida from 1997 to 2000. "They're interchangeable in his eyes. But it helps when the backup's talent is equal to that of the guy on the field."
It's hard to gauge where things stand between South Carolina's three quarterbacks when it comes to talent level.
As far as experience, it's no contest.
South Carolina's next most experienced quarterback is Nosovitch, a 6'1'', 220-pound sophomore who played in three games and completed both of his passes for 13 yards.
Mitch, a 6'3'', 227-pound redshirt freshman, is the quarterback with the intrigue factor. He was rated as a four-star prospect by 247Sports coming out of high school, the highest of any of the Gamecocks' quarterbacks.
Both Nosovitch and Mitch threw for more than 12,000 yards during their high school careers.
What they lack is college game experience, something Thompson has in spades.
While he was sporadic at times in relief of Shaw this season, Thompson has proven himself under the toughest of circumstances.
As a sophomore, Thompson got the start in the final game of the regular season at rival Clemson and completed 23 of 41 passes for 310 yards and three touchdowns in South Carolina's 27-17 victory.
He split time with Shaw in the Outback Bowl and wound up throwing the game-winning touchdown pass in the Gamecocks' 33-28 victory over Michigan.
This season, he came off the bench in relief of an injured Shaw to throw for 261 yards while rallying the Gamecocks from a 10-0 deficit to a 28-25 victory at Central Florida.
It will take something incredible from Nosovitch or Mitch to move past Thompson into the starter's role by the time the Gamecocks open the season against Texas A&M.
But it's a long season. Barring near perfection from Thompson, one or both will almost certainly get a chance to prove themselves in the crucible of competition.
Meanwhile, the fact that Spurrier doesn't hesitate to pull an underperforming quarterback will lend spice to the ongoing battle for the backup spot scheduled to play out over the spring and the fall.
All quotes obtained firsthand unless otherwise indicated.