COLUMBIA, S.C. — Bruce Ellington came to South Carolina on a basketball scholarship with no real intention of playing football, even though he was recruited in both sports.
Basketball was his first love, and he dreamed of a solid college career at point guard and perhaps even a shot at the NBA.
Then football got in the way of his dream.
After earning freshman All-SEC honors in basketball, he decided to give football a shot. He earned freshman All-SEC honors in football as well. A dual-sport athlete each of the last three years, he finally came to realize that his best future lay with football.
Last week, he announced he would forgo his final season in both basketball and football to enter the NFL draft.
It was the right thing to do.
Ellington graduated in December, and even though another season of college football might raise his draft stock, it's understandable if he feels like it's time to go.
CBSSports.com projects him as the 73rd best player in the NFL draft, the 13th best receiver and a second- to third-round pick.
In addition, he is probably encouraged by the success of former wide receiver teammate Ace Sanders. The two put up similar numbers in college and aren't terribly disparate in size. Ellington is 5'9'' and 196 pounds, while Sanders is 5'7'' and 175 pounds.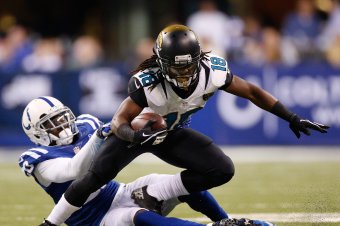 Gregory Shamus/Getty Images
Sanders declared for the draft last year after his junior season, was selected in the fourth round by Jacksonville, made the team and had a solid rookie season.
Ellington, meanwhile, continued the steady progress in football that has seen him put up better numbers each of his three seasons.
He led the Gamecocks in receptions this season with 49 for 775 yards and eight touchdowns.
But he saved perhaps his best performance for last.
In the Gamecocks' Capital One Bowl victory over Wisconsin, he caught six passes for 140 yards and two touchdowns and threw a touchdown pass to quarterback Connor Shaw.
And giving up basketball probably became an easier decision after the struggles the team has gone through the last several years. South Carolina has gone 14-16, 10-21 and 14-18 each of the last three years and is 7-7 and likely headed for another bleak finish this season.
There are no hard feelings from South Carolina basketball coach Frank Martin.
"Whatever he does, he's got a friend for life in me," Martin said in a recent article in The State newspaper. "The commitment that he has made to this program is unparalleled, at least in my time here."
Throughout his college career, Ellington couldn't bring himself to turn his back on either sport. Now it's time that he put his future first.
He has earned the right to do just that. His future is football, and his future looks bright.