COLUMBIA, S.C.—South Carolina's Steve Spurrier will be coaching his 20th bowl game when the Gamecocks play Wisconsin in the Capital One Bowl on Jan. 1, and while his 9-10 record in bowls hardly suggests he has a patent on success, his approach remains unwavering.
"Nah, hasn't changed much over the years," says Spurrier, who coached his first bowl game in 1989 when his Duke team lost to Texas Tech 49-21 in the All-American Bowl. "Pretty much the same."
Despite mixed results, there are certain bowl truths Spurrier holds to be self-evident.
Commandment No. 1: Thou shalt not over practice.
When the Gamecocks play Wisconsin, they will probably have practiced 11 times—six of those, including a walkthrough, after the team arrives in Orlando, Fla. on the day after Christmas. That doesn't include conditioning drills.
"I know a lot of teams go in early," Spurrier said. "We go in the day after Christmas. After about six days, they're ready to play the game and go home."
There's another factor in practicing less. Rest beats repetition.
"In the old days, they practiced every chance they got and beat each other up," Spurrier said. "They thought you practice like you play. You can't do that in football because we're a collision sport. You can't beat your guys up. That's what I believe, anyway."
Commandment No. 2: Get some of the younger players on the team some work.
Although Spurrier says looking toward next season is not a primary focus, he does believe bowl practices are a great time to take a look at younger players.
"We usually end each practice with a little scrimmage with the younger guys," Spurrier said. "We get in a little extra with them."
Commandment No. 3: Have fun at the bowl site.
"You don't want them to lose sight of why they're there, which is to win a ball game," Spurrier said, "but you want them to have fun with all the activities and so forth. We have a curfew, and we kind of tighten it up the closer it gets to game day."
Commandment No. 4: Win the game, and try to do it with flair.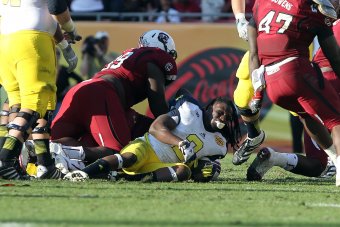 Kim Klement-USA TODAY Sports
There is no greater example than South Carolina's 33-28 victory over Michigan in the Outback Bowl last season. Superstar defensive end Jadeveon Clowney supplied the crowning moment with his helmet-removing hit on Wolverines' running back Vincent Smith.
The hit became a YouTube staple and won an ESPY as Play of the Year.
"This is a game we talk about for eight months," Spurrier said. "So it's a huge game. Last year's (Outback Bowl) game, somebody told me there wasn't a single person in China who had ever heard of Jadeveon Clowney, and now they all know who he is. That hit was shown for eight months. So, if we can do something special, the replays will go on for eight months. Bowl games are huge now. They really are. Hopefully, we'll be ready to play our best game."
Bleacher Report has no numbers to substantiate Spurrier's claim on the level of Clowney recognition in China before or after last year's Outback Bowl.
We'll just take his word on it.
All quotes obtained first hand unless otherwise indicated.