Rory McIlroy's golf game in 2013 looked like a ragged sweater after a moth has had its way with it. The holes were glaring.
Except those are not the holes McIlroy wants to concern himself with.
Erratic off the tee. Inconsistent ball-striking. Discomfort on the greens. Poor course management and even poorer management off the course.
This season, McIlroy was unrecognizable from the young hotshot who usurped Tiger Woods' reign in 2012 and captured his second major championship, along with four other wins worldwide.
2013 was a disaster. He went from being Frank Sinatra with the "world on a string" to a bum on the street singing the blues.
Now, with two of the most dissimilar seasons of his young career in the rearview mirror, perhaps the most compelling and confounding storyline heading into the 2014 golf season revolves around how the kid will bounce back, if at all.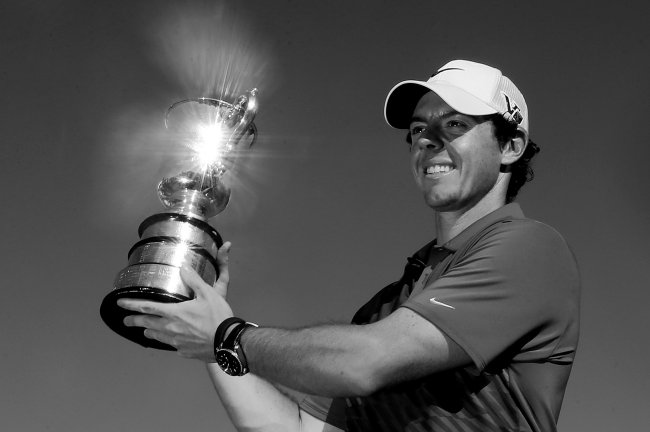 Mark Metcalfe/Getty Images
I'm all in on McIlroy's resurgence. He's proven far too gifted—from his perfect mechanics to his mental toughness—not to return to the winner's circle and golf's elite in 2014.
Remember, not just anybody could've set the record for lowest first-round score ever in the 150-year history of the Open Championship (63 in 2010).
Not just anybody could've beaten Tiger Woods' 12 under par record at the U.S. Open in 2000 (he went 16 under at Congressional in 2011).
Not just anybody could've won the Money Titles on the PGA and European Tours in the same season (2012).
Not just anybody could've won a pair of major championships by eight shots each (U.S. Open in 2011 and PGA Championship in 2012).
You get the point. But he's only 24!
What had this year's major winners accomplished at 24-years-old?

| | | | | |
| --- | --- | --- | --- | --- |
| Name | Tour Wins | Major Wins | Top 10s in Majors | World Ranking |
| Adam Scott | 4 | 0 | 2 | No. 11 |
| Phil Mickelson | 4 | 0 | 2 | No. 28 |
| Jason Dufner | 0 | 0 | 0 | Unranked |
| Justin Rose | 2 | 0 | 2 | No. 29 |
| ** Rory McIlroy | 11 | 2 | 7 | No. 6 |
http://www.officialworldgolfranking.com/home/default.sps
McIlroy's 11 worldwide wins are just the beginning.
Despite his bout of wild inconsistency in 2013, he fought back in his final few months. Since August, the Northern Irishman carded three top 10 finishes and an impressive win, his first and only of the year, against arguably golf's hottest player, Adam Scott, on the final hole of the Australian Open.
The victory over Scott was reminiscent of Tiger's first victory after his two-year drought in 2011. It was a "Don't you dare doubt me" moment.
Oh don't worry, Ror, we won't.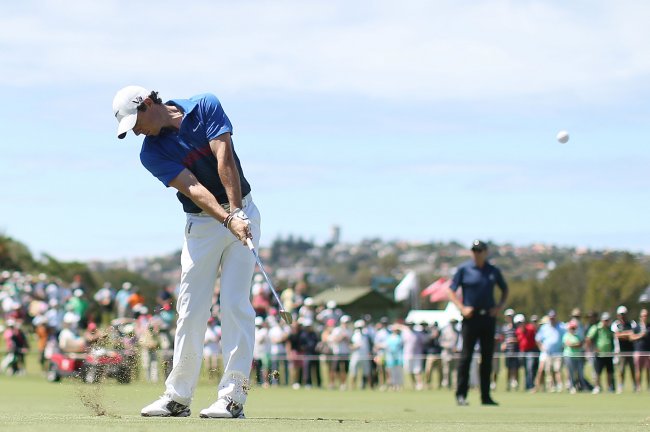 Mark Metcalfe/Getty Images
He proved that even in a year "mired in mediocre golf," as Golf Channel's Jason Sobel wrote, he could still compete with the best of them. That was the resilience, and the heart, that evaded him all season.
But the road back to the winner's circle and world No. 1 will be grueling. He'll face the strongest field of golfers in recent history, from a resurgent Tiger Woods and Phil Mickelson to an onslaught of rising talent including Henrik Stenson, Adam Scott, Justin Rose, Matt Kuchar and Jason Dufner.
McIlroy's success in 2014 will be measured by three tangible improvements.
No. 1 is fewer big numbers.
McIlroy's never been the most accurate off the tee, but his errant drives this season were no longer just "playable" from the trees—they were out of bounds. Consider that in 2012, McIlroy played 56 rounds and posted just 153 bogeys or worse, meaning he made bogey or worse about 15 percent of the time. Transition to 2013 when he played 60 rounds, posted 185 bogeys or worse and made these big numbers nearly 19 percent of the time.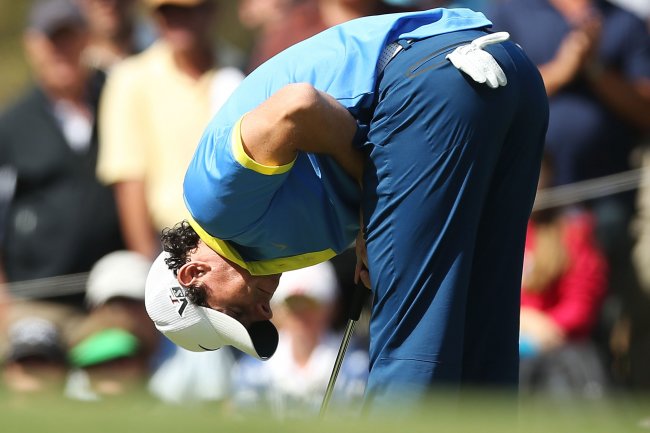 Mark Metcalfe/Getty Images
Enduring penalties and not executing key shots often left McIlroy putting to save par or bogey, instead of going after birdies. The less time McIlroy has to spend making up ground on his competition, the more time he'll have to play his aggressive, but precise, brand of golf.
Second, he'll need to regain his putting stroke.
McIlroy's key stats are virtually identical over the last two seasons, except for his putting. Whereas he ranked 82nd in 2012 in strokes-gained putting, he dropped 40 spots to 122nd in 2013.
Putting well is an art as much as a science. There's no paint-by-numbers scheme or one-size-fits-all motion. Just as a basketball player shoots hundreds of free throws to find his stroke, McIlroy will need to immerse himself this offseason in the putting stroke that best suits his eye, his feel and his game.
Lastly, to find his way back into the limelight, McIlroy must take a note out of Adam Scott's book from 2013 and find a way to have his game peak around the year's biggest events.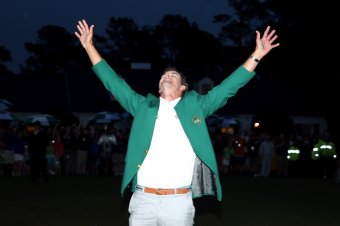 Ross Kinnaird/Getty Images
Other than the PGA and Players Championships, where he finished T8, McIlroy was a no-show in the majors, World Golf Championships and FedEx Cup playoffs. You can bet that after Scott took home the green jacket at Augusta he felt like a real contender in every major championship; sure enough, he went on to grab two top-fives in his next three majors. Or that after Phil Mickelson won the Scottish Open, he finally believed he could conquer the British Open, which he did in historic fashion.
Just like his peers, McIlroy must see his practice pay off to regain his confidence. And when he does, he'll be striking cleaner iron shots, pummeling straighter drives and sinking more clutch putts.
Perhaps the most demanding challenge of McIlroy's 2014 is the growing up he must do off the golf course. Prior to this year, McIlroy projected a calm, cool and collected image: a 20-something who had no quarrel with anyone or anything, except maybe a golf ball tee'd up on a par-five.
Then reality kicked in.
As Golf Channel's Ryan Lavner said, beyond McIlroy's sloppy play, 2013 "was a largely miserable year that included embarrassing excuses, tabloid rumors, messy court battles."
McIlroy found himself mixed up in multiple lawsuits, emphasis on the plural. He's involved with Oakley over the finances of a previous endorsement deal and another lawsuit with his previous agency, Horizon Management.
He dealt with the media's incessant coverage of rumors about his personal life, specifically his girlfriend, tennis star Caroline Wozniacki. One of the more embarrassing moments of his season came at the U.S. Open when he nearly snapped his club after striking a poor iron shot that found the green-side hazard.
In the midst of it all was the evolution of McIlroy from the golfer to the brand—Nike's brand, that is. He signed a massive endorsement deal with Nike at the beginning of 2013 that rapidly shoved him into their spotlight: commercials with Tiger Woods, new wardrobe and, perhaps most significantly, an all-out change in golf equipment.
How does one justify the plummet of the best golfer in the world in a span of just months? We looked for answers as McIlroy's season snowballed. Was it the new clubs? Rumors about his girlfriend? Or maybe just the nerves of a 24-year-old put on display for the world?
The only certainty from his almost entirely lost season was that McIlroy caused more drama off the course in 2013 than he did during competition.
Whereas he looked like a seasoned vet in 2012, McIlroy looked like an overwhelmed kid in 2013, struggling to cope with a harsh dose of reality.
2014 is Rory's call to arms.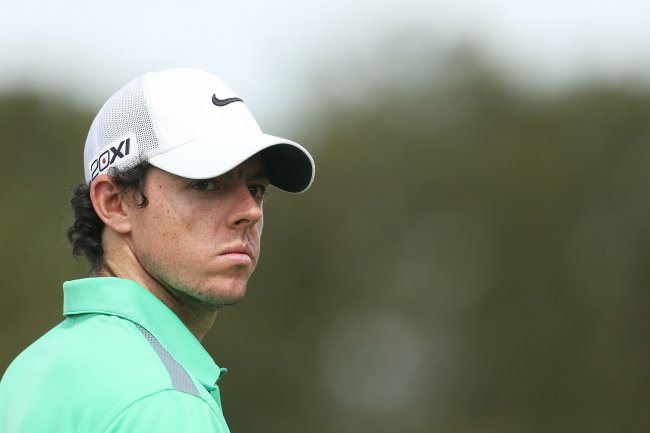 Mark Metcalfe/Getty Images
He missed dozens of opportunities in the last 12 months, but in those losses came perspective. Such perspective may be what's made Tiger Woods such a historically great champion.
Woods' career hasn't just been defined purely by winning, but also by tinkering. He's constantly tinkering with the mechanics of his swing and has consequently endured some serious low points in his game—weeks, sometimes even months, without winning a tournament. He's currently on a five-year drought since winning a major. But throughout his career he's preached patience and process, two principles that have guided him through the tinkering, the poor play and the change.
Like Tiger, McIlroy is already on his way out of this tumultuous year, and all signs point to him emerging a stronger, more complete player in 2014.
Look for McIlroy to sew up the holes in his game this offseason. Who knows, he may find himself wearing a new jacket by April. It might even be green.