Right now, Tottenham Hotspur are not a good football club.
In fact, the argument can be made that last season, Tottenham Hotspur were not a good football club. They just had a world-class player pull them up the best he could.
If you were to take away Gareth Bale's 2012/13 goals in the Premier League only when he scored a game-winner or an equalizer in the 75th minute or later, Spurs' last campaign total drops from 72 points to 63. While this likely would have still been good enough for fifth place on a goals-scored tiebreaker with Everton, it would have colored the season very differently.
Frankly, it would have changed everything about last summer.
But in particular, Spurs fans would see differently the purported talents and brains of Tottenham manager Andre Villas-Boas. A club-record 72 points and one point shy of Champions League football kept AVB on Spurs fans' good side over the summer, as the promise of this season loomed large.
That promise is evaporating—and quickly.
And with it, perhaps, Andre Villas-Boas' career prospects as manager of the club, according to David Hytner of The Guardian.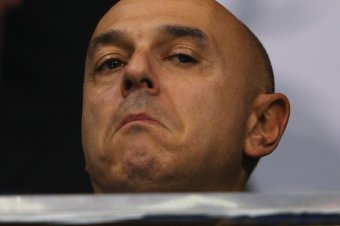 Clive Rose/Getty Images
Villas-Boas, after all, is the sixth "official" manager since Chairman Daniel Levy took control of the club in 2001. Only two of those managers—Martin Jol and Harry Redknapp—made it through their second season with the club. The chairman is quick to act if he sees the White Hart Lane ship listing.
Sunday's 6-0 drubbing at the hands of Manchester City is certainly the low point of the Tottenham 2013/14 campaign. But there have been some successes, as well, and it would be remiss to ignore them.
The club are on to the quarterfinals of the League Cup and look forward to a rematch at home against West Ham United, who handed Spurs their most embarrassing defeat at home this season.
They are also performing spectacularly well in Europa League play to date, winning every match and outscoring opponents 17-1.
But the Mickey Mouse Cup and continental matches against the likes of Dinamo Tbilisi and Sheriff Tiraspol won't be enough to keep Villas-Boas at the head of the table.
Tottenham have qualified for the knockout stage in Europa League and should face stiffer competition moving forward, including likely group qualifiers Lazio, Valencia, Lyon and PSV Eindhoven and potential "Lucky Losers" from Champions League group play like Benfica, Porto, Ajax and Borussia Dortmund.
Is Villas-Boas' job in jeopardy?
If Villas-Boas wants to win back the supporters, and more importantly, impress his boss Levy enough to keep his job, an impressive showing against better European competition may be the only way.
If the club lose this weekend to a floundering Manchester United side, the Premier League title will be out of reach, and Champions League qualification will once again be the most supporters can hope for. If that mark is missed, then bringing home a real trophy—and Europa League victory would certainly be that—may be the only way Villas-Boas manages Tottenham for the 2014/15 season.