COLUMBIA, S.C. — With an all-important season-endng game looming next week against No. 7 Clemson, 11th-ranked South Carolina got exactly what it needed from Saturday's 70-10 victory over Coastal Carolina.
First of all, it was an easy victory, with no pain and no strain. The Gamecocks led 28-0 at the end of the first quarter and 42-7 at the half.
Hampton on Dabo wanting to top #Gamecocks more than anyone: "I think it's a problem when your coach wants to win more than your players."

— Willie Smith (@willie_t_smith) November 23, 2013
In the process of piling up all those points, they may have given Clemson a few more things to worry about.
With the Gamecocks (9-2) resting many of their first-teamers, freshman wide receiver Pharoh Cooper played a bigger role against Coastal (10-2).
He caught two passes for 42 yards, including a 24-yard touchdown reception and also was effective at quarterback, running the Wildcat formation. He carried twice for 81 yards, including a 71-yard touchdown run.
He could give South Carolina a nice change of pace at quarterback next week against the Tigers, who probably wouldn't have given Cooper an extra thought in preparation otherwise.
Another freshman, tailback Jamari Smith, rushed for 103 yards on 10 carries, but the more significant performance in the running game was turned in by sophomore Brandon Wilds who began the season as a co-starter at the position.
Wilds, who hasn't played since dislocating his left elbow Sept. 28 against Central Florida, rushed for 62 yards and two touchdowns on seven carries.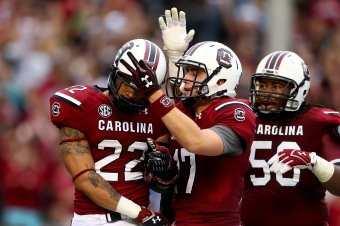 Streeter Lecka/Getty Images
"He's a big back who can knock that pile backwards, so he could be instrumental in the next few ball games," said South Carolina coach Steve Spurrier. "It was good to see him have a good game."
A healthy Wilds would give the Gamecocks a solid one-two punch at tailback, and the running game looms particularly important against Clemson.
Most importantly on Saturday, the Gamecocks rested key personnel who have been playing hurt all season.
The starters who sat out Saturday included defensive end Jadeveon Clowney (foot), defensive tackle Kelcy Quarles (headaches), safety Brison Williams (forearm) and tailback Mike Davis (shoulder, ankle, ribs).
Williams is the only one who remains questionable for Clemson.
In addition, the Gamecocks let starting quarterback Connor Shaw (sprained knee) take a seat after the first quarter with South Carolina comfortably in front.
Granted, it was against an FCS school, but Shaw looked as sharp as he has in weeks. He was 8-of-11 passing for 115 yards and a touchdown.
More significantly, he rushed five times for 39 yards and a touchdown and looked like he may have regained the quickness he seemed to be lacking since injuring his left knee against Tennessee Oct. 19.
"This is the best it has felt since the Tennessee game," Shaw said. "Obviously, it was good to be out there. I don't think I got tackled once, maybe pushed out of bounds. It's good to get out of there with no injuries."
To review: 1. An easy victory. 2 Some new wrinkles for Clemson to worry about. 3. Rest for the starters. 4. Key playing time for reserves. 5. No new injuries.
For the Gamecocks, it all added up to the perfect tuneup for the Tigers.
All quotes obtained first hand unless otherwise indicated.
All rankings refer to BCS unless otherwise indicated.