With the Toronto Blue Jays facing another season ending without playoff baseball, we turn our attention to an always interesting but tangential topic: the Hall of Fame candidacies of players on the active roster.
Admittedly, when I received this assignment—that is, to project whether any active Blue Jay will or should make the Hall of Fame by the end of their careers—my initial reaction was that no one even warranted the slightest consideration.
However, once I realized I was somewhat jaded by this year's overall disappointment and took a closer look at each player's career statistics, I found three players that, at the very least, warranted a discussion on the topic.
That is not to say that I am willing to claim that any of the three players discussed below will actually be inducted into the Hall of Fame, but rather that there is still a chance that any of them could be inducted, depending on how they finish their careers.
There are two items to discuss before analyzing the Hall of Fame chances of the three players listed below.
First, it is important to clarify the exact question being asked as it pertains to each of the players discussed. I am not determining whether any of the players are currently Hall of Famers; in that case, the answer would almost certainly be an unequivocal and resounding no for each active player.
Additionally, I am not asking whether or not each player will be a Hall of Famer at the time he retires. However, what I will analyze is whether each of the players discussed will deserve to be a Hall of Famer at the end of their careers.
Of course, we all have our own criteria for determining who deserves and doesn't deserve to be a Hall of Famer and I'll do my best to spell out which factors I rely on in stating each player's Hall of Fame potential. Additionally, this will also require the very difficult—and extremely speculative—exercise of projecting how each player will perform not just one or two years into the future, but five years or more down the road.
Needless to say, these types of exercises are highly subjective and often catalyze a wide range of opinions. Naturally, that's also what makes these types of debates so interesting.
Secondly, before I analyze the Hall of Fame chances of the three active Blue Jays that I selected, I'll quickly mention those players who I did not think warranted consideration at this time in an effort to avoid overlooking any player. Those players include:
R.A. Dickey: Dickey had a phenomenal three-year run with the Mets, but unfortunately, it didn't begin until his age-35 season. If he reached his peak five years earlier at 30 years old, things could be interesting, but it appears to be too little, too late for the 38-year-old.
Dickey is having a solid, but unimpressive season for the Blue Jays in 2013 and, even though he's a knuckler who could last until well into his 40s, we're still dealing with a 38-year-old with a career record of 70-68, a career 4.06 ERA and a career 1.32 WHIP. He turned around his career nicely, but it won't end with a Cooperstown induction.
Josh Johnson: At 29 years old, it's certainly too soon to entirely write off Johnson's Hall of Fame chances, but he doesn't warrant discussion after how abysmally he has pitched this season. His career numbers are still very impressive: a career 3.40 ERA, 8.3 K/9 IP, and 2.71 K/BB ratio.
Unfortunately, Johnson hasn't been a paragon of health and his solidly impressive—but not great—career numbers do not make up for the fact that he has averaged just under 20 starts per season since his first full season in 2006 and has only topped 28 starts three times.
Johnson could still salvage a HOF-worthy career, but he has to somehow find the key to staying healthy—which will only become increasingly difficult as he approaches 30 years old—and turn things around after posting a 6.20 ERA and 1.67 WHIP in 2013. For these reasons, he does not currently warrant discussion as to his potential Hall of Fame merits.
Jose Bautista: There's not too much to say here, as I'm going to discuss his candidacy (or lack thereof) while discussing the candidacy of another active Blue Jay. As great as Bautista was in 2010 and 2011, he will be 33 years old next season and will likely have seen his last two campaigns—as solid as they were—end in disappointing fashion with an injury.
There's still a chance Bautista can turn it around and finish with a career that deserve legitimate Hall of Fame discussion, but like Dickey, it may have been a case of too little, too late for the late-blossoming superstar. After the last two seasons, despite solid numbers, his current Hall of Fame chances have fallen behind the first player discussed on the list below.
Three Toronto Blue Jays Whose Hall of Fame Chances Warrant Discussion:
1. Edwin Encarnacion, 1B/3B
Age: 30
Experience: Nine seasons
Career Numbers: 1,065 games, 995 hits, 192 HR, 597 RBI, 426 BB, 679 K, 49 SB, .265/.347/.479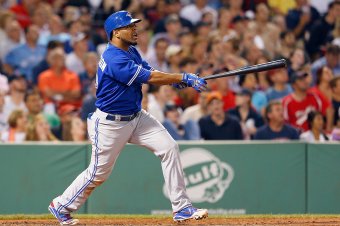 Jim Rogash/Getty Images

Two years ago, we would have almost certainly been talking about Jose Bautista here, who was coming off a phenomenal span in which one could have made a convincing argument that Bautista was the most feared—if not the most productive—hitter in baseball.
During that two-year span—from 2010 to 2011—Bautista led the majors in home runs (97), walks drawn (232) and isolated slugging percentage (.333) while finishing second in RBI (227) and OPS (1.025). Bautista looked as if he could make a Hall of Fame case at that point in time, but his career has stagnated somewhat due to injuries over the last two seasons.
Over these last two seasons, however, Edwin Encarnacion has taken the mantle as the Blue Jays' most productive hitter and has put up back-to-back seasons of top-10 production. Although Encarnacion's last two seasons—as impressive as they have been—do not come near Bautista's success from 2010-2011, Encarnacion has two things working in his favor that give him the edge over Bautista.
First, Encarnacion, unlike Bautista, didn't emerge from total obscurity; Encarnacion had seven seasons of near-league-average production, which, as uninspiring as they may have been, could go a long way in ultimately determining his Hall of Fame chances. Most importantly, however, Encarnacion has the opportunity to do something Bautista couldn't: maintain an elite level of production into his early 30s.
It is that possibility—that Encarnacion continues to hit at a high level into his mid-to-late 30s—that gives him even the slightest of chances at the Hall of Fame.
Superficially, I recognize that it is almost ridiculous to discuss a player whose career numbers evoke apathy due to their overall mediocrity. Encarnacion's career averages after nine seasons certainly do not leave anyone in awe, so the real key to him having any chance at a Hall of Fame-type career is being a high-volume producer who racks up counting stats through his late 30s.
Encarnacion had the benefit of being called up at age of 22 in 2005 and, other than a few DL stints and minor league rehab stops, he has remained in the majors over the last nine years. While Encarnacion struggled at times, he still had some productive years in the seven years prior to breaking out in 2012. In addition to the past two seasons of very good-to-great production, Encarnacion had solid seasons in 2006 (15 HR, 72 RBI, .276 AVG, .831 OPS), 2007 (16 HR, 76 RBI, .289 AVG, .794 OPS), and 2008 (26 HR, 68 RBI, .251 AVG, .807 OPS).
However, if Encarnacion wants to have any realistic chance of a Hall of Fame career, he'll need to continue to follow the career trajectory of Adrian Beltre, who has recently become a trendy candidate for Hall of Fame discussions.
Like Beltre, Encarnacion will have to rely on high-volume production as a result of getting any opportunity to play at a young age, while maintaining a lengthy, productive peak in his early-to-mid 30s.
Although Beltre had much more playing time, and therefore much higher numbers in all the traditional counting stats that voters usually analyze, Beltre wasn't in a significantly better position after his age-30 season than the one Encarnacion is in now.
After Beltre's age-30 season in 2009, an injury-riddled campaign in which he hit eight home runs with a .265 AVG in 111 games, he owned a triple slash of .270/.325/.453. Encarnacion's .265/.347/.479 is right on par with that, if not better.
Of course, Beltre also is a tremendous defender and has since put together four straight seasons of production that have warranted MVP consideration, but Encarnacion has held his own offensively in comparison to Beltre over the last two seasons. Encarnacion will need to continue to emulate Beltre's post-30 production in the coming years.
The bottom line is Encarnacion has gone from the classic underachiever to a hitter who has produced superstar-quality numbers after nearly a decade in the league, which is akin to Beltre's career trajectory. Encarnacion doesn't have Beltre's defensive prowess or his tremendous counting stats (due to Beltre debuting at age 19), but Encarnacion has his entire 30s to become a Beltre-esque high-volume producer.
It's hard to say what the future holds for Encarnacion—will he struggle to stay healthy like Bautista, will he continue to improve like Beltre, or could he even regress back to his pre-2012 form?
However, the one thing Encarnacion has always maintained is his power—an attribute that the voters often value highly in Hall of Fame determinations. Over his career, based on a 150-game average, Encarnacion has averaged 27 home runs and 84 RBI and has seen his yearly walk totals nearly double over the last two seasons.
If Encarnacion can maintain those career power averages for another five seasons while continuing to improve his AVG and OBP (as he has over the last two years), we would be looking at a hitter with roughly 330 home runs and 1,000-plus RBI with a .275/.360/.500 batting line after his age-35 season.
Is that possible? We'll see. Would that make him a potential Hall of Famer? Probably not, but it would put him in the discussion.
It's hard to analyze a player who has so drastically changed his reputation and production levels recently as it's difficult to determine whether those changes will indeed hold up in the future.
As it stands, Encarnacion has a long way to go before we can seriously discuss even the slight chance of a Hall of Fame career, but the last two years could serve as an impressive springboard that allow Encarnacion to become a perennial MVP candidate in his 30s a la Beltre and one day warrant a discussion as to his Hall of Fame chances.

2. Mark Buehrle, SP
Age: 34
Experience: 14 seasons
Career Numbers: 448 games, 423 starts, 2,851.0 IP, 184-139, 1,639 K, 648 BB, 3.84 ERA, 118 ERA+, 1.28 WHIP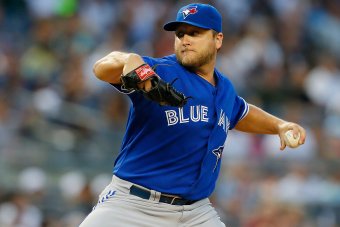 Mike Stobe/Getty Images

Over 14 seasons, Buehrle has been your classic compiler—he's made 30-plus starts every year since 2001 and appears likely to do so again in 2013. Buehrle doesn't do anything extraordinary; he's a deliberate, durable, fast-paced, pitch-to-contact lefty who has held his own since the start of the millennium.
On the surface, Buehrle's numbers do not evoke Hall of Fame consideration; he's been an average-to-above-average pitcher for nearly a decade-and-a-half, but he has never dominated and has one top-five finish in Cy Young voting in his career (he finished fifth in 2005). He has a strikeout rate that would have been much more appealing a generation ago.
Reliability and durability can only go so far.
However, what Buehrle has been able to do is rack up wins—which unfortunately still matter to voters—while maintaining a sub-4.00 ERA and sub-1.30 WHIP. Buehrle's career creates an interesting juxtaposition—his career numbers are extremely bland, but he has all the sexy accomplishments that could push a pitcher like Buehrle into a serious Hall of Fame discussion.
The career ERA+ of 118 isn't anything special, but it is identical to that of recent inductee, Bert Blyleven. However, what could really assist Buehrle's modest, slightly better-than-average numbers is the fact that he also has four Gold Gloves (and is renowned for his defense), has thrown both a no-hitter and a perfect game and won a World Series as a member of a rotation that dominated throughout the 2005 playoffs.
Buehrle currently sits at 184 career wins with a solid 2.53 K/BB rate over the course of his career. He's the type of pitcher who should project well into his late 30s, should he continue to pitch. He never threw 90 MPH and never will. Like Encarnacion, but much further along in his journey, Buehrle's potential Hall of Fame niche will have to be as a high-volume producer.
What Buehrle could become, when it's all said and done, is a left-handed, poor man's version of Mike Mussina, who is a hotly debated Hall of Fame candidate.
Mussina, of course, had a much higher strikeout rate (7.1 K/9 IP vs. Buehrle's 5.2 K/9 IP) and a slightly better ERA+ (123 vs. Buehrle's 118), but like Buehrle, Mussina never was really considered a dominant pitcher (never finishing higher than fourth in Cy Young voting) and was instead known for being a savvy, consistent pitcher backed by his own Gold Glove-winning defense.
As irrelevant as wins should be, Mussina had an incredible string of 17 straight years of double-digit wins and Buehrle has the potential to match that with 13 straight seasons of double-digit wins after earning his tenth victory in 2013 in his last start.
Buehrle has given up a lot of hits in his career, but he's always been a bend-but-don't-break pitcher, who is stingy with his walks and is adept at keeping hitters off-balance with a fast pace and a deep arsenal of pitches. He's never been flashy, but he's gotten the job done year in and year out for 14 seasons, which automatically warrants some discussion.
Whether Buehrle can be considered a serious Hall of Fame candidate at the end of his career will likely hinge most heavily on how long he decides to pitch. Buehrle has his ups and downs from year to year, which is natural for a pitcher who relies so heavily on his defense, but as someone who has never relied on his velocity, he isn't likely to suddenly implode.
Buehrle throws just about as hard as he did a decade ago and still relies heavily on a fastball-changeup combo. As long he stays healthy—which has never been an issue for him—and his arm can continue to handle the wear and tear of being a 200-plus IP workhorse, then there's little reason to doubt Buehrle's ability to maintain his production for at least another four or five years.
Yes, Buehrle struggled at times this season to the point where Blue Jays fans probably thought to themselves that he was done, but Buehrle has come back strong. In fact, his 2013 season (4.08 ERA, 1.32 WHIP, 6.2 K/9 IP, 2.68 K/BB)—as things currently stand—looks very similar to, if not better than his age-24 season in 2003 (4.14 ERA, 1.35 WHIP, 4.6 K/9 IP, 1.95 K/BB).
That's because Buehrle is still basically the same pitcher he was a decade ago and should still be the same pitcher five years from now.
If Buehrle can indeed do what he's done over his 14-year career for another five years, through his age-39 season, we would be looking at a pitcher with 250-plus wins (which will likely become the equivalent of 300 wins for our generation) along with 2,000-plus career strikeouts, a sub-4.00 ERA and no shortage of impressive individual accomplishments.
That may not be enough to get him in, just as it may not be enough to get Mussina in, but we don't know for how long Buehrle will keeping. Mussina retired at age 39, after posting a ERA+ of 131 in 2008. Buehrle will never be as good as Mussina was in his prime, but he has a very good opportunity to keep on compiling counting stats for another five-plus years should he decide to stick around.
In an age of big strikeout totals, a slower-paced game and injuries, Buehrle is sort of a throwback—the type of pitcher voters love. Of course, that doesn't warrant Hall of Fame consideration on its own, but when it's all said and done, Buehrle could have two decades of consistent, reliable, and solid pitching numbers and could rack up enough counting stats and accomplishments to put his name in the mix for the Hall of Fame.
As it stands, Buehrle is still a long way away from serious Hall of Fame consideration, but if he continues his consistent production into his 40s, he could at least warrant a discussion despite being an unglamorous, never-dominant starter.
3. Jose Reyes
Age: 30
Experience: 11 seasons
Career Numbers: 1,275 games, 1,563 hits, 860 runs, 101 HR, 509 RBI, 422 SB, .292/.342/.440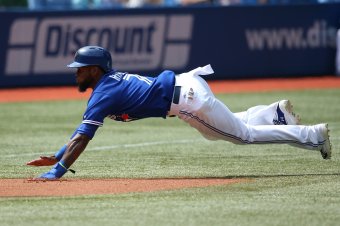 Tom Szczerbowski/Getty Images

Perhaps it's because I so vividly recall Jose Reyes as a prospect and as a rookie with the Mets that it seems surreal that we're already discussing his chances at one day being a Hall of Famer.
However, it's been over a decade since the flashy, electrifying and somewhat enigmatic shortstop debuted in 2003 and despite occasionally being derailed by injury, Reyes is well on his way to warranting serious Hall of Fame consideration at the end of his career.
He played his first full season in 2005 and has already racked up more than half the hits needed to join the elusive and prestigious 3,000 hit club at the age of 30. He already has 422 career stolen bases, which gives him a good chance to crack the top 20 all-time by the time his career ends. His 36.1 WAR through what should be a little more than half his career also gives him a good shot at finishing in the top ten all-time at the position.
It may be strange to discuss Reyes's Hall of Fame potential since he doesn't seem far removed from the advent of his career and he is often associated with occasionally underachieving as well as being injury prone, but Reyes has been one of the most productive offensive weapons at the shortstop position over the last twenty years.
If he wants to be a Hall of Famer, however, his chances will hinge heavily on his health and maintaining his speed into his 30s. We've seen many speed-first players lose a step as they age and it can very easily derail a potential Hall of Fame career. Reyes will need to set the bar high over the remainder of his career and hope to make a case as convincing as Barry Larkin's.
Larkin was inducted into the Hall of Fame in 2012 after serving as one of the pioneers of the modern-day shortstop. When Larkin began his career, the shortstop position was still very much a defense-first position, but by the time Larkin reached his prime (during the offensive boom of the 1990s), shortstops were expected to be just as adept with the bat as they were with the glove.
Though there were productive offensive shortstops before Larkin, Larkin's 1995 MVP season followed by his 33 home run, 36 stolen base campaign in 1996, paved the way for Alex Rodriguez, Derek Jeter and the new era of shortstop for which Jose Reyes prominently represents.
Reyes isn't likely to have a defining MVP season as Larkin did in 1995 nor is Reyes likely to ever hit 33 home runs as Larkin did in 1996, but Reyes has a very good chance of matching his overall career statistics. As a matter of fact, Larkin's two finest seasons—1995 and 1996—didn't even come until Larkin was in his age-31 and age-32 seasons (while Reyes is still only 30 years old).
Of course, Larkin and Reyes are very different players in some regards and play in different offensive environments, so it's not reasonable to expect Reyes to suddenly break out as Larkin did, but there are enough similarities where Larkin's Hall of Fame candidacy could serve as a basis for Reyes'.
Larkin was also occasionally prone to injury and through age 30, his numbers are comparable to where Reyes' numbers currently stand. Larkin had a .296/.360/.431 batting line with 87 HR, 471 RBI and 188 SB after the strike-shortened 1994 season in which he turned 30. According to FanGraphs, his 35.5 WAR was slightly below Reyes's current 36.1 WAR.
Of course, Larkin played his 20s in an era before the offensive explosion of the late 1990s and had about 1,300 less plate appearances than Reyes did after his age-30 season, but it shows that there is a very realistic possibility that Reyes could have a career on par with that of a recent Hall of Famer.
Reyes suffered an unfortunate ankle injury while awkwardly sliding into second earlier this year, but he has come back with no ill effects, flashing his usual speed and an expected uptick in power as a result of the move to the American League.
Prior to this year, however, Reyes won a batting title in 2011 with the Mets and had a fully healthy and very productive year for a dysfunctional Marlins club in 2012. Injury aside, Reyes has looked impressive once again in 2013 (nine home runs and 12 stolen bases with a .297 AVG in only 65 games this year) and would have been on pace for his first 20/20 season had he played the full year.
Reyes may not be the 60-plus base stealer he was from 2005-2007, but he still appears capable of 30-plus bags a year while possibly showing an uptick in power. And although he doesn't have one yet in 2013, Reyes has led the league in triples four times and has the 11th-most triples since 1970.
Which Blue Jay currently has the best chance of being a Hall of Famer?
Injuries will be the key to Reyes' Hall of Fame bid as well as whether his speed can hold up into his 30s. He isn't showing signs of slowing down and has overcome each injury hurdle in his career. If he can stay the course for the next five years, based on his recent campaigns, Reyes could top Larkin's 2,340 hits while cranking out 150 home runs and nearing his way toward 600 stolen base territory.
That alone would make Reyes a strong Hall of Fame candidate and there's no reason he couldn't play until 40 just as Larkin did. Like with every player, it's important not to get too far ahead of ourselves and recognize the potential red flags that could derail a player's Hall of Fame chances, but Reyes is definitely on the right path for a strong Hall of Fame candidacy—if not one day seeing himself inducted.
He may never win an MVP like Larkin nor be as offensively ahead of his positional peers as Larkin was, but Reyes has a chance to match him in every important counting stat, finish with a comparable triple slash, and pass him in career WAR to finish as a top-10 most valuable shortstop all-time.
It may seem strange to say, but if Reyes can continue his current career trajectory, he'll have a reasonable shot at being a Hall of Famer and currently has the best shot at the Hall of Fame on the Blue Jays' active roster, despite his older and more accomplished teammates.
All statistics from Baseball-Reference.com unless otherwise noted.