There's never been a better time to be a golf fan.
In what's already been an enthralling and truly captivating golf season, we're being treated to another five weeks of elite golf in the FedEx Cup playoffs, followed by one of golf's best match play tournaments in the President's Cup.
The only way this could get better would be if Bill Murray commentated the whole thing alongside David Feherty.
For those who believe golf is purely a weekend sleep aid or perhaps not a sport at all, the coming weeks offer a rare opportunity to engage with golf like you never have before.
Some of the stereotypes will ring true. Your TV screens will be filled with predominantly white golfers wearing loud colors, and the commentators may whisper at times.
Despite that, the playoffs are like the majors on steroids.
Granted, the prestige and tradition of the majors are nowhere to be found in the playoffs, partly because they're still relatively new (began in 2007) and partly because of the criticism still associated with the intricacies of the system itself.
But you can't, and shouldn't, disregard the inherent suspense of the cutthroat competition.
The season-long race to the FedEx Cup playoffs has separated the top 125, who will tee off Thursday at The Barclays, from the rest. With each of the four playoff events, the field will get smaller and smaller (125, 100, 70, 30), eliminating the weakest links and putting immense pressure on the best "golf-ball-whacker guys" in the world.
It will be by far the toughest stretch of the season. Each swing, chip and putt affects the players' chances of making it into the next event, and the playoffs present a brutal test of consistency, stamina and strategy.
The playoffs mean performing week in and week out, on different courses and in varying conditions.
They mean redemption for those who came excruciatingly close to winning majors this season—Tiger Woods, Henrik Stenson, Brandt Snedeker (2012 FedEx Cup champion), Zach Johnson.
Stuart Franklin/Getty Images
They mean making a statement for young up-and-comers—Billy Horschel, Harris English, Patrick Reed.
They mean restitution for those who crumbled under pressure—Luke Donald, Lee Westwood, Hunter Mahan.
Most exciting of all, the best in the game are peaking in sync with the rising stars of the sport.
Tiger Woods is as back as he will ever be, having won a bevy of tournaments—just not the ones he cares most about. Phil Mickelson has revived his competitive edge, and Adam Scott has finally broken through into the elite.
But beyond these giants of the modern era are a host of golfers with immense potential.
Let's start with the kid, 20-year-old Jordan Spieth. After a recent surge of excellent play—including his first career PGA Tour victory at the John Deere Classic—he is not only contending in the playoffs but also vying for a captain's pick for the American side in the President's Cup.
Alongside his victory, Spieth earned a pair of No. 2 finishes and four other top 10s in 2013. Players like Spieth and Patrick Reed—who is 23 and also just won for his first time on tour this past week—prove the future of American golf is bright.
Aspiring golfers often admire Bubba Watson's length off the tee, Phil Mickelson's wedge play and Brandt Snedeker's putting, but they should really be building their games off Matt Kuchar's style.
Known as "Kuch" out on tour, he's easily the most consistent player in the world. He's made 19 of 19 cuts this season, and he has two victories, two No. 2's and three other top-10 finishes. His resume looks awfully similar to guys like Scott and Justin Rose before they won their first majors, which is why he's next to break through and may make noise in the playoffs.
Jason Day's story is as tragic as it is remarkable. The 25-year-old Aussie has just a single victory in his seven years on tour. However, he also has six top-10 finishes in his last 14 major championships, including three No. 2's and one third-place finish.
Day lives for the spotlight, and he'll be right at home in the playoffs when he faces off against these major-like fields.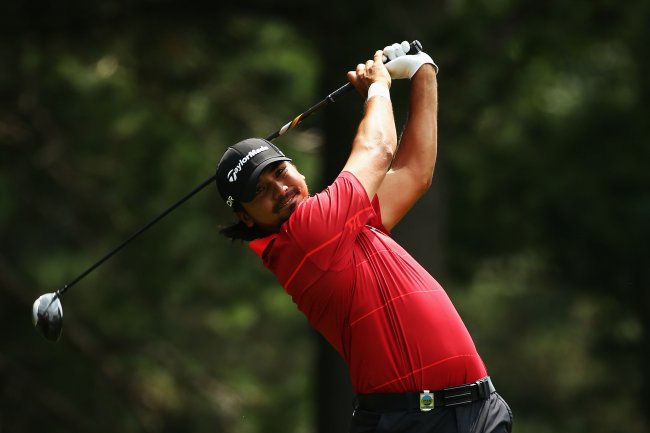 Streeter Lecka/Getty Images
The list of hopeful golfers goes on, ranging from the recently resurgent Rory McIlroy, who finished tied for eighth at the PGA Championship; to Zach Johnson, who's been on a hot streak of late, finishing second, sixth, fourth, eighth and fifth in his last five events. (Johnson, though, will miss The Barclays to be the best man at his brother's wedding.)

The current state of golf feels a bit like Major League Baseball, doesn't it? You've got the Los Angeles Dodgers surging (Tiger-esque), but you can't overlook the gritty Pittsburgh Pirates (Mickelson) or the talented-across-the-board St. Louis Cardinals (Scott). You can't even count out the underdogs, like 20-year-old Jordan Spieth (Oakland Athletics).
It's not the dog days of summer, but the playoffs offer a firsthand look into the grind and grit of championship golf, as well as a chance to see the nobodies shine as favorites fall. It's definitely not the majors, but it sure makes it good to be a golf fan.