Welcome to the rebuild, Boston Celtics fans. A roller coaster of a draft week ultimately resulted in Doc Rivers going to the Los Angeles Clippers, and the trio of Paul Pierce, Kevin Garnett and Jason Terry going to the Brooklyn Nets.
So that leaves president of basketball operations Danny Ainge with lots of free-agency obligations this offseason, right?
Wrong. The Celtics will not be major players during this year's round of free agency for multiple reasons.
Why Boston Will Largely Stand Pat
For starters, nobody wants to come to Boston. This is a team that just lost its high-profile coach and then proceeded to actively blow up its entire nucleus. This city had a very small basketball draw among top-billed free agents already—a full-on fire sale doesn't exactly help matters.
Next, let's examine the salary-cap situation. Despite ridding itself of nearly $34 million in the blockbuster with the Nets, Boston also brought along a slew of different contracts.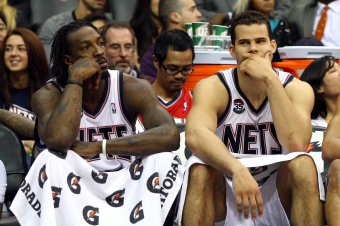 Chris Chambers/Getty Images
Kris Humphries' expiring contract is worth a whopping $12 million. Gerald Wallace is set to make $10,105,885 each of the next three years. Keith Bogans' price tag bumped to over $5 million since the Nets had to sign-and-trade him. MarShon Brooks and Kris Joseph are cheap, but the fact remains that this didn't exactly save the Celtics tens of millions.
In fact, the Celtics are still well over the salary tax, with $68.31 million in guaranteed contracts on their current payroll (the salary cap this year has been projected at $58.5 million, per Marc Stein of ESPN.com). That's not exactly the financial situation a team in "full rebuilding mode" wants to be in.
Don't expect Ainge to make it worse by flirting with the luxury-tax threshold of $71.6 million. He wants to get younger and more affordable during this process, not older and more expensive.
He will now likely shift his attention to dumping players rather than adding them, initiating a "summer cleaning" of sorts. The roster, now packed with a decently sized group of no-names, has-beens and even an ex-Kardashian, must be trimmed.
Ainge has no choice. Rosters must be limited to 15 players, with 12 active and three in reserve. With big-man draft pick Kelly Olynyk, second-round pick Colton Iverson, undrafted signee Phil Pressey and their three non-guaranteed players (Shavlik Randolph, D.J. White and Joseph), the Celtics have 18 players.
According to Mark Murphy of the Boston Herald, Iverson will most likely play in Europe next season to develop his game. But Tony Mitchell, a Summer League invitee and the D-League Rookie of the Year last season, could very well make the roster in his place.
Per ESPN Boston's Chris Forsberg, Ainge touched on the issue of roster crowding:
"As a matter of fact, we have too many players. We have logjams at power forward, and center and shooting guard. We have a lot of guys, potentially, if things continue as they are. I think that our job is to try to clean that up through the summer."

So, Ainge will likely package assets in a deal or grab players in sign-and-trades. Considering the Celtics now own the rights to nine first-round draft picks over the next five years, he already has a valuable stack of chips—even if the majority of his current team is yuck-and-poo.
This is the Charlie Brown Christmas tree version of an NBA team—it doesn't start growing, producing, or even looking halfway decent right away. There's no point in obtaining one strong piece in free agency, ultimately netting five extra wins on the season and ending up out of the lottery once again.
That's probably the worst fear any Celtics fan can imagine at this point: Rondo comes back healthy and leads them out of the hole of mediocrity alongside Green and Gerald Wallace. They end up just below the .500 mark and, deja vu, don't get to pick until the teens of a stacked 2014 draft.
Ainge Could (and Should) Trade Rondo to Dallas

So, why not entertain the Dallas Mavericks as they actively pursue Rondo? He's not going to be a leader of a squad in full rebuilding mode. He hates losing, he doesn't get along with most newbies (scratch that, most anybody), he just lost two of his closest friends (Pierce and KG) to contenders while he sifts through the detritus, and he still hasn't fully recovered from ACL surgery.
To Dallas, he's a chip because he would be an upgrade at point guard and a valuable piece of persuasion in the Dwight Howard sweepstakes. To Boston, he's a chip because he could net them point guard Shane Larkin and also help them unload the unwanted contracts of Brandon Bass and Courtney Lee (and, dare I say, Gerald Wallace?).

As http://t.co/RaBdzfDk2O says, Celts/Mavs talked some Rondo. Celtics like Larkin, but how do Mavs take contracts and keep space for Howard?

— Adrian Wojnarowski (@WojYahooNBA) June 29, 2013
Coming off terrible 2012-13 seasons, Bass and Lee make no sense on a rebuilding team. They're 28 years old and owed nearly $30 million before all is said and done (Bass $13.35 million total through 2015, Lee $16.35 million total through 2016).
Never mind their player efficiency ratings hovering below 13.00 last season—these guys just flat-out lacked confidence. They seemed lost on defense, their shots had no legs, and they barely carried their weight in transition.

Their worth dipped lower than imaginable in the first round of the NBA playoffs, in which the Celtics lost to the New York Knicks. Bass averaged a measly 6.7 points and 6.7 rebounds despite logging 34 minutes per game, and Lee managed six points all series, averaging 9.8 minutes per game and even registering two did-not-plays.
If Ainge can lump these dead-weight contracts into a package with Rondo and a couple reserves, and grab Larkin with the expiring contracts of Shawn Marion (owed $9.3 million next season) and Vince Carter (owed $3.2 million), he should pull the trigger.
Larkin might be the best point guard in the 2013 draft. He's got blazing speed and quickness, he can shoot efficiently and with range (48 percent from the floor last season, 41 percent from three), he runs the pick-and-roll about as well as anyone in the league, and he has great court vision. He's only 5'11", 175 pounds, but he has a 7'6" reach, a tremendous work ethic and a will to win.
Ainge said he has listened to offers but never made any proposals of his own. He maintains that Rondo will stay put, but he'd be absolutely bonkers to pass up a deal like this.
Ignoring better options and going forward with a loose canon like Rondo would be career suicide.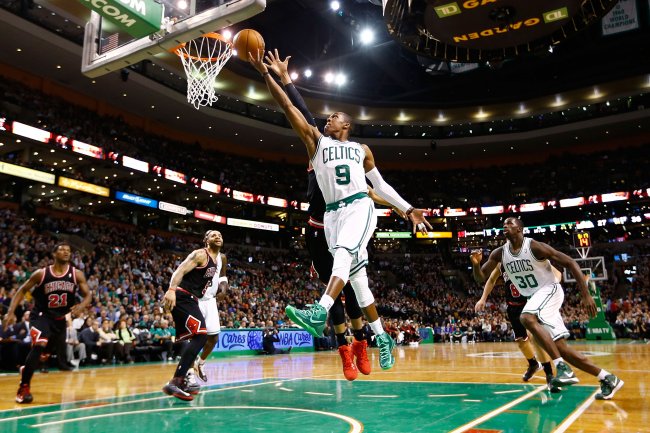 Jared Wickerham/Getty Images
Rondo cannot lead the team like Ainge once claimed. After all, the point guard even calls himself difficult to coach and claimed he doesn't see himself playing for anyone but Doc Rivers. He has a hot temper and a generally salty attitude. He can't shoot and often relies too heavily on dishing out assists (note: his two favorite options just left). You can't build a franchise around him.
So, you send him packing to a team that could immediately succeed with him, especially if it unites Dirk Nowitzki and Dwight Howard. Bass and Lee's contracts would be tossed, Ainge could lump in an extra no-name or two, and the only return cost would be two expiring and largely affordable contracts in veterans Marion and Carter. They would offer experience and occasional scoring so Boston fans stay awake next season (people know these guys!).
If Dallas really wanted in on the deal, Ainge could add Wallace and O.J. Mayo into the negotiations.
Realistic Free-Agency Options
Of course, this hypothetical trade seems like a long shot (especially the last part).
If Boston decided to retain Rondo, it could attempt to grab another Brooklyn player: point guard C.J. Watson. He can shoot well (41.8 percent from the field last season, 41.1 percent from three) and creates openings on offense.
He might be an affordable option to back up Rondo, or start in place of him if injuries loom. Boston wanted him at the February trade deadline, but couldn't agree to terms.
If Watson lands elsewhere, reports have also claimed that Boston would be interested in Yugoslavian Orlando Magic point guard Beno Udrih, per Sporting News' Sean Deveney.
A smart floor general with good court vision, Udrih can penetrate and dish the rock or score in traffic. The lefty also pulls up for lethal jumpers from mid-range. With nine years of professional experience, he would add intelligence and experience.
Even if things don't work out with the Rondo-Larkin deal, the Celtics could try for an O.J. Mayo sign-and-trade deal with the Mavs. Per A. Sherrod Blakely of CSNNE.com, Ainge has tried for Mayo in the past, drawn to his strong build, quality ball-handling and inside-outside scoring ability.
Currently, the most probable (or should I say "the only") free-agent move for the Celtics looks like it could be 2007 No. 1 pick Greg Oden, per Marc J. Spears of Yahoo! Sports. The 7'0", 285-pounder hasn't played in three-and-a-half years due to chronic knee problems, but reports indicate that he now looks "unbelievable," per Jason Quick of The Oregonian. Boston could battle it out with the Miami Heat and San Antonio Spurs for the big man's services.
All statistics compiled using ESPN.com. Salary information obtained from HoopsWorld.com.