Words like "tortured" and "emptiness" are being thrown around about Phil Mickelson after taking home his sixth second-place finish at a U.S. Open. Even Phil used the word "heartbreak" in the wake of the loss.
As he should.
There's a distinction that needs to be made between the perception of Phil Mickelson's Sunday at the U.S. Open and his future.
Sunday's glass is not half empty—that's too kind. That glass has shattered.
Phil's mistakes in that final round were glaring and costly. He resembled the "Wildcard Phil" sports fans knew was susceptible to coming up short, a player in stark contrast to the seemingly transformed Phil at Merion the previous three days. Lefty took his medicine and left the driver out of the bag, and he was disciplined and consistent. Not to mention the momentum he had going into Sunday—he had the lead, it was Father's Day, his 43rd birthday and the galleries cheered him on as the favorite since Day 1.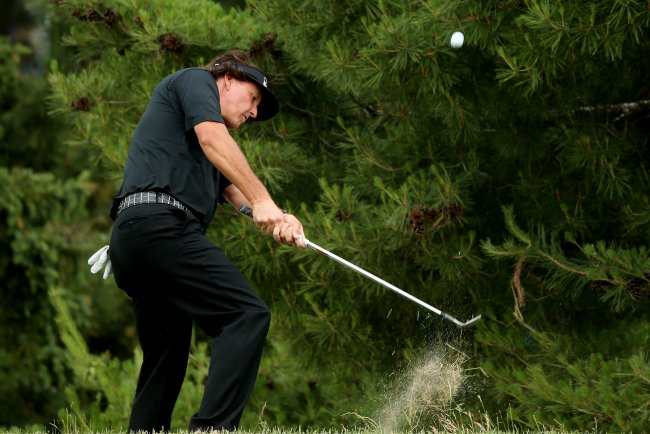 Andrew Redington/Getty Images
But in the grander scope of Phil's career and his future as a competitor, his glass can't be anything but half full. And that's the glass that counts.
The "time heals all" mantra has never been more apropos; just ask Jack Nicklaus, who finished runner-up in the majors a record 19 times (although he does have 18 major victories as well).
Any time you earn a spot in the final group Sunday and are contending for major championship glory, there's a sense of achievement. From there, it's about execution. Clearly Phil did not execute like he could have, but that wound will heal, as it has before.
Phil arguably may not have won the majors he did (four of them) had he not previously experienced the cruel defeat of the various seconds and thirds he captured on the world's biggest stages.
Is the glass half empty or half full for Phil?
There's learning inscribed in every loss, no matter how heartbreaking.
This U.S. Open was Phil's championship to win. But in the conveyance of history it should not be remembered as a "classic Phil flop," rather as a historic bout on an historic course.
Merion proved to be the most grueling U.S. Open track in recent memory. No player was exempt from the carnage. Everyone made mistakes—from 14-time major winner Tiger Woods (+13) to Masters champ Adam Scott (+15)—and it ultimately came down to who could minimize the number of mistakes at the end of four days.
The U.S. Open champion, Justin Rose, was a statistical marvel at Merion. Rose ranked in the top 5 in the three most critical stats: greens in regulation (No. 5 at 69.77%), birdie leaders (No.1 with 15, five on Sunday) and, most importantly of all, fairways hit (No. 2 at 75%).
While Phil played with poise the first three rounds, the wheels came off Sunday. Whereas Rose didn't make a double bogey all week, Phil carded two in the span of three holes on Sunday alone. Mickelson played the easiest hole on the course—the short par-3 13th hole—at one-over par for the week, and he overshot the green Sunday, earning one of his three back-nine bogeys.
Mickelson was just a different player Sunday.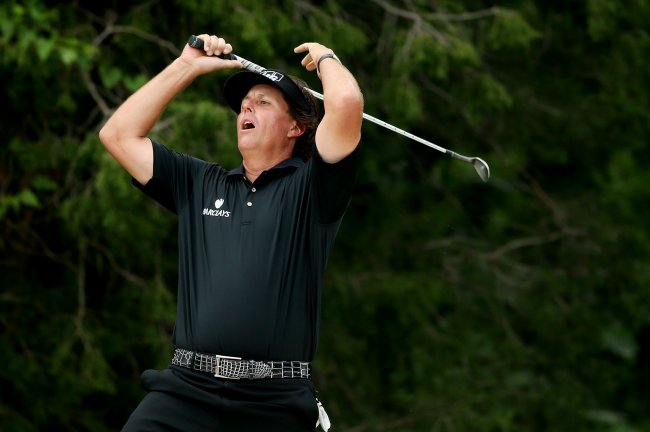 Andrew Redington/Getty Images
After hitting 10 fairways on average the previous three rounds—not great, but solid—Mickelson hit just eight in the final round. Although he hit 15 of 18 greens Sunday, the fact that he was playing from the rough so often kept him from really being aggressive.
And the greens, well, they were Lefty's nemesis all week. Phil needed 129 putts over four rounds (32.25 average), two worse that Tiger Woods, who finished 10 shots worse.
Not even a miracle hole-out for eagle at the 10th hole could reignite Mickelson's round.
But a Sunday plagued by poor execution won't drain Mickelson of optimism. Rather, it will fuel it.
Let's not forget who we're talking about here. Jovial Phil. Smiley Phil. Most likable guy on Tour Phil.
He's not a bitter loser, just like he's not a cocky champion.
His passion for golf lives in the wedges he hits and spins back on command as much as his interactions with the galleries who applaud him from his first tee shot to his last.
At 43, Mickelson may not be exactly in the prime of his career, but he's definitely not near the end. He's still a top-10 player in the world. Still the greatest wedge player in the game—perhaps of all time. He ranks eighth in putting on tour and there's no indication that the flatstick will let him down like this again. He has one win, two seconds and two thirds this season alone.
Sunday at Merion is more of an isolated incident for Phil, rather than a sign of any downfall or future struggles. He's healthy and the fire is still there; Lefty can still brawl with the best of them.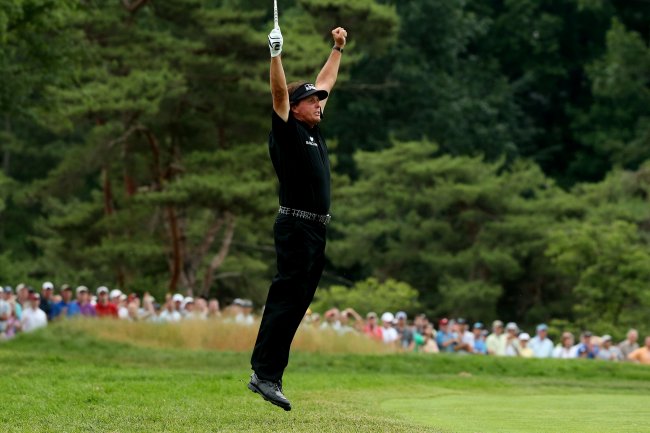 Andrew Redington/Getty Images
Mickelson's been painted as the U.S. Open's forlorn figure. But as Golf Channel writer Jason Sobel aptly noted:
Don't cry for Mickelson, though. If the worst thing that happens in his career – one in which he has amassed three green jackets, one Wanamaker Trophy and millions upon millions of dollars – is that he never wins the U.S. Open, the heartbreak will remain surrounded by so much achievement.
The sense of achievement that comes with putting oneself in contention outweighs the pain of defeat. Mickelson has learned that time and again and will find his way back into the winner's circle. Maybe even at a U.S. Open.