The Denver Nuggets fired the 2012-13 NBA Coach of the Year after recording a franchise-record 57 wins.
Um, okay?
Denver fans aren't pleased with all the first-round playoff exits under the George Karl regime. One of the main reasons why the head coach was let go, according to ESPNLosAngeles.com's Ramona Shelburne, was JaVale McGee's limited role in the rotation.
Even though the Nuggets signed McGee to a contract extension worth $44 million over four years last offseason, does team president Josh Kroenke realize he halted an improving franchise that was ready to peak?
The Nuggets Were Heading in the Right Direction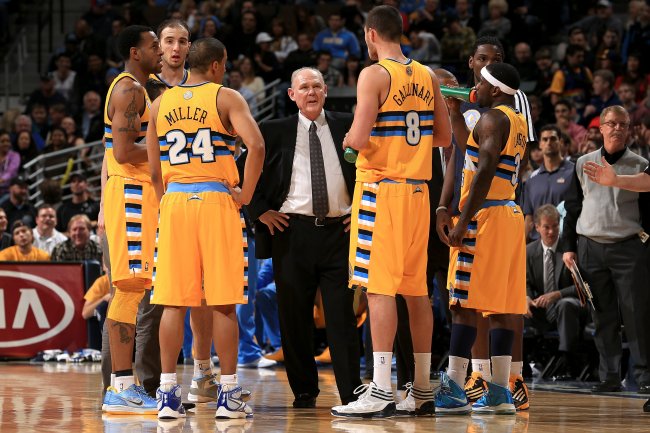 Doug Pensinger/Getty Images
Okay, Denver has lost in the first round of the playoffs nine of the last 10 years. Anyone will be frustrated with the same result for a decade.
The Nuggets were underdogs in seven of those nine first-round losses and appeared to have a solid core to make a run in the West for the near future. Last season, nine different players averaged at least eight points per game, and the Nuggets blew teams off the court with the most fast-break points and points in the paint in the NBA.
They did the dirty work too, like rebound the basketball and win the loose balls at the Pepsi Center to give them a team record of 38 home wins in a season.
Add the fact that Denver was the second-most clutch team in the league and accomplished all this two seasons after losing Carmelo Anthony. What was Karl doing wrong?
Chemistry was there as well. In an interview between Karl and The Denver Post, Karl had this to say about last season.
I think it was a special season because of the connection this team has with each other and with the coaching staff and with the city. The fans like this team. The staff likes each other. And to blow up that connection is, in my opinion, extremely disrespectful to coaching.
To be fair, there are Nuggets fans who are fed up with the lack of postseason success and glad to see him dismissed. But Karl is spot on, and since he's been let go, it's caused a level of uncertainty within the team, such as the tweet Benjamin Hochman of The Denver Post posted about Ty Lawson's feelings.
In a text message, Nuggets point guard Ty Lawson said, "All of this is crazy and unexpected, don't know what to say."

— Benjamin Hochman (@nuggetsnews) June 6, 2013



Then there's the tweet from Kenneth Faried.
So we lost a GM now a coach what's next!?

— Kenneth Faried (@KennethFaried35) June 6, 2013



So now that Kroenke has lost his head coach, general manager and assistant general manager, this is what the new crew will need to figure out.
How Much Potential Does McGee Really Have?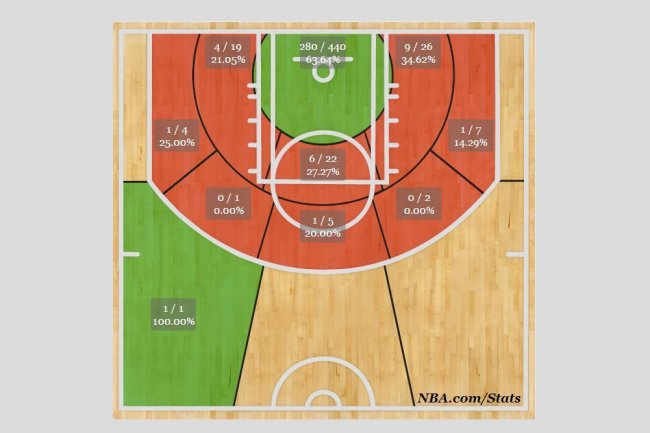 Over 83 percent of McGee's shot attempts last season came within eight feet of the basket. This is because he's primarily an explosive center who is one of the best in-game dunkers who electrifies the home crowd.
McGee lacks basic offensive skills. Sure, he might make the occasional jump hook off the glass, but JaVale has poor footwork, doesn't establish position well and can't play away from the rim.
It's intriguing to see that McGee led the Nuggets with a 20.8 PER ranking, but that's a product of the role he plays off the bench. He brings a spark to his team, plays all-out at all times and will only take high-percentage shots (meaning alley-oop dunks and easy putbacks off offensive rebounds).
JaVale doesn't make players better around him, but he gets maximum effort from his teammates because they feed off the fact that he can swat a shot into the 10th row and probably dunk on a 12-foot hoop.
Can McGee sustain his motor over 30 minutes instead of the 18.1 minutes he averaged last season? If he's not effective, JaVale doesn't have another part of his game to turn to. When he's having a bad game, he still ends up on Shaqtin' A Fool for good reason.
It's not like McGee can't improve, but saying he has a lot of work to do is a substantial understatement.
The starting centers in the NBA who play with a high level of energy have different ways to help impact a game. Joakim Noah can score in the low post, drive from the elbow in control and make good passes. Anderson Varejao is a rebounding machine regardless of if he's having an off night shooting. Teammate Kenneth Faried can defend in the post and on the perimeter.
Speaking of Faried, why put both of your motor players in the starting lineup?
Karl Saw the Bigger Picture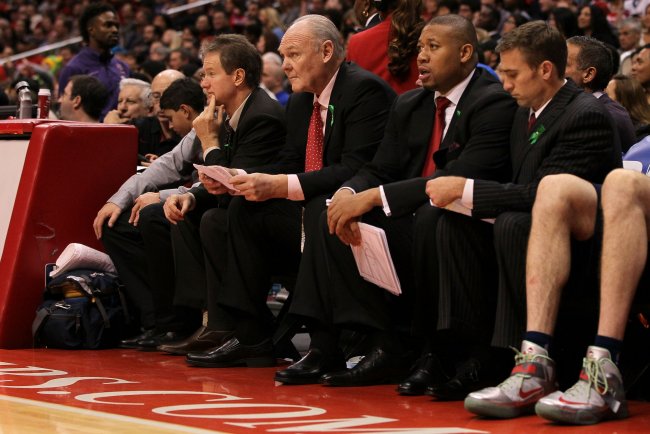 Victor Decolongon/Getty Images
Karl continued in the interview with The Denver Post on his thoughts with McGee as a starter.
I felt pretty good that JaVale, with a good summer with us, probably would have been the starter next year. But, in the same sense, I don't think JaVale and Kenneth fit. They have similar limitations. I still think having a passing point guard for JaVale, like Andre Miller, is an asset.
Exactly. Why would you modify the best transition team and limit the explosion off the bench? Kosta Koufos doesn't even come close to what McGee can do physically. Miller finds McGee on the alley-oop off a slip screen, back-door cut or simple penetration.
If Karl put McGee in the starting lineup, the best-case scenario is that he's slightly improving the starting five, but massively weakening his bench play. This was evident in Game 6 against Golden State when Andrew Bogut racked up 14 points and 21 rebounds and the Nuggets managed a mere seven fast-break points.
As far as Kroenke's beef goes with Karl not playing McGee and the younger players, it's not like the head coach was only playing veterans.
Continuity, consistency, togetherness all are so much more valuable than what they have on their priority list of playing JaVale McGee or the young players. And first of all, it shouldn't be that I didn't play young players. It's I didn't play young players enough, because we played a lot of young players — Kenneth Faried, Kosta Koufos, Evan Fournier at the end of the year, Ty Lawson.
Kroenke thinks Karl didn't play the younger players enough? Since it's all about postseason results, let's take a look at the Golden State series.
Danilo Gallinari went down with his ACL injury in early April, and Evan Fournier didn't contribute anything as a starter in the first four playoff games, despite having a respectable finish to the regular season.
It wasn't Karl's fault that Faried hurt his ankle right before the playoffs started and didn't get his game going until Denver was trailing in the series.
McGee did his part in front of the home crowd, but wasn't much of a factor at Oracle Arena. The 37-year-old Miller led the Nuggets to a Game 1 victory. Lawson and Andre Iguodala were the only ones contributing consistently on offense.
When David Lee suffered his hip flexor injury, Golden State went small, and that was bad news for Denver. The Nuggets didn't have enough perimeter defense to handle the combination of Stephen Curry, Klay Thompson and Jarrett Jack. This is why San Antonio beat Golden State in the next round and is slowing down the Miami Heat offense in the NBA Finals. The Spurs have multiple players that defend the perimeter.
Looking Ahead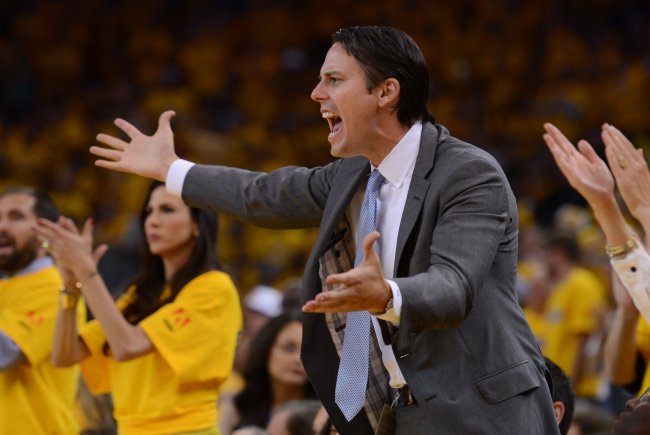 Kyle Terada-USA TODAY Sports
Okay, Kroenke, you have three vital positions to fill on your staff, the NBA draft is next week and free agency is around the corner.
How is this team going to get better? Can you bring Iguodala back to Denver? Iggy just opted out of his player option next season according to Adrian Wojnarowski of Yahoo! Sports, and will he want to come back with potentially a new system to work out while chasing his first ring with nine years of experience?
Gallinari needs time to recover from his ACL injury and could be back as early as December, even though it was originally supposed to be some time in February, as reported by Benjamin Hochman of The Denver Post. It's a bump in the road, and he will need time to adjust to a possible starting lineup change and different offense.
Is Kroenke going to demand that McGee and Faried play in the starting lineup together? Neither player stretches the defense, and they don't complement each other with their similar strengths and weaknesses.
Karl made another simple, yet excellent, point in the interview.
I'm sorry, I've never had management tell me that money's important (for playing time). Every team I've ever coached, it was, 'It's your job to distribute minutes.'
Well, it's not Karl's problem anymore, and he can get back to distributing minutes with another team.
Over the course of last season, McGee was known as "The Great Adventure."
The Nuggets have been The Great Adventure the last month, because this isn't a simple fix of one coach picking up where a team left off.
Choosing McGee over Karl was a mistake.