When Tiger Woods enters a tournament and doesn't win, the shock of seeing him adorned in his Sunday red without hoisting a trophy on the 18th green is always met with the excuse, "He just didn't have it this week."
That "it" factor isn't special treatment; rather, it's a consequence of winning a record 27 percent (78 out of 288) of his professional starts on the PGA Tour.
"He's Michael Jordan in long pants," as Paul Azinger once famously noted.
But if any other golfer loses, critics and fans alike believe that another competitor "outplayed him." Somebody beat somebody.
Notice how nobody beats Tiger except Tiger.
The Muirfield disaster…or was it?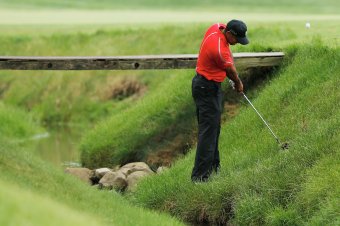 Scott Halleran/Getty Images
Two weeks ago, at Muirfield for Jack Nicklaus' famed Memorial Tournament, Woods got the best of himself. He entered as the favorite, but what's new? Woods had won at Muirfield five times in his career and knew that course like Greg Maddux knew the strike zone. Every nook and cranny.
Pair Woods' course knowledge with the momentum of one of his best starts to a season of his career—winning four of seven events—and you'd think he might play the course lefty with his eyes closed.
That's probably why nobody foresaw Woods' dreadful eight-over-par performance and worst finish of the season, tied for 65th.
Even so, this horrible finish has been written off without regard.
Didn't it feel easy, almost natural, to scoff after seeing his finish and think "just not his week" before carrying on with the day? There was never a question of whether something was tangibly wrong with Tiger's game or if there was a worthy challenger to Woods' throne.
Instead, those four days evaporated. Call it a mental lapse; call it whatever you want.
Is Tiger Woods held to a different standard than other golfers?
He's Tiger Woods. He'll win again.
The Tiger standard
Tiger is held to a higher, unprecedented standard because of his remarkable aptitude for winning. He's won 50 percent of the events he's competed in this season alone, and seven of his last 22 PGA Tour starts.
Is it fair yet to say that he's conquered his demons?
He's perched atop the Official World Golf Rankings. His irons are crisp and precise. His putting is once again lethal. The fist pumps are back with a vengeance. Even his personal life is taking shape, as he's found a new companion in Olympic skier Lindsey Vonn.
When Woods is firing on all cylinders—like earlier this season at Torrey Pines or Doral—he is light years ahead of his competition. If he is playing the brand of golf that he knows he can, there's no one on the planet who can stop him.
What about his competition?
Rory McIlroy is the No. 2 player in the world for a reason. His game is fickle, his misses wayward, and despite winning two major championships before the age of 25, he's nowhere near as mentally tough as Woods and may not be for some time, if ever.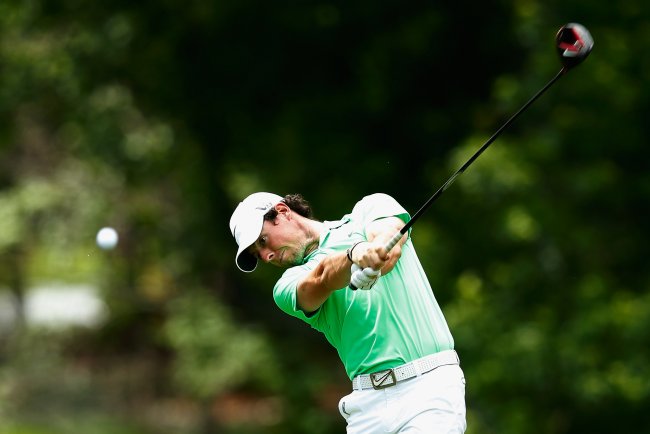 Scott Halleran/Getty Images
Phil Mickelson is one of the all-time great golfers and also one of the sport's most infamous wild cards. Lefty's unwavering devotion to being a risk-taker has rewarded him (2010 Masters) as many times as it has punished him (2006 U.S. Open).
Ultimately, it's his inability to consistently compete at the highest level that has always been—and will always be—his Achilles' heel against Woods, who set the all-time record for most consecutive cuts made, with 142, beginning in 1998 and ending in 2005.
Warren Little/Getty Images
Adam Scott may have all the skills to win majors, but he has just a single major under his belt at the age of 32. He's put himself in position to win multiple majors but has only once executed under pressure at a major, and that was this past April at the Masters.
Sergio Garcia…never mind.
History affects, and drives, Tiger
Woods now heads to the East Course at Merion Golf Club, the site of this year's U.S. Open, which is infused with more historical significance than almost any other course in the United States.
"This place is just magical," USGA executive director Mike Davis told Golf Channel. "In so many ways, it's a historical and architectural treasure. I think from a golf standpoint, you can easily say it's a landmark. There are so many wonderful moments in time."
Bobby Jones closed out his Grand Slam triumph at Merion in the 1930 U.S. Amateur. Ben Hogan won the 1950 U.S. Open in a playoff only 16 months after a head-on collision with a bus that nearly killed him. Don't forget the epic duel between Lee Trevino and Jack Nicklaus at the 1971 U.S. Open, where the former ultimately triumphed in a playoff.
Winning at Merion would add a layer of depth and distinction to Tiger's already remarkable career. We've learned that for Tiger, winning (and essentially rewriting golf's record books in the process) is neither a goal nor a hope—it's his lifeblood.
Tiger has an opportunity to not only capture the elusive 15th major but to also join a legendary list of winners at Merion Golf Club.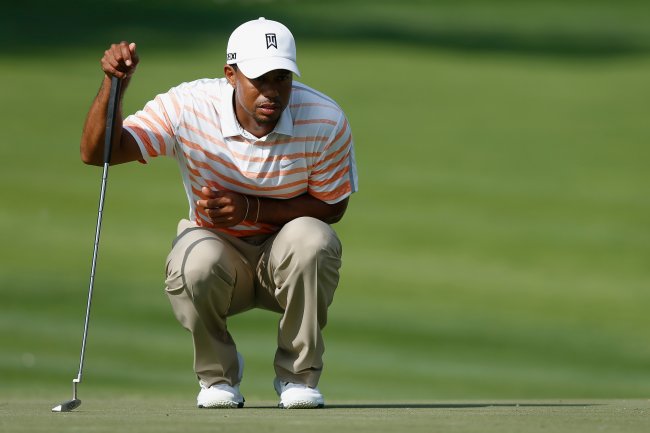 Scott Halleran/Getty Images
As insatiable as Woods' ego appears, he'll be playing with extra motivation at the 113th U.S. Open. This major is arguably more meaningful to him than any championship of the last five years.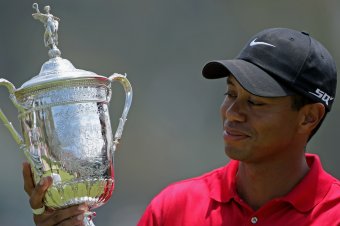 Doug Pensinger/Getty Images
Tiger has been stifled at 14 major championships since winning the 2008 U.S. Open at Torrey Pines. As Jason Sobel remarked, those into symbolism and numerology should note that the final round of this year's U.S. Open will conclude on June 16, exactly five years to the day of his last major triumph.
This major drought has unleashed a cacophony of criticism refusing to believe that he's truly "back" until he wins a major, despite a more-than-convincing resurgence as the sport's top dog.
Last season, Woods consistently put himself in position in the first two days of the major championships (eight-under collectively on Thursday and Friday), only to squander his leads on the weekends (15-over on Saturday and Sunday). To say the least, it was uncharacteristic of one of the greatest front-runners of all time.
So far this season, he appears to have shaken off that weekend rust. He nearly won the Masters despite a controversial "dropping" penalty during his third round, which led to a disappointing tie for fourth.
Johnny Miller made a poignant observation about Woods at the majors: "I think he's trying a little too hard at the majors. He's got to somehow say, 'OK, it's going to happen,' and just sit back and play smart."
Unlike any other sport where your interaction with a competitor affects whether you win or lose, golf is purely individual. It's you against the course. When you're at Woods' level—when your swing will take care of itself because you've rehearsed it countless times—the sport is all mental.
That's why Bobby Jones said, "Competitive golf is played on a five-and-a-half-inch course—the space between your ears."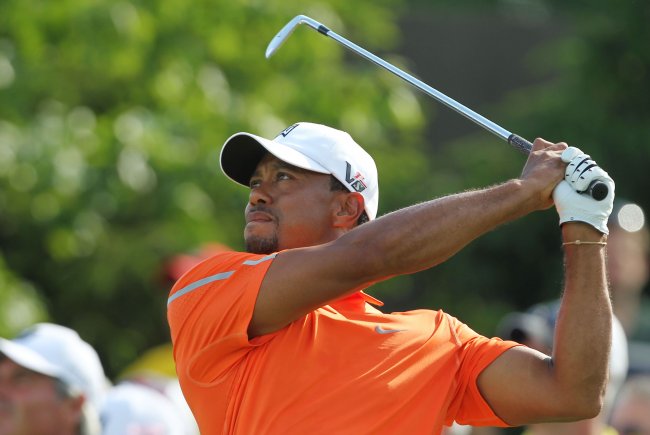 Brian Spurlock-USA TODAY Sports
But harnessing that notion, believing it and letting his game do the talking will be Woods' defining obstacle this week at Merion.
Tiger has won a trio of U.S. Opens in his career, and he has finished runner-up twice and in the top 10 three other times. He knows the winning U.S. Open formula: grind, grind, grind. Turn double bogeys into bogeys and bogeys into pars. Then, somewhere amidst playing defense, catch fire and make a run of a few birdies.
If Woods can remember that it's just him against the course, you may see him on Sunday in a familiar setting: standing tall on the 18th green, adorned in his blood-red Nike shirt, hoisting the trophy for his 15th major championship.