The Boston Celtics' early exit from the playoffs this May exposed a plethora of weaknesses. President of basketball operations Danny Ainge now faces the tough task of fixing these issues in a difficult salary cap situation.
Most specifically, Boston faces problem spots in their main rotation—position deficiencies which must be addressed to salvage the organization's short-term potential.
Without significant upgrades, the Celtics will once again struggle to find success in the postseason—and could quite possibly even miss the playoffs altogether as early as next year.
The following list highlights those inadequacies, ranging from least important to most crucial. Explanations and evaluations will be included for each position, as well as suggestions for potential upgrades that Ainge and the Celtics should consider.
Shooting Guard
The shooting guard position served as a real wild card for Boston this season, especially down the stretch.
Earlier in the season, Courtney Lee failed to live up to expectations in the role. His limited production and inconsistent effort essentially made the sign-and-trade acquisition and subsequent four-year, $21.5 million deal a bust.
When Avery Bradley returned from his shoulder injury in January, he made an immediate impact at two-guard. He provided an even stronger version of the on-ball defense he emerged with late last season and in the playoffs. He also improved his jump shot and became more aggressive on the drive.
Unfortunately, after Rajon Rondo and Leandro Barbosa fell to ACL injuries, Bradley was forced to step into the point guard role and Lee reclaimed the starting nod at shooting guard.
This worked for a while, but by the end of the season, Bradley started to sputter at the point and Lee's woes persisted.
By Game 6 of the opening-round playoff series against the New York Knicks, Lee had played only 39 postseason minutes total, with six points and one assist combined over four games. It was clear coach Doc Rivers gave up on the 27-year-old's ability to succeed in this Celtics offense.
Bradley, who played all six games, averaged an anemic 6.7 points and 1.3 assists in almost 32 minutes a game. Raymond Felton absolutely abused him throughout the series, driving past him, shooting over him and out-passing him seemingly every time Felton touched the ball.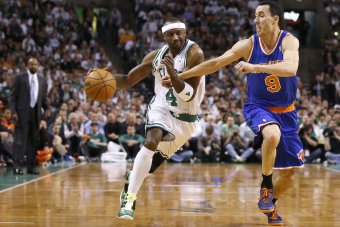 David Butler II-USA TODAY Sports
Throughout the year, the bench rarely provided much relief. Jason Terry, largely thought to be the one who would minimize the blow of losing Ray Allen to the Miami Heat, had arguably his worst year as a pro.
The "Jet" averaged 10.1 points per game, his lowest since his rookie year in 1999. He also registered only 2.5 assists per contest, and a 14.9 assist percentage. Those numbers are the worst of his career.
Ainge brought in Jordan Crawford from the Washington Wizards for Barbosa and Jason Collins at the trade deadline in February, but Crawford never really improved the team's offensive consistency. At times, he flashed his spectacular scoring ability. At other times, he showed the ball-hogging, turnover-prone selfishness Washington hated.
Toward the end of the season, it was none other than captain Paul Pierce who stepped up in the two-guard role, in order for Jeff Green to assume his deserved promotion at starting small forward. In his worst playoff series ever, Pierce averaged 5.3 turnovers and shot only 36.8 percent from the field (26.8 percent from three).
Sources widely report that Ainge will buy out Pierce's contract for $5 million, shoring up much-needed cap space to make some moves. Such moves should include signing a reliable shooting guard, at least for the second string.
If the organization can also cut ties with Lee and/or Terry, it absolutely should. Boston probably has its eyes on Atlanta Hawks veteran Kyle Korver, who led the league in long-distance shooting among players who attempted 300 or more treys.
J.J. Redick would be another target to improve the Celtics' three-point shooting, which stood in the middle of the pack at 15th in the league, their lowest in the KG era. However, coming off strong seasons in which they both made over $5 million, Korver and Redick will both probably be out of Boston's range.
As for affordable options, Roger Mason Jr. of the New Orleans Pelicans could intrigue Ainge. He shot 41.5 percent from deep this year, and averaged 5.3 points, 1.9 rebounds and 1.1 assists in only 17.7 minutes per game.
With more minutes, Mason could fit in well with Boston. He's a quick catch-and-shoot guy whose three-point shooting has improved each year since 2009-10. He also shot 90 percent from the line this season.
Mason can also double as a point guard, with better ball-handling than Terry and Lee. He struggles to slash to the hoop, but shoots well off the dribble much like Ray Allen. His 6'5", 205-pound frame also makes him a solid defender off the bench.
Mason only made $854,389 in 2012-13, so the eight-year veteran could be an ideal addition for Boston this offseason, especially if they could get him on an exceptional deal.
Point Guard
As previously noted, the Celtics struggled at the point after Rondo and Barbosa went down this season.
Bradley was in over his head trying to fill in for Rondo (who led the league in assists per game this season). The youngster averaged a mere 2.1 assists in 28.7 minutes per game, and an even more abysmal 1.3 assists in 31.9 minutes per playoff contest.
AB's 0.73 assist-to-turnover ratio was the worst of any point guard this postseason, and his 45.7 true shooting percentage made matters even worse. Simply put, he is not and never will be a floor general.
With no true point guard on the roster until Rondo's ACL fully repairs, Ainge certainly has the point guard position on his wish list for this month's draft.
Boston has already shown interest in Miami's Shane Larkin, who has known Doc Rivers since he was eight years old. The athletic pick-and-roll specialist received an extensive workout with the C's , and Boston Globe columnist Gary Washburn says they now appear to be taking a "long look at him."
Washburn (along with past mock draft sites) has also listed German point guard Dennis Schroeder as a strong possibility for a green jersey next season. The 6'2", 165-pound 19-year-old, who calls Rondo his favorite player, was reportedly promised by the Celtics that they would draft him if he fell to them at No. 16.
Schroeder's agent, however, shot down the rumor.
"I don't know where that came from," Alex Saratsis said. "I don't know anything about that."
With great speed and quickness, and a gigantic 6'8" wingspan, Schroeder has drawn comparisons to Rondo, and could be a great backup. He drives to the hole aggressively, and can score or make the strong pass off of penetration. Nobody would be surprised if Ainge did in fact pull the trigger on this young prospect.
If the Celtics do not go for a point man in the draft, or nobody on their list falls to them, expect them to make a move in free agency or a sign-and-trade.
Hovering around the top of the free agent point guard list, the Golden State Warriors' Jarrett Jack finished third in voting for the NBA Sixth Man of the Year this season.

Jack had arguably the best year of his career, with per-36 averages of 15.7 points, 6,7 assists, and 3.7 rebounds off the bench. He shot 45.2 percent from the floor, and 40.4 percent from three-point range.
Jack's assist percentage the past two seasons sits a shade under 32 percent, making him a hot commodity in the open market this summer. Boston would love to have his lethal combination of mid-range accuracy and strong dribble penetration.
However, they most likely cannot afford the eight-year man, who turns 30 by next season's tip-off.
If they must go for cheaper alternatives, they could explore the Indiana Pacers' D.J. Augustin, who made just $3.5 million this season. Then there's Nate Robinson, whose strong 2012-13 will likely grant him a raise after making only $854,389 with the Chicago Bulls this year.
This leaves Ainge with question marks. Would Augustin be worth a $3-to-5 million deal even though he hasn't proven himself as a legitimate scorer? Would Nate entertain a return to Beantown this offseason, especially in a lesser role than he found himself in with Chicago this year?
As much as Boston needs a big man in this draft, the options look much better at point guard. Don't be surprised if Larkin or Schroeder get picked ahead of a center. It wouldn't be the first time Ainge passed on a promising interior presence.
Center
That brings us to the Celtics' biggest positional need, the ever-frequent gap at the center position. Kevin Garnett filled the hole quite nicely most of the year, but big issues still prevailed.
For one, Boston ranked second-to-last in rebounds, and dead last in offensive boards. It also sat in the bottom-third in opponent offensive, defensive and total rebounds.
Beyond that, the Celtics ranked 22nd in blocked shots. Besides KG, nobody in green offered a commanding presence, especially after rookie Jared Sullinger went down with a season-ending back injury.
Since trading Kendrick Perkins for the finally-lucrative acquisition known as Jeff Green, Ainge has struggled to bring in a truly-productive center. If the Celtics plan to succeed in 2013-14, and beyond, they must deal with their issues down low as soon as possible.
The easiest way to resolve this problem lies in the NBA Draft. Louisville product Gorgui Dieng seems to be the answer, with a combination of offensive and defensive skills that quite possibly likens him to Dikembe Mutombo with a mid-range jumper. At worst, he's a poor-man's Serge Ibaka.
Dieng's athleticism and defensive prowess are enticing, but Ainge has never been known to gamble with older big men out of the gate. Despite the 7'4" wingspan, Dieng is 23 years old and still needs to work on his post presence. It would be hard, however, to ignore his shooting and passing skills.
Another draft prospect worthy of Ainge's attention has been Steven Adams of Pittsburgh. One of those under-the-radar guys, Adams could surprise the NBA within months of stepping onto the stage. He's a physical presence with rugged athleticism, and his defensive and rebounding capabilities alone would help Boston significantly.
Adams needs to dramatically improve his offensive game, both with his back to the basket and in the mid-range game. But he moves down the floor as quick as any of his counterparts, and his 7'0", 255-pound body demands respect near the rim.
Others hope for an even bigger center, the 7'2", 238-pound Rudy Gobert out of Cholet, France. With a 9'7" reach and a wingspan at nearly eight feet, Gobert would clearly provide defense and rebounding.
While the Celtics don't seem to be coveting him at the moment, Jeff Withey of Kansas should still be in the mix. Also 7'0", with a less-husky 220-pound frame, Withey offers a 9'3" reach and 7'2" wingspan. He might be the best defensive center in this draft class, capable of instantly disrupting opponents on the professional level.
If Withey had more strength, and a little more offensive ability, he'd be a lottery pick. Don't put it past Ainge to make some draft-day moves, and grab a pick later in the first round so he can select Withey and still benefit from the trade. Remember, Pierce can be dealt right up until the end of June.
If the Celtics decide to go after a point guard in the draft as opposed to the center position, expect them to roll with Garnett in the middle once again.
That will put some strain on the power forward position, especially with Sullinger still rehabbing and Brandon Bass as a huge question mark. After getting a decently-large contract, Bass had a terrible 2012-13 and failed to show his fangs until the playoffs. He has little trade value and therefore might be stuck with Boston, and vice versa.
However, that situation would leave the Celtics with an all-too-familiar void at center, even in a backup role. Ainge will have to hunt a big man in a relatively-scarce bunch.
If bigger and better options like the Utah Jazz's Al Jefferson and Minnesota Timberwolves' Nikola Pekovic cannot be obtained, Johan Petro of the Atlanta Hawks could be a good candidate on the relatively-cheap side.
Petro registered an 11.01 player efficiency rating despite only logging 11.4 minutes per game this season with the Hawks. He shot 43.6 percent from the floor, yes, and never really saw much playing time during the year. But he started the last four playoff games for Atlanta and made a considerable impact.
What position should the Celtics focus on this offseason?
The 7'0", 245-pound Frenchman brings to the table some skills much-needed by the Celtics. For one, he posted a 25.9 percent defensive rebounding rate and 10.4 percent offensive rebounding rate during the season. He also banged down low and got to the free-throw line, where he shot almost 92 percent, granted it was only 11-of-12.
Even cheaper would be Nazr Mohammed, the former top prospect who played this season with the Chicago Bulls. He won't knock anyone's socks off, but he would certainly offer size and veteran presence to a team that desperately needs help down low. Shavlik Randolph will most definitely be around once again, as well.
The center position is always a wild card with Ainge—but don't expect him to fall asleep at the wheel with it this season. His career could be hinging on his decisions.
Sit back and strap in—nothing is for certain, but everything is worth watching.
All stats compiled using NBA.com/stats, Basketball-Reference.com and ESPN.com. Salary information obtained from HoopsWorld.com.