If there's one position in any sport that has the biggest impact on a team's overall success, it's hard to argue with that position being quarterback.
Glancing around the league, guys like Tom Brady, Aaron Rodgers and Drew Brees are perfect illustrations of this. I mean, take a look at the defenses on those three teams and you'll understand what I'm talking about.
Without any semblance of a defense, all three teams have been perennial contenders. Now, obviously, there are other guys who have had something to do with their success, but most of the credit belongs to the guy behind center.
Which, in short, is why the Oakland Raiders haven't been to the playoffs since the 2002 season.
Trivia question: which quarterbacks have made the most starts for the Raiders since 2003?
Answer: Kerry Collins (28), JaMarcus Russell (24), Carson Palmer (24), Jason Campbell (18), Rich Gannon (10), Andrew Walter (9), Bruce Gradkowski (8), Aaron Brooks, Rick Mirer (7) and Daunte Culpepper (6).
That clears things up a bit, doesn't it?
Now, to be fair, I think Carson Palmer performed more than adequately last season (although the same can't be said about many other guys on that list).
Despite finishing in the top 15 in both completion percentage and touchdowns, as well as the top 10 in passing yards, Palmer and the Raiders had yet another season to forget in 2012.
So has anything changed this offseason that leads us to believe things will be better in 2013?
Well that all depends on your opinion on Oakland's newest signal caller, Matt Flynn, your opinion on rookie Tyler Wilson and on their third-year enigma, Terrelle Pryor.
Matt Flynn
In 2011, Matt Flynn had the NFL's highest QB rating.
Then again, Flynn only played in one game that season—the season finale for the Packers against the Lions, when he threw for an unconscious 480 yards and six touchdowns. In one game.
Conveniently timed before his year of free agency, Flynn moved to Seattle as the assumed starter.
And then, Russell Wilson happened.
Despite Flynn's big contract, Wilson assumed the starting position in the preseason and Flynn was back where he was comfortable: holding the clipboard.
In almost a rerun of last year, Flynn has again moved teams and is the assumed starter. (Once again, however, there's a fourth-round draft pick lurking in the wings).
So what can Oakland expect from the sixth-year man out of LSU?
In all honesty, it's tough to say.
In those six seasons, Flynn has thrown just 141 passes.
The good news, however, is that there's reason to believe Flynn is capable of playing at the professional level.
The first bit of evidence was that game against Detroit, as it's safe to say that there aren't a ton of guys capable of throwing for almost 500 yards against any defense.
The second reason to believe in Flynn is the amount of interest he generated as a free agent. With the amount of executives that were interested, it's impossible to believe that just one game had radically altered their opinion of him.
Is Matt Flynn the right guy to be starting in Oakland this season?
Of course, history says this move could go one of two ways: Kevin Kolb or Matt Schaub.
Both backups with limited but successful starting experience, Kolb and Schaub moved on from their original teams (Philadelphia and Atlanta respectively) and got starting jobs elsewhere.
While Kolb was replaced by Carson Palmer in Arizona and ended up in Buffalo, Schaub has established himself as a solid NFL player in his seventh season with the Texans.
Before signing his deal with Houston, Schaub had thrown just 161 passes as a pro.
For Oakland, I think there's a chance that Flynn could end up like either of those two guys did—one a starter and the other a castoff, however, given his experience under a guy like Aaron Rodgers, I'm sure Oakland feels he's closer to Schaub than Kolb.
The good news for Oakland and Flynn is that expectations are low this season despite an eventful offseason and exciting draft, and so pressure is low.
On the flip side, however, Flynn knows there are two guys waiting in the wings behind him eager to get their chance to start in this league.
Tyler Wilson
Don't interpret Wilson's placing of second in this piece as a statement about where he lies on the depth chart, but more of a guess at where he ends up long term.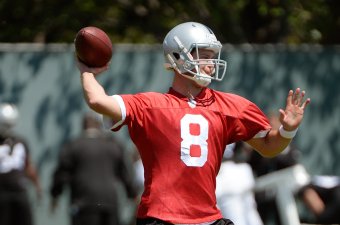 Thearon W. Henderson/Getty Images
As I recently watched the ESPN 30 for 30 on John Elway and Dan Marino, I couldn't get hopeful but make the wishful comparison of Wilson's college career to Marino's.
NOTE: Tyler Wilson is not Dan Marino, that's not what I'm saying.
As they discussed Marino's career they mentioned what a successful junior season he had as his draft stock hit its peak. Unfortunately for Marino, a rough senior season dropped him late into the first round as the draft's sixth quarterback taken.
Like Marino, Wilson's draft stock peaked after a tremendous junior season, and like Marino, Wilson's stock plummeted after a disastrous senior season.
Heading into the 2012 season, many experts ranked Wilson as one of the next year's draft top prospects. In fact, Mel Kiper ranked Wilson as the No. 2 quarterback prospect among seniors in May of 2012, trailing just Matt Barkley.
Then, after throwing just 13 interceptions in his career prior to 2012, Wilson through 13 more in 2012 alone as Arkansas endured a dreadful 4-8 season.
All this to ask: is Tyler Wilson any good?
The short answer is that I think Wilson was as good a risk as Oakland could have taken in the fourth round at the quarterback position.
There are lots of ways to write off his 2012 season due to extenuating circumstances (namely: Bobby Petrino, no offensive line), and if you're an Oakland fan, that's a good sign.
In addition, I think the upside in a guy like Wilson is that of a first-round pick, which isn't something you could say about many quarterbacks taken that late in the draft.
Basically, there's a chance he could be the future in Oakland, but there's also a good chance his fourth-round selection was pretty accurate and that he's a career backup.
For a team like Oakland, I think he's the perfect pick and project.
He won't be rushed into starting and he'll have (likely) a full year to develop before they need to decide if quarterback is a position of need in the 2014 draft.
For me, I've got a good feeling about Wilson.
Terrelle Pryor
Last but not least on the depth chart is third-year man Terrelle Pryor, the topic of much debate amongst Oakland fans.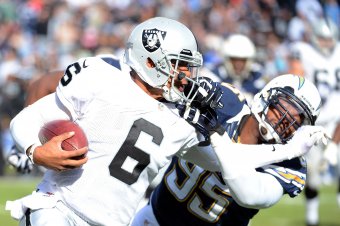 Harry How/Getty Images
On one hand is the group who thinks Pryor's dual-threat capabilities represent Oakland's future.
On the other hand is the group who think that despite his fantastic work ethic and athleticism, Pryor simply lacks the passing ability to make it in this league.
Regardless of which camp you find yourself in, however, one thing is sure: the Oakland coaching staff seems to lie with the second camp.
While there isn't a quote out there in which Dennis Allen describes these feelings about Pryor, it's hard to imagine he has high hopes for Pryor after bringing in two quarterbacks this offseason.
If Pryor was the future, why draft Wilson and trade for Flynn?
Debate aside, I think Pryor is a fascinating piece in the incredibly fascinating Oakland puzzle.
If Pryor ever developed a consistent passing game, I think he's got all the potential in the world, but the question remains as to how long Oakland is willing to wait for that to develop.
I think, like Wilson, Pryor has one year to show what he's got. If, after this season, Allen and general manager Reggie McKenzie aren't convinced that Pryor has what it takes, quarterback will be a major target in the 2014 draft, which is thought to be full of prospects at signal-caller.
Who do you think ends up as the backup to Flynn by week one?
Behind Pryor and Wilson are also undrafted free-agent quarterbacks Kyle Padron from Eastern Washington and Matt McGloin from Penn State.
While both guys will have a chance to show what they've got during camp, it's hard to imagine Oakland wants to carry any more than one rookie behind Flynn this season.
That said, if anyone would be replaced by Padron or McGloin, I think it's safe to assume that person would be Pryor.
So there you have it.
One year after some semblance of consistency in Oakland at the quarterback position (retaining two of their three quarterbacks), Oakland has shaken things up once again with a big acquisition and a rookie.
Now let's see if any of them can eventually pass Kerry Collins on that list of starts already.