The Kentucky basketball roster is shaping up for the 2013-14 season.
Archie Goodwin has announced he will enter his name in the 2013 NBA draft, while Willie Cauley-Stein and Kyle Wiltjer have announced they will stay in Lexington for another year.
From UK Athletics:
Willie Cauley-Stein and Kyle Wiltjer will return to the Kentucky men's basketball program for the 2013-14 season, while Archie Goodwin will forego his sophomore season and enter his name in the 2013 NBA Draft, head coach John Calipari announced Monday.
Goodwin had said that he didn't think he or his teammates were ready to play professionally.
Goodwin 2 weeks ago: "I don't think I'm ready to go. If any of us were saying we think we should leave, then we'd all be delusional."

— Kyle Tucker (@KyleTucker_CJ) April 1, 2013
That, of course, was after an emotional loss to Robert Morris in the first round of the NIT. Goodwin improved throughout the year, and most Kentucky fans were looking forward to his return next year.
Goodwin would have been a strong rotation player for Calipari next year. He wouldn't have been the focal point of the offense and wouldn't have the strain of over 30 minutes per game.
One could assume that would benefit Goodwin. His game needs to be refined. He's great at driving to the hoop, but can play out of control and doesn't have a jump shot.
Cauley-Stein and Wiltjer were expected to stay from the beginning of the year. WCS had a rise to stardom this season and was a projected first-round draft pick, but his game is still very raw.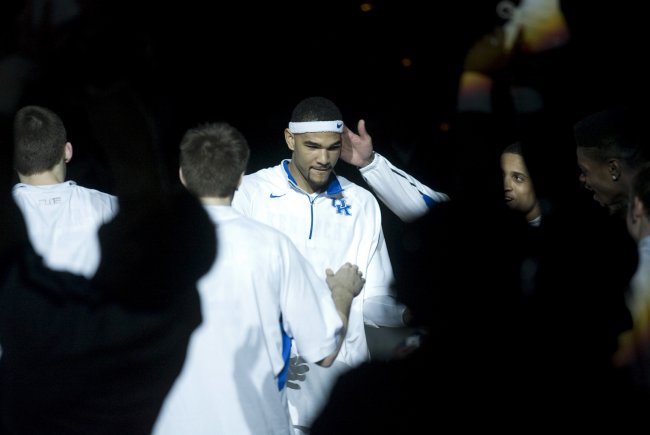 Mark Zerof-USA TODAY Sports
Rumors of Wiltjer transferring were abundant this offseason, but he put those to rest via Twitter.
I project Cauley-Stein to be a starter next year. Wiltjer will have a role similar to his role in 2011-12.
Ryan Harrow recently announced he would transfer to Georgia State to be closer to family (per CBS Sports).
Will Alex Poythress and Nerlens Noel enter their names in the NBA draft?
Like Goodwin, he said he would be staying in Lexington after the Wildcats' loss to Robert Morris. From Vaught's Views:
"I can't go anywhere. So I'll be here next year and just getting ready for next year," Harrow said.
Both Goodwin and Harrow could have stayed in Lexington, and they probably would have kept their scholarships. But with the influx of talent and outside circumstances, both decided to leave.
Nine scholarships have been confirmed for next season: Cauley-Stein (So.), Wiltjer (Jr.), Aaron and Andrew Harrison (Fr.), Dakari Johnson (Fr.), Marcus Lee (Fr.), Julius Randle (Fr.), Derek Willis (Fr.) and James Young (Fr.).
That leaves four scholarships remaining. Returning players that could still hold a scholarship next year include Jon Hood, Jarrod Polson, Alex Poythress and Nerlens Noel.
Calipari can also add to his 2013 recruiting class. Three players remain that are considering Kentucky: Aaron Gordon, Dominique Hawkins and Andrew Wiggins.
What are your predictions for the remaining roster positions?