The 2013 NFL draft is on the clock.
In a little over three weeks, all 32 teams will convene to Radio City Music Hall in New York City to select their draft picks.
The New York Giants will be picking at No. 19 in the first round on the first night, which is Thursday, April 25.
On the first day of the draft, the Giants can go several routes with their first round pick.
There's offensive line, defensive line, linebacker and cornerback.
On B/R, we've discussed all of the possibilities of what player could get taken such as Alec Ogletree, Xavier Rhodes, Alex Okafor, Lane Johnson, Kenny Vaccaro, among others.
One name hasn't been talked about much, mostly because he's been projected at a higher pick in the first round.
Yet, one player has a chance to fill two needs for a team like the Giants; Barkevious Mingo.
Mingo is projected to be a defensive end and linebacker in the NFL who is supposed to be a fierce and exciting pass-rusher.
In his final season at LSU, Mingo only had 4.5 sacks, but they also played in a very conservative defense that didn't get after the quarterback much.
Scouts have noticed his pure athletic ability, which is why he has been projected so high in a lot of mock drafts.
However, in a couple of different mock drafts, Mingo has fallen a little further in the first round, and that got me wondering about the possibility of the Giants.
Last week, Giants GM Jerry Reese was at LSU's pro day, scouting and taking notes on the talent that will be in the draft later on this month.
#Giants Reese looking at LSU prospects. espn.go.com/blog/new-york/… @notoriousohm #NYG

— ESPN New York (@ESPNNewYork) March 29, 2013
One of the players that Reese likely scouted was Mingo, and with the departure of Osi Umenyiora to the Atlanta Falcons, the Giants could always look to replenish a pass rush that struggled in 2012.
Plus, the linebacker unit of the Giants struggled as well with injuries, age and inconsistency. Michael Boley was released back in February and Chase Blackburn signed with the Carolina Panthers last week.
Any chance Barkevious Mingo drops to the Giants at No. 19?
Keith Rivers re-signed for one year, Dan Connor signed and Jacquian Williams is returning after an injury-filled season in 2012; not exactly a top-notch unit by any standards.
So for the Giants to be looking at a guy like Mingo would make complete sense.
But will he still be there at No. 19 when the Giants are picking?
According to a couple of mock drafts; probably not.
In Matt Miller from Bleacher Report's latest mock draft, he has Mingo going as high as No. 9 to the New York Jets.
Mel Kiper, Jr. from ESPN also has Mingo going to the Jets at the No. 9 pick, as well.
Todd McShay from ESPN, just like his colleague Kiper, has Mingo going to the Jets too.
Pete Prisco from CBS Sports has Mingo going at the next pick to the Tennessee Titans at No. 10.
DraftTek has Mingo going as far as No. 15 to the New Orleans Saints.
The Saints pick intrigued me because the Giants are just four picks away, so there's a possibility that maybe Mingo could drop.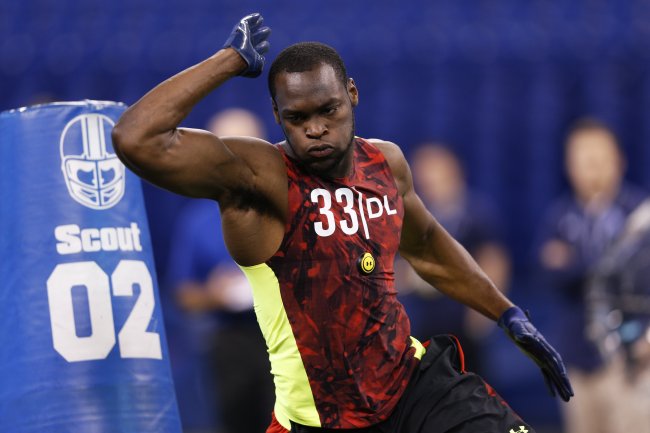 Joe Robbins/Getty Images
Of course, if the Giants really wanted to land him, they could always trade up with a team, but the Giants aren't known for trading picks on draft day.
Mingo would be a great addition to have for the Giants if he were still around at No. 19.
To me, Mingo reminds me of DeMarcus Ware of the Dallas Cowboys, who can play both at defensive end and outside linebacker and is one of the league's most feared pass-rushers.
At 6'5" and 240 pounds, Mingo has great size, strength, speed with long arms and a nose for the ball, which is what most scouts are all noticing too.
And on the pro day, I'm sure Reese had all of these things in his mental notebook regarding Mingo.
But with all of the mock drafts around, he might be gone by the time Reese and the Giants are up that Thursday night.
But then again, you never know when it comes to draft night.
Stay tuned, Giants fans.