On Monday, the 2013 season will officially kick off for the New York Yankees.
Once it begins, it's another day that the Yankees have yet to lock up Robinson Cano long term.
With one year left on his current contract, the Yankees want to keep their best hitter around past 2013.
During spring training, Bryan Hoch of MLB.com has confirmed that the Yankees have made a "significant offer" to their second baseman.
Yanks GM Brian Cashman confirms there has been "a significant offer" made to 2B Robinson Cano.

— Bryan

Hoch

(@BryanHoch) February 28, 2013
When reported back on Feb. 28, the money and years involved in the Yankees' offer was not made public, but Joel Sherman of the New York Post thought it could have been anywhere in the seven-years, $171 million range.
Before the Yankees made their offer, there was speculation as to if Cano was looking for a deal similar to the one Joey Votto got with the Cincinnati Reds (10 years, $225 million) or Prince Fielder got with the Detroit Tigers (nine years, $214 million).
On Friday, two more players got huge contracts to keep them around long term as well.
The Detroit Tigers locked up ace pitcher Justin Verlander to a five-year, $140 million extension, which makes his current deal at seven years and $180 million.
Justin Verlander's extension is 5 years and $140MM, so total to 7 and $180MM, sources confirm figures reported by Buster Olney.

— Jon

Morosi

(@jonmorosi) March 29, 2013
The other was San Francisco Giants catcher Buster Posey getting an eight-year deal worth $167 million.
#BREAKING: Giants, Buster Posey agree on extension through 2021 season - cbsprt.co/PoseyExtension. Deal worth $167 million, per @jonheymancbs.

—

CBSSports

.com (@

CBSSports

) March 29, 2013
With those deals official, will they affect Cano's negotiations with the Yankees as far as a potential extension goes?
The reigning National League MVP's deal is worth roughly around $21 million per season for the Giants, as it will pay him until he's turning 35 years old.
However, a catcher like Posey is very hard to find, as he has become perhaps the best backstop in the game, plus he's only 26 years old right now, so the Giants locked up a much younger star in the early stages of his prime.
Verlander on the other hand, has some similarities.
How long of a deal should the Yankees offer Robinson Cano?
Just like Cano, he's 30 years old and in the prime stage of his career.
Even though Verlander plays a much different position than Cano, it can be argued that both players are the best at their respective positions as well.
Verlander is the best right-handed starter in the game right now, while Cano is probably the best second baseman in the sport.
Verlander's current deal will pay him through his 37th birthday and into the 2020 season, which is a vesting option.
It's also a deal that will pay him around $28 million annually, a deal Cano and his agent Scott Boras would love to land.
If you ask me if any of these deals will have any influence on Cano, I think Verlander's will be the one that Boras centers around more.
Boras could try to get a seven-year deal for $28 million a season, which would make the deal at $196 million for Cano.
If Boras wants to get an eighth or even a ninth year into the deal, the money would have to be significantly less.
Fielder's nine-year deal pays him around $23.7 million per season for the Tigers, while Votto's deal pays him $22.5 million per season with the Reds.
The most I would be willing to go comfortably on Cano is eight years, which is what the Yankees gave to Mark Teixeira in December 2008.
His deal is eight years for $180 million, which pays him $22.5 million per season.
Because Cano plays a more premium position over Teixeira, an eight-year deal for $196 million-$200 million deal would be in the reasonable range.
At $196 million, that pays Cano $24.5 million per season, while at $200 million, that would pay Cano $25 million.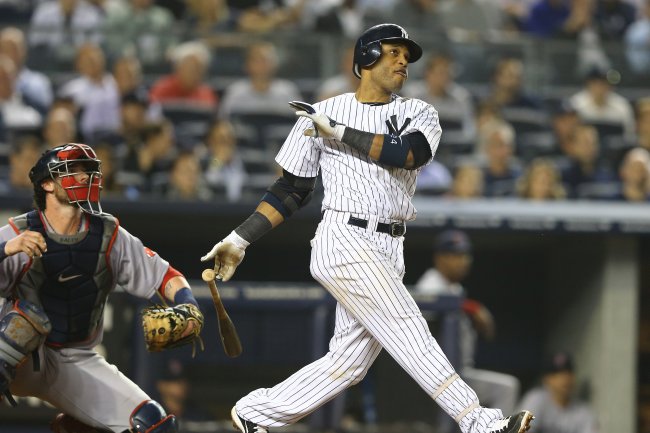 Al Bello/Getty Images
With no second basemen ready in the minors, the Yankees have to know that deep down, they need to re-sign Cano.
If it doesn't get done in the middle of the season, then the Yankees and Brian Cashman will have to use every single day once the Bombers' season ends and before free agency starts to get a deal done.
Teams like the Los Angeles Dodgers, Washington Nationals, Los Angeles Angels and Philadelphia Phillies could certainly have interest in Cano if he ever hits the open market.
And they could all be willing to open up their checkbooks for the top hitting second baseman in the sport.
That fear is why I, along with many other fans, see the Yankees giving Cano the mega-deal he wants to stay a Yankee for a long time.
Stay tuned, Yankees Universe.