The San Diego State Aztecs and the Oklahoma Sooners are set to square off in the second round of the NCAA tournament.
The Aztecs (22-10) are seeded as the No. 7 seed in the South Region, while the Sooners (20-11) are seeded at No. 10. Both squads are coming off tough losses in their conference's tournaments last week and will be looking to start off their tournaments strong.
The Sooners will be making their first tournament appearance since 2009, while the Aztecs will be returning for their fourth straight trip. Both squads are evenly matched up, and this matchup should be a wire-to-wire battle.
Where: Philadelphia, Pennsylvania at the Wells Fargo Center
When: Friday, March 22 at 9:20 p.m. ET
Watch: TBS
Listen: Here is a link to the live streaming broadcast for SDSU. Here is a list of different stations that will be carrying the broadcast for Oklahoma.
Betting Lines: SDSU -2.5 (via Sportsbook)
Key Injuries (via USA Today)
Neither team has any reported injuries.
What's at Stake?
Their tournament lives and a potential shot at playing spoiler to the Georgetown Hoyas in the third round.
What They're Saying
According to San Diego State's official site, guard Chase Tapley explains that the team is hungry and doesn't want to have a repeat of last season.
"We don't want to go all the way out there and just play in one game and come home. We want to do everything (we can) to go the full length of the two-game tournament then go onto the next city."
Andrew Gilman, of Fox Sports Southwest, provides insight on how Romero Osby and the Sooners are viewing this tournament selection.
"It means so much to us, and we're so happy to be able to have this opportunity," Osby said. "And it means a lot, especially to the guys that have been here for the longest and suffered through some of the hard seasons. We're blessed and grateful."
Most Important Player to Watch: Jamaal Franklin, SDSU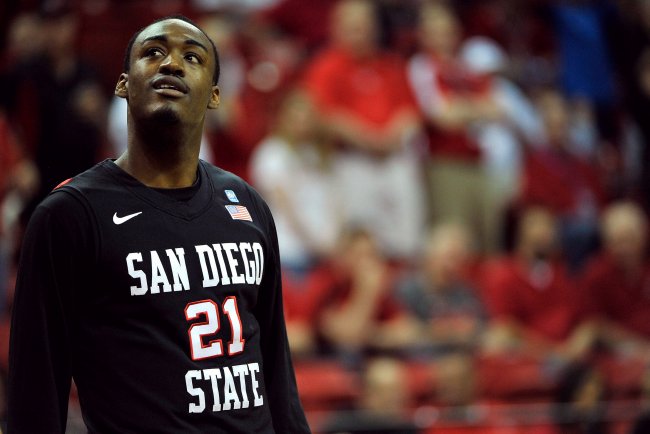 Jeff Bottari/Getty Images
The 6'5" junior guard is having a superb season, averaging 16.7 points, 9.5 rebounds and 3.2 assists per game.
Although Franklin isn't a great shooter at 41 percent from the field and 27 percent from downtown, he can finish at the rim and/or grab more than his fair share of boards. Franklin's motor is always running, and he will have a huge game on Friday.
Key Matchup: Battle of Offensive Styles
The Aztecs and the Sooners are completely different teams on offense and attack the opposition's defense using different strategies.
SDSU relies heavily on their guard play to rack up their points, as Franklin, Chase Tapley and Xavier Thames average a combined 40.0 points per game.
Oklahoma, on the other hand, makes it a point to run their offense through the post, as their big men, Romero Osby and Amath M'Baye, collectively average 25.9 points per game.
Whichever team can execute their offense better will dictate the flow of the game, and this will decide who will be moving on to the next round.
Prediction: SDSU 65, Oklahoma 60
Friday's game will be a close contest throughout, but the Aztecs will ultimately take home the victory.
As mentioned before, the Aztecs are headed for their fourth straight NCAA tournament, and their players have superior experience over the entire Sooners' roster combined.
The Sooners have no tourney experience whatsoever on their roster, which will play a huge factor in the final stages of Friday's game.