On Monday afternoon, Syracuse University released its 2013 football schedule marking its maiden voyage into a brave new pigskin world, Atlantic Coast Conference style.
Thus continues Syracuse's interesting, if not exciting, offseason that began with the departure of head coach Doug Marrone (and a majority of the staff), the whirlwind promotion of defensive coordinator Scott Shafer to replace Marrone and Shafer's mad scramble to not only fill out his staff but hang onto previously committed recruits while kicking the tires for new ones.
If that wasn't enough to wet whistles across upstate New York, the university also announced plans to build a long-sought-for, much-anticipated football indoor practice facility. That's right, ACC brethren, it's on!
So now that who will be coaching the Orange, who will be playing for the Orange, and where they'll be practicing in the future has been settled, let's take a look at who the Orange will actually be playing against. Home games are in CAPS.

PENN STATE – Saturday, August 31 (at MetLife Stadium, East Rutherford, NJ)
Yeah, right, a "home" game (teeth grinding). It's not as if fans want to see programs like Penn State (or USC last season) actually play in the Carrier Dome (waiting for sarcasm to drip dry). But that's a topic for another day.
Syracuse plays a "home" game in MetLife Stadium
The Orange and Nittany Lions will renew their rivalry to open the season. These two teams last played in the 2009 season at Happy Valley. Penn State comes off an 8-4 season and will provide a stiff test for whoever replaces departing QB Ryan Nassib under center for Syracuse.

At Northwestern – Saturday, September 7
These two teams played last season in the Dome and provided the fans with a real barn burner.
After trailing by a score of 35-13 in the third quarter, Nassib rallied the Orange with four straight touchdowns to take a 41-35 lead with under three minutes to play.
The Wildcats scored the game-winning touchdown though with 0:44 left in regulation for an exciting 42-41 triumph.
If Syracuse can win its first two games of the year, it will have to be considered a real threat to represent the Big Ten in the Rose Bowl. Wait, Big Ten???

WAGNER – Saturday, September 14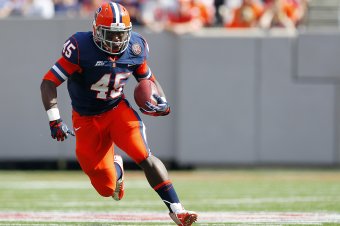 Rich Schultz/Getty Images
Syracuse welcomes an FCS squad to the Carrier Dome "home" opener. Yes, an FCS squad. Really brings out the "meh" in all of us.
But, beware. SU struggled to put away Stony Brook, 28-17, last season in the Dome. And with the new SU QB playing his first home game and only his third game as a starter, stranger things have happened. Expect a healthy dose of Jerome Smith and Prince-Tyson Gulley in this one.

TULANE – Saturday, September 21
The Green Wave last squared off with Syracuse in 2011 at the Superdome in New Orleans. Ross Krautman kicked a 21-yard field goal as time expired to break a 34-34 tie and allow the Orange to escape with a win.
Tulane finished the season last year with a miserable 2-10 record, so this one should be a win. Again, expect a healthy dose of Mr. Smith and Mr. Gulley
Jeff Zelevansky/Getty Images
CLEMSON – Saturday, October 5
And so it begins.
Nothing like throwing down to start ACC play with one of the conference's heavies.
The Tigers finished 11-2 on the year including a victory over LSU in the Chick-fil-A Bowl. Starting QB and Heisman contender Tajh Boyd returns for his senior season. Boyd will provide the Syracuse
defense with its stiffest test to date.
An interesting side note to the game is will true-freshman and Brooklyn-native Ebenezer Ogundeko make Clemson's travel squad and will he play in the game? Syracuse fans certainly remember how Ogundeko spurned the Orange for the Tigers in a fierce, recruiting battle between the two schools.
If Syracuse can prevail in this one, they'll officially be cooking with gas.

At NC State – Saturday, October 12
First ACC road game finds the Wolfpack, much like Syracuse, breaking in a new coach.
Dave Doeren take over for the fired Tom O'Brien. And, like Syracuse, Doeren will have to break in a new QB as senior Mike Glennon is off to the NFL.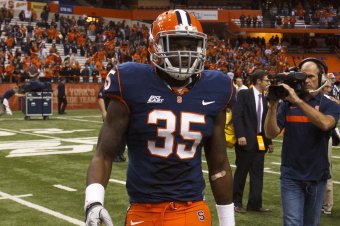 Jason O. Watson-USA TODAY Sports
Coach Shafer will hope to have the same success against NC State's football team as Syracuse's basketball team has had against the Wolfpack hoopsters (2-0 in a home-and-home) over the past few seasons.

At Georgia Tech – Saturday, October 19
Back-to-back road games for the Orange finds them traveling to a state where they had decent recruiting success during Marrone's tenure. Five Georgia players graced Syracuse's roster last season. Shafer will be looking for big impacts from two of those recruits this upcoming year, redshirt freshmen George Morris III and Josh Parris.

WAKE FOREST – Saturday, November 2
These two teams played two out-of-conference games over the past seven seasons. The Demon Deacons emerged with a 20-10 home win in 2006, while the Orange returned the favor, 36-29 in overtime, to open their 2011 season.
Wake finished 5-7 last year (3-5, ACC) by dropping four of its last five. The average margin of defeat was 33 points. This game falls into the must-win category if SU wants to get back to a bowl game.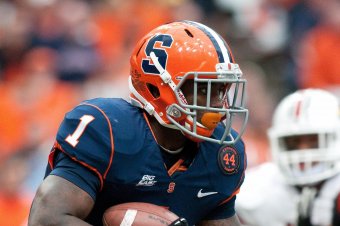 Mark Konezny-USA TODAY Sports

At Maryland – Saturday, November 9
The Terrapins struggled last year. Randy Edsall's clubs closed the year on a 6-game losing streak after losing multiple quarterbacks to injury.
But Edsall has a stud WR in Stefon Diggs and a potential start in RB Wes Brown, who only played in seven games a year ago. Diggs averaged 15.7 YPC and scored six touchdowns with a long of 66 yards.
Both players will be true-sophomores next season and will be relied on to make plays for the Terps.

At Florida State – Saturday, November 16
The ACC has a two-headed monster in terms of college football's elite. Clemson is the first. The Seminoles are the second.
FSU has the tall-task of replacing senior QB E.J. Manuel. But this is Florida State. They simply reload.
Though they aren't the powerhouse they used to be under former coach Bobby Bowden, they are not to be taken lightly. Jimbo Fisher's team possesses an embarrassment of riches in the speed department. Even the popcorn vendors at Doak Campbell are some of the fastest in the nation.
Kidding. But seriously, would that shock you if it was true?
How will Syracuse do against former Big East foes Pitt and BC?
Syracuse will be a heavy underdog in this one but with 11 Florida natives on its roster last year, it will be important to make a good impression if Shafer hopes to continue to mine the talent-rich state for recruits.

PITTSBURGH – Saturday, November 23
Hey, don't I know you?
Much like Syracuse, Pittsburgh will be making its ACC debut next season. This is a critical game for a couple of reasons.
Prior to its thrilling 14-13 win in the Dome this year, Syracuse had dropped seven-straight games against the Panthers. Shafer will look to re-establish Syracuse's winning ways against this not-so-stranger in a strange land.
The other reason this grudge match should have an asterisk next to it on the calendar can be summed up in one word. Recruiting.
These two teams harvest a lot of the same areas for recruits, especially Pennsylvania and New Jersey. Both states have a plethora of talent. Winning games on the field will help win recruiting battles off the field.

BOSTON COLLEGE – Saturday, November 30
Hey, don't I know you? – Part II
Former Big East foe BC is now current ACC foe BC. And the two schools will be ending their seasons against one another for the foreseeable future.
Like with Pitt, Syracuse and BC compete in a lot of the same recruiting grounds, so on-field results will matter.
The Eagles suffered through a dreadful season (2-10, 1-7 ACC), which resulted in Frank Spaziani's dismissal. Former Syracuse assistant Steve Addazio was hired to right the ship and his son, Louie, promptly transferred from the Orange to play for his father.