When Jeremy Lin went down with a knee injury towards the end of last season, the New York Knicks' chances of a deep playoff run went out the window.
Lin took the league by storm last year after being irrelevant for the rest of his young career, and "Linsanity" made the Knicks one of the teams to beat in the Eastern Conference.
Lin never got the opportunity to make a difference in the Knicks' first-round loss to the Miami Heat last season, and there's no telling if his presence on the court would have made a huge impact on the series or not.
All we know is that he wasn't able to play.
This year, however, Lin has the opportunity to finally taste postseason greatness.
His Houston Rockets are currently the No. 8 seed in the Western Conference and are scoring points like they're going out of style.
The Rockets are averaging 106 points per game—the highest in the NBA—and the additions of James Harden and Lin have made them an exciting team to watch.
Lin's averaging 12.6 points and 6.2 assists per game this season, numbers which are very similar to the ones he posted during his phenomenal breakout campaign of 2012.
Although the Rockets have the eighth and final playoff spot in the conference, Lin continues to play like one of the most consistent point guards in the NBA.
The Rockets currently hold a 3.5-game lead over the ninth-seeded Portland Trail Blazers, and the only way they don't make the postseason is if they beat themselves.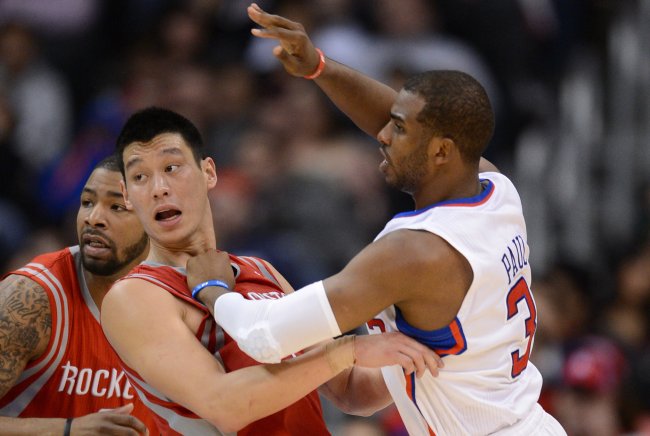 Jayne Kamin-Oncea-USA TODAY Sports
The Rockets have a seven-game home stand during the month of March, and four of those games are against some of the worst teams in the league.
As of now, they are 18-8 at home. Not too shabby.
Lin must continue to provide that same spark for Houston that he ignited under New York.
His talent, his basketball I.Q. and his ability to make plays when they need to be made set him apart from most point guards in the NBA.
Lin so desperately wants to taste that postseason greatness.
All he needs to do is stay healthy.