Sam Amico of Fox Sports is reporting the Raptors and Sixers are currently engaged in trade talks involving Andrea Bargnani.
The Raptors have also engaged the Sixers in conversations centered on Bargnani, sources said. No word on what the Sixers would need to offer in return, although a Western Conference executive suspects it would involve center Spencer Hawes.
Bargnani, the center of trade rumors lately involving the Raptors, seems like he'd be a good fit with the Sixers, depending on whether star center Andrew Bynum suits up for them or not. If he does, Bargnani could be a really good piece for the Sixers to add. Without that big center in the middle though, Bargnani is a liability on the floor.
As for the Raptors, they will be looking for a better return than what they are getting from the Chicago Bulls which was Carlos Boozer and Nate Robinson for Bargnani and back-up point guard John Lucas III. That deal, according to Amico, will be on the table until the trade window closes. The Bulls have said the Raptors can accept the deal anytime.
So, what could be better than Carlos Boozer, a 31-year-old power forward. He is signed for two more seasons and carries with him a price tag that is over $16 million dollar. As for Nate Robinson, he really would provide the Raptors with absolutely nothing other than a few dunks and the odd three-pointer.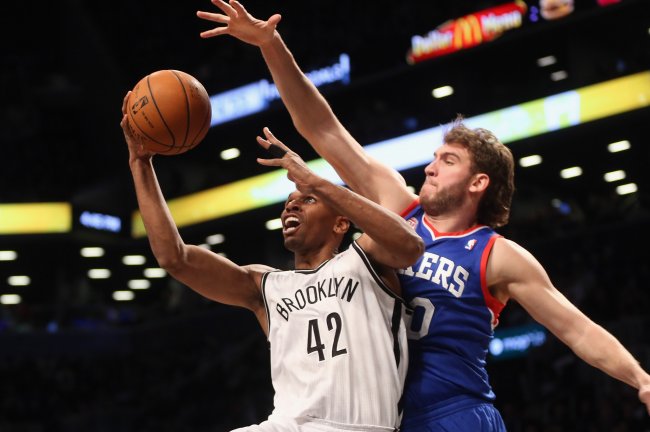 Bruce Bennett/Getty Images
Looking at the Sixers roster, what deals could work that involve center Spencer Hawes.
A deal that immediately comes to mind is Bargnani for Hawes and small forward Dorell Wright. Hawes is a decent shooting big man who can spell both Jonas Valanciunas and Amir Johnson for effective minutes. Wright on the other hand can spread the floor effectively and can shoot a good three-point ball.
Wright expires at the end of the season and Hawes at the end of next season, so the Raptors wouldn't be getting back any long-term salary. Plus, they end up strengthening both their center rotation and their small forward rotation, while only losing Bargnani—who is looked upon more now as a cancer than anything worthwhile keeping.
Bargnani just has not fit in with star small forward Rudy Gay and DeMar DeRozan's offensive games. He needs to be moved and if the Raptors intend on pushing for the playoffs, the move will have to happen soon.