The Toronto Blue Jays acquired at least seven key veterans this offseason who are expected to make a significant impact.
One trade with the Miami Marlins netted them four such players: starting pitchers Josh Johnson and Mark Buehrle, shortstop Jose Reyes, and infielder/outfielder Emilio Bonifacio. A second trade with the New York Mets brought in reigning National League Cy Young winner R.A. Dickey.
In addition to adding these five veterans via trade, the Blue Jays also inked outfielder Melky Cabrera and infielder Maicer Izturis to multiyear deals.
The Blue Jays certainly revamped their roster with an injection of high-quality veteran talent. Now the question is: Which of these players will make the biggest contribution to the Blue Jays in 2013?
The obvious answer would be R.A. Dickey. He is coming off a terrific 2012 campaign and will be expected to assume the role of staff ace. Although I believe Dickey will indeed handle the job with aplomb, I'm looking at another newly acquired veteran to make the biggest impact in 2013.
That player is shortstop and expected leadoff hitter Jose Reyes.
If relocating to a division more conducive to offense and into a more hitter-friendly home park will make things more difficult for the Blue Jays' newly acquired trio of starting pitchers, it should also help Reyes increase his production in 2013.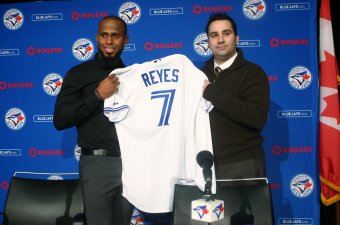 Tom Szczerbowski/Getty Images
Reyes is already a top-five shortstop in terms of offensive production, despite having spent his entire career with the Mets and Marlins. Moving to the Rogers Centre and getting to bat first in what should be a very potent lineup could put him at the top of the list at his position this season.
Even if he is the same exact hitter he was over the last three years, his statistics should improve from the change of scenery alone.
Not that there's anything wrong with what Reyes has done over the last three seasons.
All Reyes did from 2010-12 is average 140 games played per season, win a batting title, walk nearly as many times as he struck out, average 36 stolen bases and 90 runs scored, hit .301 and post an OPS of .800.
Over the last two years—split between a middling Mets team in an extreme pitcher's park and a toxic environment in Miami, a team that was second-to-last in runs scored in 2012—Reyes has been able to stay healthy (for the most part) and productive despite playing on struggling offenses.
In 2011, he won the National League batting title, hitting .337 for the Mets. He tacked on 101 runs, 16 triples and 39 stolen bases despite playing in only 126 games. Last year, he stayed on the field the entire season, playing 160 games with the Marlins, and hit .287/.347/.433.
The 50-point dip in batting average raises some concern, but Reyes had an otherworldly BABIP of .353 in 2011 and was bound for some regression. His BABIP dipped to .298 in 2012, noticeably lower than his career BABIP of .312.
If you're thinking that Reyes' drop-off in BABIP last year was due to a lack of speed, remember that he still stole 40 bases and hit 12 triples. It's very possible that Reyes just had some bad luck on balls put in play, just as he was very fortuitous a year earlier. If that's the case, we should see Reyes' batting average climb back over .300 in 2013.
Reyes' line drive rate of 21.7 percent and home run-to-fly ball ratio of 5.9 percent in 2012 were both better than his 2011 rates. Even more encouraging is the fact that Reyes had his highest full-season walk rate (8.8 percent) since 2007 and a career-best walk-to-strikeout ratio of 1.13. All these signs point to the fact that Reyes may have been just as good a hitter last year as he was in 2011.
More importantly, these underlying numbers point to Reyes improving his stat sheet in 2013. If Reyes gets 700-plus plate appearances, as he did for the Marlins last year, we could see his hit total increase from 184 in 2011 to over 200 in 2012 in a more hitter-friendly park. He could also see a slight uptick in BABIP toward his career average.
With more hits and a steadily improving walk rate will come more opportunities for stolen bases and runs scored. Reyes may not be as sprightly as he was in his early 20s (when he stole 60-plus bases three years in a row from 2005-07), but he still has swiped at least 30 bags in each of the last three years.
Reyes "only" scored 86 runs last season, as compared to 101 in 2011, a season in which he had 130 fewer plate appearances. However, this may have had more to do with the fact that the Marlins offense, outside of Reyes and Giancarlo Stanton, was one of the worst in baseball. Despite being stranded on base frequently, Reyes' total of 86 runs was still fourth-best among qualifying shortstops.
Which Newly Acquired Veteran Will Have the Biggest Impact for the Blue Jays in 2013?
Getting on base at the same or a higher rate in front of the likes of Melky Cabrera, Jose Bautista and Edwin Encarnacion in 2013 will almost certainly result in more runs scored by Reyes. It's feasible he could lead all shortstops in the category in 2013 if he matches his plate appearance total from a year ago.
Finally, although Reyes is not known for his power, scouts have often claimed he has the ability to hit 20 home runs per year if he were asked to do so. He won't be asked to do that as the presumptive leadoff hitter in 2013, but he may have the chance to exude a bit more power playing more games in parks with smaller dimensions that tend to favor hitters.
Reyes hit 11 home runs in 2012 (seven of them on the road, outside of the cavernous Marlins Park), and it is possible for that total to rise into the 15-20 range this season. He has a chance to match his career high of 19 home runs, set in 2006.
The bottom line is that if Reyes can stay healthy and get as many opportunities to cause chaos on the basepaths as he did for a moribund Marlins offense in a less hitter-friendly park, all of his statistics should improve, and he should make a bigger impact on the field.
For a team that tried out a number of hitters not suited for the leadoff role last year, Reyes could be a huge boon as an offensive spark plug.
Though there is some concern about how Reyes' legs will handle a full season of home games on artificial turf, one National League executive stated that the turf benefits speed-oriented players, which "could make him better," and that Reyes is "going to hit a lot of triples, and infield hits" (h/t Andy Martino of the New York Daily News).
Injuries will always be a concern with Reyes. If he can stay on the field for most of the season, as he has done over the last three years (averaging 140 games played per season during that span), Reyes could be the prime beneficiary of what appears to be one of the best offensive environments in 2013.
Dickey should give the Blue Jays the much-needed veteran leadership atop the rotation that they sorely lacked in 2012. But Reyes' game-changing speed and ability to hit for average at the top of the lineup may make the biggest impact of all in 2013.