As general manager Reggie McKenzie prepares to deal with his second offseason under the financial burdens left behind by late owner Al Davis, there are 17 unrestricted free agents on Oakland's roster that McKenzie must decide upon.
Notable free agents like linebacker Philip Wheeler, tight end Brandon Myers and defensive tackle Desmond Bryant should be brought back next season, but there is still too much dead weight on the Raiders' roster.
Here are some free agents McKenzie must part ways with in the offseason:
Richard Seymour, DT
The 33-year-old defensive tackle missed the second half of the 2012 regular season after he injured his hamstring in Week 8 against the Tampa Bay Buccaneers.
Even when he was healthy, Seymour was not living up to his mammoth contract. He's on the downside of his career, and the Raiders need to get younger on the defensive line.
Bryant would be a younger as well as a cheaper re-sign than the aging Seymour and would fit in nicely as a starter in 2013.
Cooper Carlisle, OL
Oakland cut Carlisle to save cap space last summer, but McKenzie brought him back so rookie Tony Bergstrom could get some experience under his belt before being thrown into the starting role at left guard.
Now that Bergstrom has played a year in the pros, the Raiders no longer need Carlisle.
Oakland is in the middle of rebuilding, and part of the rebuilding process is getting younger.
Carlisle is 35. Enough said.
Matt Giordano, FS
Giordano plays with the heart of a champion, but his undersized frame makes him a liability whenever he's on the field.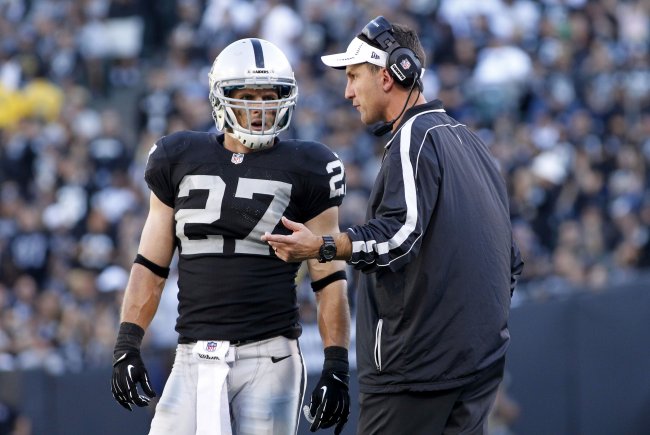 Cary Emondson-USA TODAY Sports
Giordano was beat on a weekly basis last year and was part of an abysmal secondary that finished near the bottom of the league defending the pass.
He only made $825,000 last season, but it's time for the Raiders to look for other options at free safety.
Khalif Barnes, OT
Oakland's offense under Greg Knapp revolved completely around Carson Palmer throwing the ball 50 times a game.
When your quarterback throws the ball that many times, he's going to need protection. Right tackle Khalif Barnes did not provide that.
Barnes had a cap hit of $2 million last season, and the Raiders can find a cheaper and better alternative instead of re-signing him.
Shane Lechler, P
Lechler is one of the greatest punters the game has ever known, which is why cutting him would be so difficult. He and kicker Sebastian Janikowski have given the Raiders the most efficient special teams units in the league over the past decade.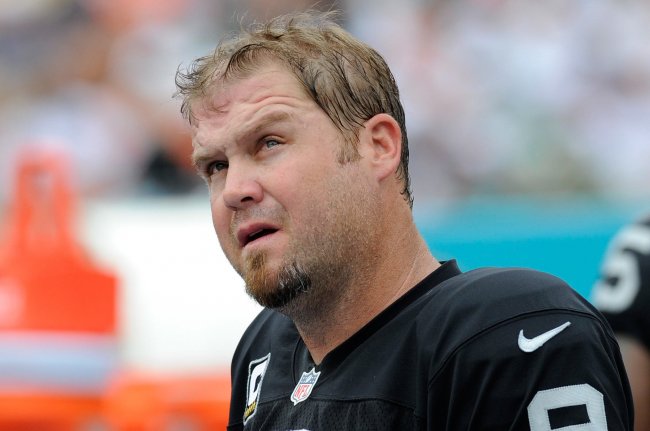 Steve Mitchell-USA TODAY Sports
However, Lechler had a cap hit of nearly $5 million last season, and the team must make more financial adjustments before the season starts.
Lechler has had a tremendous career as a lifelong Raiders, but in a world where money talks, sometimes loyalty takes a backseat to cap space.
Oakland has a young punter in Marquette King waiting in the wings if Lechler is not brought back.